Take your soul to new heights with Sugar and Athena during a Crystal Reiki Sound Bath this Full Moon!
About this Event
Please join us! Crystal Reiki Master, Athena Bahri, aka Crystal Reiki Healer of Instagram with renowned Sound Healer and Reiki Master Sugar, for an incredible Full Moon ceremony.
We have come together to create for you a healing experience unlike any other. Infusing Sound, Crystals, and Reiki for a profound uplifting journey to your soul, let us guide you in clearing blockages, balancing your chakras, and making space for the new and wonderful entering your world. This is an experience you won't want to miss!
You will receive an entire hour of intense healing with two practitioners clearing your energy and balancing your chakras with the beautiful healing properties of sound, crystals, and reiki energy!
Looking forward to healing together with love and light in our hearts.
This is a pre-recorded 1-hour session, for you to receive and enjoy at your convenience. Once you sign up for this event, you will receive several email reminders with a link to the Unlisted YouTube video. This link is for a recorded video (this is NOT a live stream), you can click on the link whenever you wish and you can keep enjoying it in the future as many times as you like.
We recommend finding a relaxing space in your home, grab a blanket, pillow, or bolster, and put your headphones on at an enjoyable level.
Please visit our websites and social to connect with us.
Athena: www.crystalreikihealer.com , @crystalreikihealer
Sugar: www.becrystalclear.com , @becrystalclear_
With Love & Light
Athena and Sugar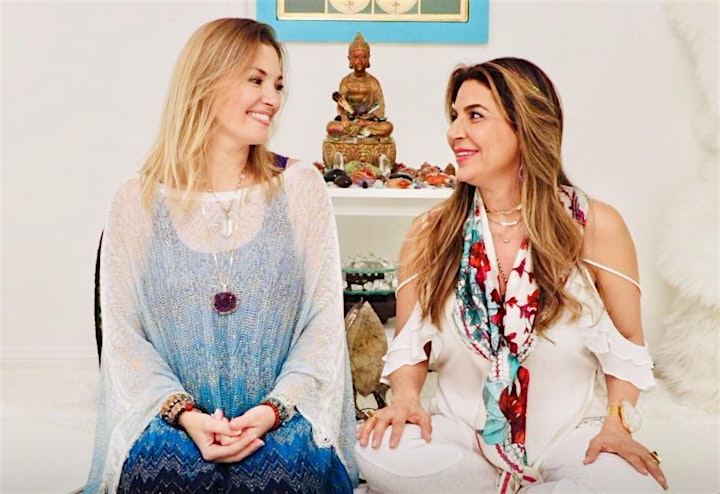 Athena Bahri and Sugar Panbehchi Join Together after 20 years of friendship to Create This Incredible Healing Session infusing Reiki, Crystals, and Sound Healing.
Athena is the founder and creator of Crystal Reiki Healer, one of the fastest growing online presences for Crystal and Chakra Education, Crystal Reiki healing, and raising the energy vibration for all beautiful souls searching to better their lives. Athena is a Certified Reiki Master, Crystal Reiki Master, Chakra healer, and Author of "Raise Your Vibes". She uses her expansive knowledge of Crystals together with her warm motherly aura to heal and balance the chakras to infuse Reiki energy with Crystal energy for powerful, life-changing healing.
Sugar is an energy and vibrational coach and the creator of Be Crystal Clear Wellness & Sound Healing Center in Los Angeles. In addition to her intuitive senses and healing abilities, she is a certified Sound, Reiki, Crystal & Breathwork Practitioner and loves to help her clients reconnect with their mind, body and spirit on a very personal level. Sugar is also a Certified NLP Practitioner, Life and Success Coach, EFT Practitioner, TIME Techniques Practitioner, and it is her passion to empower you, nourish you and help you on your journey to be the best version of yourself. It's time for you to reignite and rediscover your inner authentic self, find clarity within, and come home to your inner core to remember what it feels like to Be Crystal Clear.
Date and Time
Location
Refund Policy