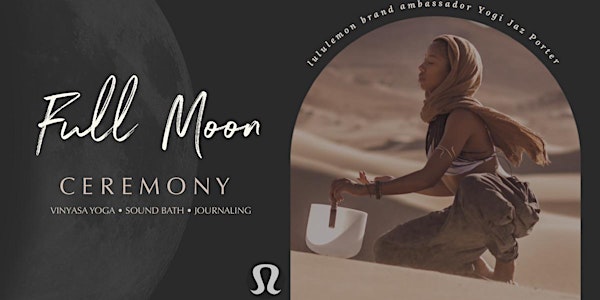 Full Moon Ceremony
Candle-lit community ceremony hosted by lululemon Ambassador Yogi Jaz Porter!
When and where
Location
Share Space Venue 1120 Naylor St Houston, TX 77002
Refund Policy
Contact the organizer to request a refund.
Eventbrite's fee is nonrefundable.
About this event
WHAT TO LOOK FORWARD TO:
1. Vinyasa Yoga Flow infused with Tantra Yoga Rituals- Connecting you to your classmates on a soul level
2. Sound Bath w/ 432hertz during a Guided Meditation
3. Reflective Guided Journal Prompts inspired by cosmic events and full moon astrology. Channel the moon's energy around releasing what we need to let go of in order to experience the fullest version of our lives.
WHAT TO BRING:
1. Yoga Mat
2. Journal + Pen
3. Any tools to support your practice; crystals, cards, flowers, blanket, water, etc
CLASS COST:
All practice levels and children 4yrs+ are welcome to attend. The cost of the class is $25, however, I wouldn't want finances to be the reason you miss connecting with your community. Thank you for honoring the cost if you're financially able. I appreciate you using the honor system and valuing my energy. See you soon!
PARKING:
WE HAVE A SMALL PARKING LOT AVAILABLE ON SITE AT NAYLOR BUT METERED STREET PARKING IS AVAILABLE ALONG AND AROUND THE BUILDING. PLEASE SEE BELOW AND/OR OUR MAP FOR PARKING AVAILABILITY AND METERED PARKING AREAS. **AS ALWAYS, PLEASE BE SURE TO READ ALL STREET SIGNS TO AVOID PARKING TICKETS AND/OR BEING TOWED.**
NAYLOR STREET– PAID PARKING MONDAY – SUNDAY 7 AM – 9 PM UNLESS OTHERWISE POSTED. FREE PARKING AT ALL OTHER TIMES. WATCH FOR PARKING/NO PARKING ON CORNER SIGNS POSTED ALONG THE STREET.
VINE STREET– METERED PARKING IS AVAILABLE ALONG THE STREET. PAID PARKING MON-SAT 7 AM-11 PM UNLESS OTHERWISE POSTED. FREE PARKING AT ALL OTHER TIMES.
I-10 PARKING AREA- THIS PARKING LOT IS METERED AND WELL-LIT. IT IS WITHIN WALKING DISTANCE OF OUR NAYLOR VENUE. PAID PARKING MON-SUN 7 AM-9 PM UNLESS OTHERWISE POSTED. FREE PARKING AT ALL OTHER TIMES.
U.H PARKING– PLEASE DO NOT PARK IN THIS PARKING LOT AS IT IS FOR UNIVERSITY OF HOUSTON STUDENTS AND FACULTY ONLY.
WAREHOUSE/BUSINESS PARKING– PLEASE DO NOT PARK HERE AS YOU WILL BE TOWED. AGAIN, PLEASE PAY ATTENTION TO THE SIGNS.
TERMS AND CONDITIONS:
This class will be respectfully photographed and or filmed for future marketing. You agree to the following video/photo release:
I hereby grant permission to the rights of my image, likeness, and sound of my voice as recorded on audio or video tape without payment or any other consideration. I understand that my image may be edited, copied, exhibited, published, or distributed, and waive the right to inspect or approve the finished product wherein my likeness appears. Additionally, I waive any right to royalties or other compensation arising or related to the use of my image or recording. I also understand that this material may be used in diverse educational settings within an unrestricted geographic area.
The undersigned assumes all responsibility for themselves and any minors that accompany them for all risk of loss, the possibility of COVID-19 exposure, personal or property damages, or injury that may occur to the undersigned as a student/participant in Jazmin Porter's yoga course of instruction, while attending classes, participating in exercises, following guidance, consuming food and beverage, or using yoga course equipment or facilities and accommodations or following yoga course instructions in or out of a yoga course location. In being accepted as an attendee in the yoga class, the undersigned releases and discharges therapeutic & yoga course Instructor, Jazmin Porter, Yogi Jaz Porter LLC, lululemon, Share Space Venue, and all associated properties, and their owners, employees, and agents from all claims, demands, rights or causes of action, past, present or future, whether known, anticipated or unanticipated, and resulting from or arising out of, or incident to, the undersigned's use (or intended use) of a yoga course or class location, or facilities and equipment in such place or as a result of, or incident to, engaging in yoga course exercises or otherwise following yoga course instructions anywhere.