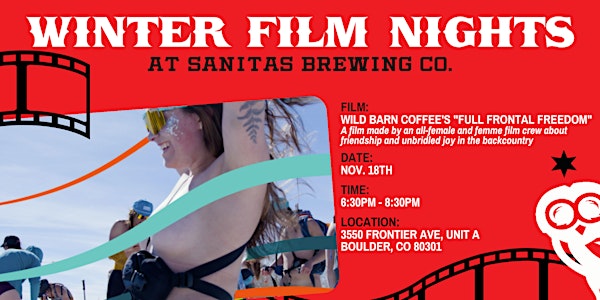 Full Frontal Freedom Showing at Sanitas Brewing
Sanitas Brewing hosts Wild Barn Coffee for a showing of "Full Frontal Freedom" in our brewhouse space. Come view the film with q&a after.
When and where
Location
Sanitas Brewing Co. 3550 Frontier Avenue #unit a Boulder, CO 80301
About this event
In 2021, Wild Barn Coffee spread word of a naked ski lap secretly happening after hours at a resort. Twenty-seven women showed up. In 2022 they gave the day a name and launched Boot Tan Fest. Women and genderqueer individuals were invited to a remote backcountry-only resort to connect over tacos, and live music, and participate in the world's largest naked ski lap. For the second annual event, the participants grew ten-fold, with over 200 women stripping down on top of the peak and skiing a full backcountry lap bare naked. This is when "Full Frontal Freedom" was born.
"Full Frontal Freedom" emerged from a desire to unite the rebels, the overlooked, and the renegades and make a film that shifts the focus from hemlines to ridgelines," says Jenny Verrochi, of Wild Barn Coffee and Boot Tan Fest. "On top of that peak, amidst ripping skins and shedding layers, a feeling of collective freedom rippled through the naked crowd. The last few years have been especially hard on women. So this space, this event, this day - is for us and "Full Frontal Freedom" captures it all."
The ski and snowboard industry is ready for new stories, and this one (made by an all-female and femme film crew) of friendship and unbridled joy in the backcountry is unlike anything else out there.
"Full Frontal Freedom," directed by Lisa Slagle, was made possible by our Title Sponsor, Pomoca, with additional support from Backcountry Access, 10 Barrel Brewing, Pit Viper, Coalition Snow, and Rumpl.