About this Event
Full-Day Agenda | 6.7 CPE Hours:
7:30am to 8:00am: Registration & Breakfast
8:00am to 8:30am: Welcome & Presenter Introduction
8:30am to 12:00pm: Take your Excel to the Next Level
12:00pm to 1:00pm: Lunch
1:00pm to 4:30pm: Enhance your Excel Mastery
4:30pm to 5:00pm: Wrap-Up Excel Training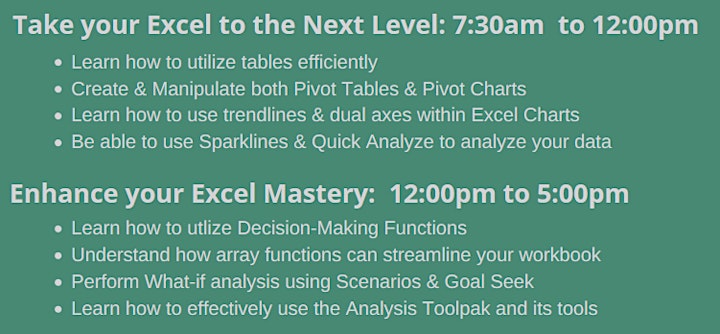 Registration Cost:
Full-Day Session for Professionals: $225.00
Half-Day Session for Professionals: $115.00 (Morning OR Afternoon)
Full-Day Session for Students: $100.00
(Must be Full-Time Student - contact louisville@imachapter.org for details)
Add-On Options:
Morning Session Attendees Only: Stay for Lunch Option : $15.00
Excel Training Books: $20.00/book
Must Register before Jan. 4th, 2020 to ensure book is available for pick-up at Registration
Options:
Level 2 Excel Training Book
Morning Session Topics Plus
Managing Workbooks, Summarizing Date, Presentation Features & More
Level 3 Excel Training Book
Afternoon Session Topics Plus
Special Functions, Macros, & More
6-hr Excel Training Custom Book
Features all the topics covered in our 6-hour excel training course
Contact Louisville IMA at louisville@imachapter.org with any questions about the event.

Photography
By registering, you agree and acknowledge that IMA® (Institute of Management Accountants) and IU Southeast, along with their partners, subcontractors, or affiliates, plan to take photographs and capture video footage at this workshop for reproduction in educational, news, or promotional material, whether in print, electronic, or other media, including IU Southeast and IMA and IMA's affiliate partner websites. By participating in this workshop, you grant IMA, IU Southeast, and any of its designated subcontractors, partners, or affiliates the right to your image (both photographs and videos) for such purposes.
Liability Waiver
By registering, you agree and acknowledge that you are undertaking participation in IMA® (Institute of Management Accountants) events and activities as your own free and intentional act, and you are fully aware that possible physical injury might occur to you as a result of your participation in these events. You give this acknowledgement freely and knowingly and that you are able to participate in IMA events, and you do hereby assume responsibility for your own well-being.