Event Information
Refund policy
Contact the organizer to request a refund.
Eventbrite's fee is nonrefundable.
A powerful full-day online transformational workshop for creating success in all areas of life, based on the latest in Neuroscience.
About this event
FEARS, PHOBIAS, LIMITING BELIEFS, LOW SELF-ESTEEM, EMOTIONAL CHALLENGES, SELF-SABOTAGE, CHALLENGING FINANCIAL PATTERNS, FEELING STUCK, RELATIONSHIP ISSUES, PHYSICAL HEALTH CHALLENGES, BLOCKS AND RESISTANCE, GRIEF AND LOSS...
You CAN Break Free from all limiting habits, behaviors, challenges, and patterns - you just need the keys!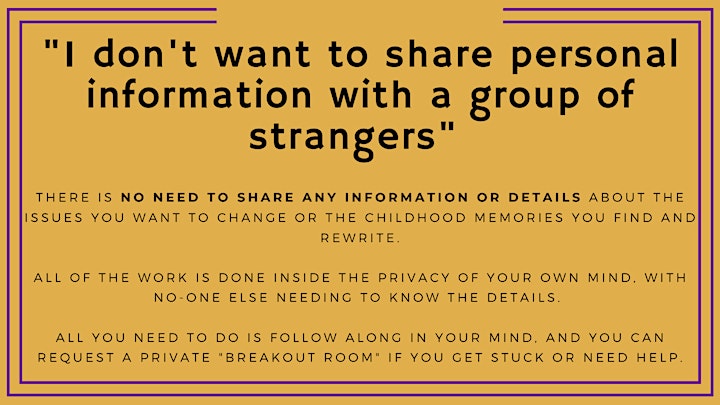 Watch the Video, below, for a Live Demonstration
- on how we get results ! :)
Turbo-boost Your Success in All Areas of Your Life!
Health, Wealth, Relationships, Happiness, Professional Goals
***DISCOVER THE UNTAPPED POWER INSIDE YOU - AND TRANSFORM YOUR LIFE QUICKLY AND EASILY***
1. Gain complete control over your brain, body, and emotions - freeing yourself to notice opportunities, make empowered decisions, and take the strategic actions that will lead you to success in your professional and private life
2. With hands-on practical professional guidance, based on the latest in neuroscience, learn the skill of changing the REAL CAUSE of limiting subconscious beliefs, instead of just the symptoms
3. Benefit from simple, fast, Powerful tools and techniques that will ensure that you are able to stick to your new habits, patterns, and behaviors while they become "wired" in your brain - allowing you to automatically, naturally, and authentically reach your goals and dreams
4. Discover the surprising physiological connections between emotional health, cravings, financial and business success, and nutrition - and how to change them, quickly.
5. Experience transformation, physically, emotionally, and mentally through this Empowering deep-dive into changing the roots of all issues.
Master Mindset Coaches, Specialists in Subconscious Reprogramming, and Founders of The Remmert Method, Odille and Steve Remmert, have teamed up with Transformational Nutrition and Lifestyle Mentor, Sheila Petersen, to provide complete physical, mental, and emotional transformation.
The links between your brain, beliefs, behaviors, habits, emotions, mental health, nutrition, physical wellbeing, and success, are physiological; and "rewiring" those links is the key to success in all areas of life.
Based on the latest in neuroscience and integrative nutrition, this intensive full-day workshop will give you everything you need, to gain complete control of all areas of your life, and turbo-boost your success in achieving your goals and dreams.
WHAT TO EXPECT
* Learn exactly how to gain complete control over your emotions, thoughts, behaviors, and habits, using Powerful NEW cutting-edge techniques based on the latest in neuroscience
* Receive personal, practical hands-on help putting your new knowledge, skills, tools, and techniques into action, throughout the day, to make the changes you want to make to any limiting beliefs, behaviors, habits, fears, limiting patterns, and emotional challenges
* Find - and clear - the blocks that are holding you back, and reprogram your subconscious for relationship, professional, mental, physical, and financial health - so that you are able to achieve success in all areas of your life
* Leave with increased confidence and self-love, empowering tools and techniques, new insight, peace, and POWERFUL new subconscious beliefs that support your NEW life and AUTOMATICALLY lead you to your goals and dreams
* A safe, supportive, compassionate, loving environment to share, grow, and transform with like-minded people
* Online "break-out rooms" for private help if needed, during the day
* Powerful results - our goal is for you to surprise yourself with results far beyond your expectations
* Ongoing support and connection after the event, through our private Facebook Group
If you're ready to level up your results in all areas of your life, and experience TRUE, AUTHENTIC, NATURAL, EMPOWERING lasting transformation, reserve Your Place Now:!
AGENDA FOR THE DAY:
9.30am - log into Zoom. Arrivals, connect with each other, meet and greet
10am – 12.30pm – a deeper dive into subconscious programming and clearing specific fears and other limiting beliefs, along with live demonstrations with volunteers
12.30pm – 1pm – offline for lunch
1pm – 2pm - Nutrition, Cravings, and Emotions with Sheila Petersen
2pm - 3.30pm – individual work – changing your own subconscious programming, using the workbook and information you learned in the morning, and requesting a "break-out room session" from one of us, when you get stuck or need more help.
3.30pm - Any remaining questions, requests for help, round-up.
What Others Said About This Workshop: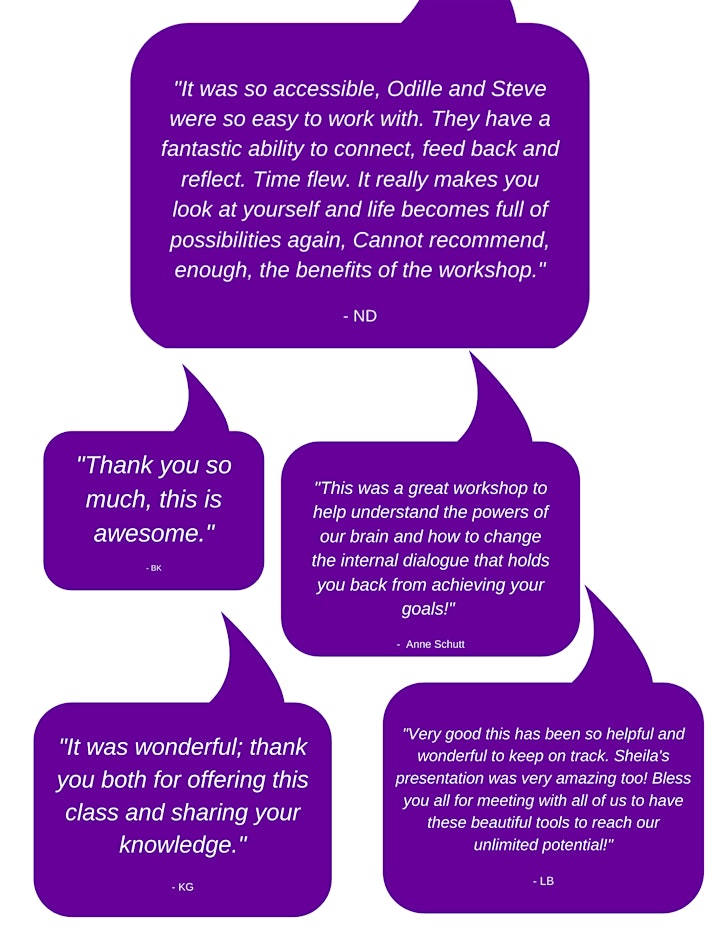 About Your Instructors:
Steve and Odille Remmert are Master Mindset Coaches specializing in the subconscious and physiology of emotions. They developed CMT (Childhood Memory Transformation™), a technique based on the latest in neuroscience, that empowers people to change the subconscious programming responsible for keeping them stuck in their lives.
Together, they deliver powerful, interactive transformational workshops, online courses and talks aimed at empowering their clients to take charge of their lives so they can be happier, healthier, and as successful as they want to be. With the personal experience of transforming debilitating negative states around issues like lack of money and anxiety, they now use their skills and expertise to support the lives of others.
With combined backgrounds in psychotherapy, working with adverse childhood memories and subconscious blocks, emotional mindset coaching, and Mindfulness, they are constantly developing and creating cutting edge practical everyday tools to empower individuals to live their lives fully, free from anxiety, stress and worry.
Meet Odille and Steve...
You can find out more about Odille and Steve at:
Sheila Petersen, Transformational Nutrition & Lifestyle Mentor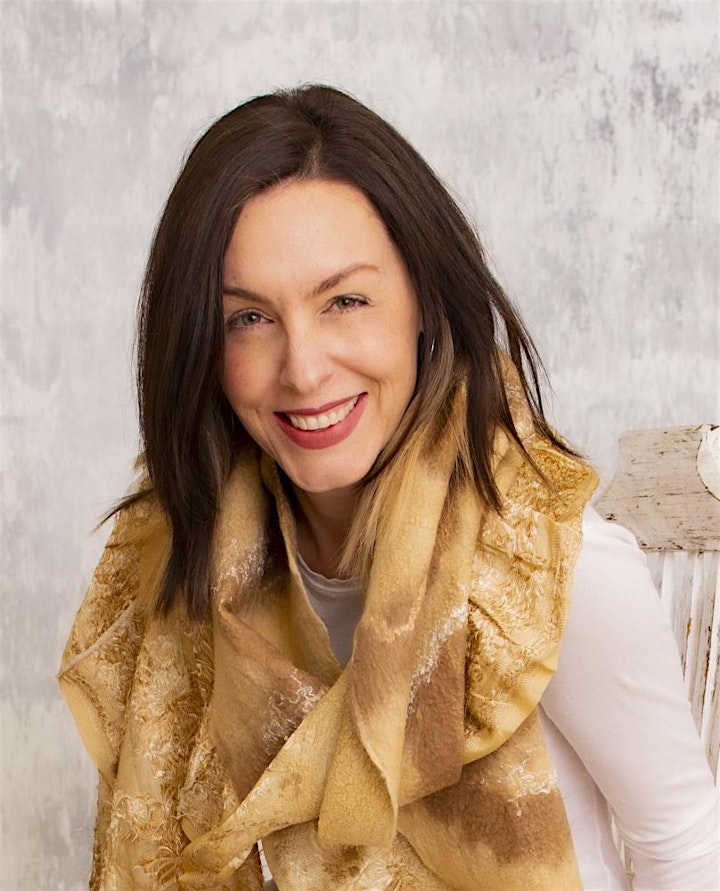 Sheila believes that 'Nothing is more important than you knowing your authentic self. She supports you to break through the barriers that prevent you from discovering and living your genius.' Addressing the key elements of health - physical, mental, emotional, social, spiritual and financial will be transformational to you living your most grounded, centered and holistic life.
You don't need a coach. But, you might want a coach to help you face the biggest challenges in your life, achieve your wildest dreams and prioritize what matters most. There is something bigger possible. Sheila is a 2011 graduate of The Institute for Integrative Nutrition. Sheila specializes in social and emotional intelligence and brings awareness to how all things are connected. She is also certified as a Restorative Yoga Teacher. This is her passion and her life's work.
You can learn more about Sheila at:
www.lovechange.me or follow her on IG @healthylifecoachsheila.
Got Questions? Email us at:
odille@theremmertmethod.com
We can't wait to meet you, connect with you, support you in your transformation, and take you from wherever you are now to where you really want to be:
TESTIMONIALS:
Testimonials for Steve and Odille Remmert:
"No more procrastination or freeze. I wasn't making enough money in my business, and I would take two steps forward, five steps back. I knew there was something invisible (holding me back). I'd done so many courses on money-making... I was so frustrated. The procrastination and feeling stuck was immense. Now, I've got back to my business where I jump out of bed in the morning, and I'm on it... It feels good to charge - it feels normal, it feels right, instead of going: 'No-one's going to pay that!' There's been a massive difference. It feels light, it feels easy."
- Deb McPhilmey, small business owner, UK
"This is one of the best things I have ever done. They've put me in charge of my life in a way I wasn't in charge of my life before, and that is absolutely invaluable. Steve and Odille are two of the most fabulous humans that I have experienced in a long time. I can't recommend them or their programs enough."
- Helena Holrick, Co-founder of Speaker INsight, UK
"It was so quick! It's actually so simple. I changed my thinking, changed my outlook on life. And I just feel great! I was offered an exciting new position at work. My life has changed so much!"
- Harriet M. USA
"The results were immediate and ongoing. I was stuck... in a place where I couldn't move on. I needed to do something to get myself unstuck, and this has certainly done that!"
- Gerry Wood, UK
"I highly recommend this! It got me unstuck, through my emotional brick wall, and moving forward to what I do want. It's simple, it's not time-consuming, and no-one needs to know you're doing it. My relationships are improving. I feel lighter and freer, and I'm excited about it. If more people knew about this, it could be not only life-changing, but world-changing!"
- Lynette Lynch, USA
"Odille has such an incredibly warm and humorous approach, you can't help but feel you are speaking with an old friend. And the results are undeniable, you come away thinking, "Why haven't I done this sooner!" I wholly recommend working with Odille, her love and light fill up the room and you will come away feeling like you have done something worthwhile for yourself."
- Rebekah Cox, USA
"Working with Steve was a pleasure, an awakening and a huge turning point for me and my business. Before consulting with him, I was very confused, lost and almost giving up. I didn't really know what I wanted to do and was full of doubts about all my decisions. I needed somebody reliable, trustworthy and intuitive to work with. Steve was exactly that. We uncovered deeply rooted programs that were running in the background since childhood. I was amazed as to how things were connected and how I was repeating those unwanted patterns subconsciously. Steve gave me tips and techniques to use frequently, and I keep seeing shifts and results. I now know exactly what I want to do. My mind keeps becoming clearer and I have learnt to manage my emotions in order to sharpen my focus on my goals and dreams. I also want to mention that changing the memories positively affected my personal life too."
- Sarah Kfoury, Canada
For video testimonials for Steve and Odille, visit:
https://www.theremmertmethod.com/testimonials.html
Testimonials For Sheila Petersen:
"I traveled this week and stayed in a hotel. I didn't eat cheap food or go to the bar. I've never really done that when I traveled. I felt so much better in the morning. My focus, mental clarity and stamina has improved. I've built a community to cheer me on - with you by phone and with my workout buddies in the gym. It's been a DECADE since I felt this good."
- Justin, CrossFit & Father of 2
"Working with Sheila has helped me reach my goals. She has taught me to be present in my choices, to take the minute to ask myself how is this choice going to make me feel? Am I eating this because I'm hungry or because it's in front of me? Sheila has helped me retrain my thought process on how I approach choices. The accountability has kept me on target. I feel like I am truly being and feeling like my best self which I owe to Sheila for giving me the support and tools I needed to reach this incredible feeling!"
- Sara CrossFit & Mom of 3
"My goals were to build my confidence and be a more positive person. Sheila helped me by giving me the steps to achieve these goals, and helped me to plan things I could do daily and how I could change my thinking. She was a good listener and gave good feedback. I feel that now I am a more positive person, and I've built enough confidence to realize my passions and actively pursue them! Thanks Sheila :)"
- Beth, Business Owner & Mom of 2
"My top 3 goals upon beginning work with Sheila included learning more about my relationship with food, become more connected to my eating habits and achieve accountability in my daily actions. Sheila kept me accountable and made me aware of which habits were working for me instead of against me. She shared a breathing technique that is helping with my stress level. Since working with Sheila in just 1 month, I am having less anxiety around food, I'm choosing an 80/20 lifestyle and enjoying eating healthier. Sheila is warm, kind, understanding and supportive. I look forward to continuing this journey with Sheila for more health education and inspiration."
- Natalie, Singer
"Optimism is the first thing that comes to mind when I think about Sheila. As the former Center Medical Director for an Iora Health practice it was a pleasure to have such a positive co-leader in Sheila who was the Clinical Training Manager. I was always impressed with her calm demeanor amidst chaotic, busy days and her ability to maintain a positive mindset in the sea of change that surrounded us as a healthcare start up trying to do something big and different. Leading a large team of nurses, health coaches, and other staff Sheila always sought to help them grow and to bring out their very best and would be a huge asset for any position requiring a strong leader and mentor. I'm lucky to have had the opportunity to work with Sheila and give her my heartfelt recommendation."
- Dr. Paul, Medical Director
"Something I was not expecting from working together is that I have become more forthright and truthful in getting my needs met in my relationships both at home and at work, this has been the biggest surprise for me and improved how I am as a person. I am not perfect by any means but I hope I am more compassionate and have a better understanding of myself and others. My strengths are something that I have a better understanding of and I can use to their best advantage."
- Lucy, Designer
"My tastes are changing. Things I would never have eaten not only do I eat, but I enjoy. I am happier than I've been in a long time. I lost my wife to cancer four months ago and I had a quadruple bypass surgery 17 months ago. Sheila is teaching me to shop and cook healthy and drink more water. Sheila is very knowledgeable, cares for my well being and I love working with her. I think Sheila was born to do this work. I wouldn't be where I am today without her."
- Tom, Father of 4 & Friend
For more testimonials for Sheila, visit:
Places are limited. Reserve Your Place Now - And we'll see you there! :)
Still not sure this is for you? Here's a short (7 min) video that gives you an overview of how your subconscious is controlling your emotions through your body and brain.
It's a little peak into how we'll be Empowering you during this workshop - and there's so much more!
Date and time
Location
Refund policy
Contact the organizer to request a refund.
Eventbrite's fee is nonrefundable.