Fujitsu Laboratories of America Technology Symposium 2013

Wednesday, June 5, 2013 from 8:00 AM to 7:00 PM (PDT)
Event Details
Please join us for the Fujitsu Laboratories of America 7th Annual
Technology Symposium on Wednesday, June 5, 2013 at the Computer
History Museum in Mountain View, California.
Our theme this year is "From Clouds to Ambient Intelligence:
Technologies that Will Transform the Human Experience."  This
invitation-only event will focus on how new technologies including
pervasive computing, wireless sensor networks and big data streams
will better the lives of people and societies in the 21st century.
The future explosive growth of sensors in the environment, on devices
and around people, will create a myriad of challenges and
opportunities. For the Internet of Things (IoT) to be successful, key
technology issues including system architectures, software stacks,
network protocols and standardization will need to be overcome.  This
new infrastructure also creates unparalleled market opportunities in a
range of industries including healthcare, automotive and government.
It's going to be a full day of information sharing and idea generation
and we hope you'll be able to join us!
The agenda will include:
Keynotes by leaders in industry and academia


Breakout sessions on various topics related to the event theme

The opportunities and risks posed by ambient intelligence and trillions of sensors

Examples of sensor network applications in healthcare, automotive and government

Internet of Things requirements on hardware, software, and design for scalability and performance

The BRAIN Initiative: the big yottabyte data challenge



Evening Networking Reception with food and drinks
Keynote Speakers:
| | | | |
| --- | --- | --- | --- |
| |   |   |   |
| | | | |
Additional Moderators & Speakers:

 
 

 

 
 
 
Teresa Lunt
PARC

Jay Primus
San Francisco Municipal
Transportation Authority

 

Richard McCormack
Fujitsu America

 
 
 
 
 
 
 
 
 
Event Emcee:

Detailed Agenda: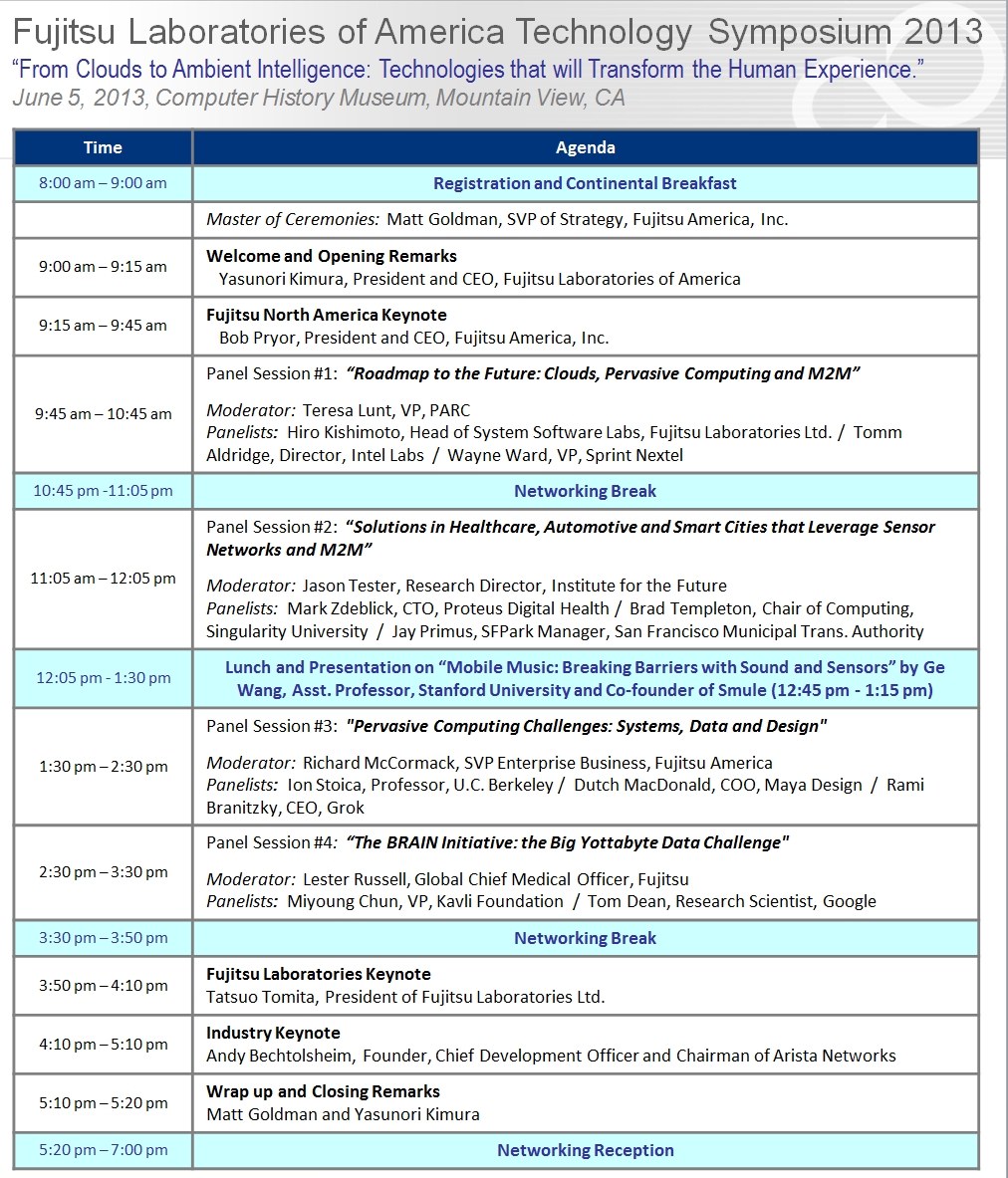 If you have any questions, please send
an email to event@fla.fujitsu.com.
Sincerely,
Event Planning Team
Fujitsu Laboratories of America
Organizer
Fujitsu Laboratories of America, Inc. is a wholly owned subsidiary of Fujitsu Laboratories Ltd. (Japan), focusing on research on Internet, interconnect technologies, software development and solutions for several industry verticals.  Conducting research in an open environment, it contributes to the global research community and the IT industry.  It is headquartered in Sunnyvale, CA.  
For more about Fujitsu R&D, please visit: www.fla.fujitsu.com.
About Fujitsu

Fujitsu is the leading Japanese information and communication technology (ICT) company, offering a full range of technology products, solutions, and services. Approximately 156,000 Fujitsu people support customers in more than 100 countries. We use our experience and the power of ICT to shape the future of society with our customers. Fujitsu Limited (TSE: 6702) reported consolidated revenues of 4.7 trillion yen (US$41 billion) for the fiscal year ended March 31, 2016. For more information, please see http://www.fujitsu.com.
Fujitsu is the world's fifth-largest IT services provider and No.1 in Japan.

Fujitsu is among the world's top five providers of servers.

FORTUNE named Fujitsu as one of 'the World's Most Admired Companies' in 2013.

Fujitsu Group holds about 97,000 patents worldwide.

Fujitsu is part of the Dow Jones Sustainability Indexes (World), FTSE4Good Index Series, and Oekom research.

Newsweek ranks us as the seventeenth most eco-conscious company in the world. (Newsweek's Green Rankings).