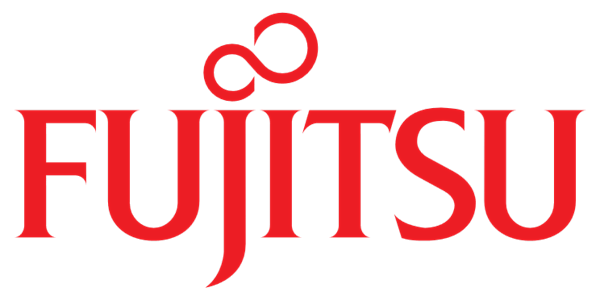 Fujitsu Laboratories Advanced Technology Symposium 2018
When and where
Location
Santa Clara Convention Center 5001 Great America Pkwy Santa Clara, CA 95054
Description
On behalf of Fujitsu Laboratories Ltd., we would like to invite you to our Fujitsu Laboratories Advanced Technology Symposium.
The theme of the event is "Make AI Trustworthy! Explainable and Ethical AI for Everyone". From autonomous vehicles to clinical diagnosis systems, AI technologies are increasingly making far-reaching decisions on our behalf.
The classic sense-decision-action loop is being replaced by AI technologies where there is exponential speedup of action. However, for society at large to have confidence in the accuracy and fairness of these systems, it is critical that they be transparent, free from bias and the causality between input and action be understood in easily explainable terms. This requires the development of new explainable AI models that maintain consistency, performance and accuracy. Another related and equally important topic is on the ethics of AI systems. AI models are only as good as the training data used to build them and the human operators deploying them. For AI systems to gain trust and wide spread adoption it is essential that they operate under social rules surrounding ethics and morality.
The symposium will explore these topics in greater detail thru keynotes and panel sessions. You will also have an opportunity to meet Fujitsu management, researchers and fellow thought leaders from Silicon Valley's rich innovation ecosystem. It's an event you won't want to miss.
Keynote Speakers: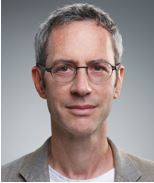 Shigeru Sasaki
Tomaso Poggio
Mark Nitzberg
CEO, Fujitsu Laboratories Ltd. & CTO, Fujitsu Ltd.

Professor, Dept. of Brain & Cognitive Sciences, MIT
Executive Director, Center for Human-Compatible Artificial Intelligence, UC Berkeley
Event Speakers: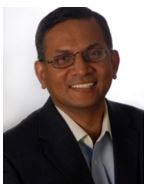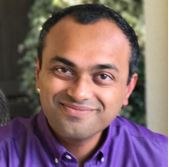 Brad Templeton
Anand Rao
Som Shahapurkar
Associate Professor, Stanford University
Chairman Emeritus and futurist of the Electronic Frontier Foundation (EFF)
Global Leader of Artificial Intelligence, PwC US
Director AI/ML Product, FICO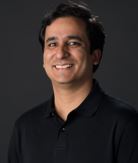 Karen McCabe
David Gunning
Mariarosaria Taddeo
Manish Saggar
Senior Director of Technology Policy and International Affairs, IEEE
Program Manager, Information Innovation Office, DARPA
Research Fellow and Deputy Director, Digital Ethics Lab, University of Oxford
Assistant Professor, Stanford University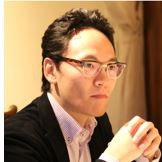 Ryan Welsh
Tatsuki Araki
Joel O'Halloran
CEO, Kyndi Inc
Fujitsu Ltd.
Sr VP, AI HQ, Fujitsu Limited
Head of Artificial Intelligence Laboratories, Fujitsu Laboratories Ltd.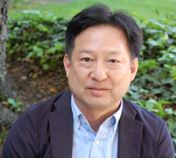 Kiyoshi Sakai
CEO, Fujitsu Laboratories of America, Inc.
Event Master of Ceremonies:

Ajay Chander
Director of Digital Life Lab, Fujitsu Laboratories of America, Inc.
Agenda: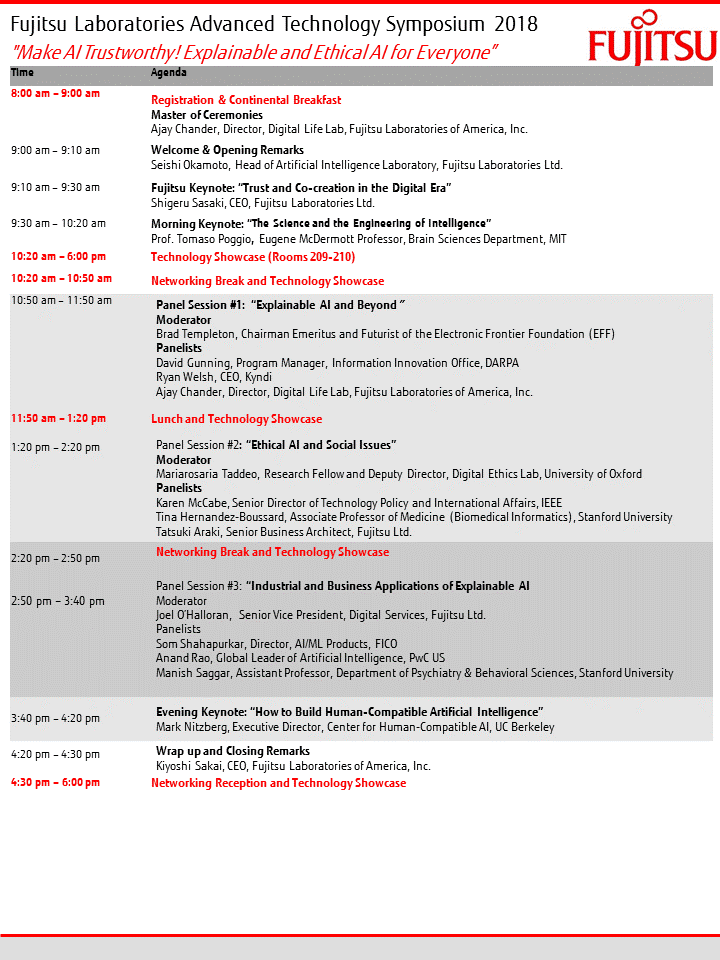 Technology Showcase:
1.

Successful Customer Case Studies of eXplainable AI Based on Combining Deep Tensor and Knowledge Graph
2.
Newly Developed "Wide Learning" Technology for Increasing Learning Performance and Transparency of AI
3.
Deep Tensor with Transparency Tools
4.
Prediction Is Not Sufficient. Businesses Demand Explainability of AI Decisions
5.
Applying Deep Tensor to Consumer Phone Call History to Predict Borrowing Risk
6
AI x Simulation: Using AI to Reduce Simulation Costs and Increase Product Quality and Manufacturing Efficiency
7.
AI for Expert SAKE Brewing
8.
Reinforcement Learning based Traffic Signal Control Validated in Real-Time Real World Traffic Simulation
9.
High Accuracy Arrhythmia Detection Based on Topological Data Analysis
10.
AI Based Service-Aware Network Operation Technologies for Optimal Planning and Optimization
11.
Hardware-based Technology for Secure External Deployment of Machine Learning and Big Data Analytics
12.
Open Set Recognition Technology for Better Identification of Unknown Objects
13.
Enhance Web API Solutions with Automated API Learning
14.
Solving Large Scale Lattice Protein Folding Problems Using Fujitsu Digital Annealer
15.
Fujitsu Digital Annealer Real-World Use Case Scenarios - Improving Traffic Flow on Tokyo Roads
Follow us on Twitter: @fujitsulabs
Contact the Event Planning Team at Fujitsu Laboratories with any questions or feedback: event@fla.fujitsu.com