Description
On behalf of Fujitsu Laboratories Ltd., we would like to invite you to our Fujitsu Laboratories Advanced Technology Symposium.

Our theme this year is "Quantum Computing: Leading the Next Generation IT Revolution". Quantum computing is projected to be the next breakthrough technology that will power the world's computational needs for several decades to come. By speeding up core mathematical problems including optimization and simulation, quantum computing can have a significant impact on a range of industries and lead to revolutionary new discoveries that will significantly benefit people and societies.
Join us at this upcoming event and gain valuable insights into quantum computing including hardware, software and industry applications through keynotes, breakout sessions and a technology showcase where you'll discover the latest innovations in quantum computing and other advanced technologies from Fujitsu Laboratories worldwide. To know more about our past events please visit our website.


Keynote Speakers




Marc Carrel-Billiard
CEO, Fujitsu Laboratories Ltd.
Viterbi Professor of Engineering at USC

Senior Managing Director, Accenture Labs
Event Speakers:




Eric Ladizinsky
Andrew Bestwick
Geoff Woollacott
CEO, Fujitsu Laboratories of America, Inc.
Co-Founder and Chief Scientist at D-Wave Systems
Director of Engineering at Rigetti Computing
Senior Strategy Consultant & Principal Analyst, TBR




Jerry Chow
Joseph Reger
Manager of Experimental Quantum Computing group at IBM
CEO, IonQ

Director, Fujitsu Laboratories Ltd.
CTO, Fujitsu EMEIA (Europe, Middle East, India and Africa)




Hirotaka Tamura
Jamie L. Cohen
Daryl P. Nazareth
Eric Ostby
Fellow, Fujitsu Laboratories Ltd.
R&D Director Organics, Polymers & Organometallics Core R&D, Dow Chemical

Medical Physicist,

Roswell Park Cancer Institute
Product Manager, Quantum Computing, Google




Alejandro Perdomo-Ortiz
Jonathan Carter
Andrew Fursman
Francois Meunier
Senior Research Scientist, NASA Ames Research Center
Computing Sciences Deputy, Lawrence Berkeley National Laboratory
CEO & Founder, 1QBit
Managing Director, Technology Equity Research, Morgan Stanley
Event Master of Ceremonies:

Head of Business Operations for Fujitsu Americas, Fujitsu America, Inc.

Agenda: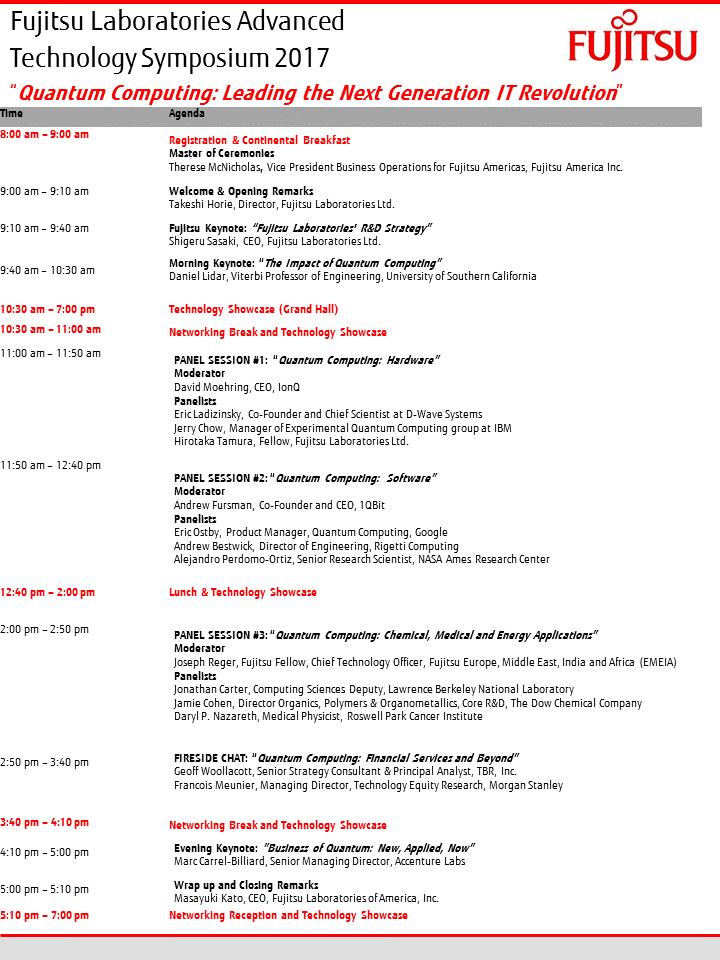 Fujitsu Technology Showcase:

Digital Annealer for Combinatorial Optimization Problems

Application of High Speed Image Retrieval in Medical and Retail Industries

AI-Based Technology to Retrieve Similar Diseases in CT scans

Rapid Detection of Advanced Malware Attacks by Utilizing Fujitsu's AI Technology for Graph-Structured Data

Explainable Artificial Intelligence with Deep Tensor and Knowledge Graph

New Detection Technology for IoT Data Based on Topological Data Analysis

AI Based Automatic Repair of Object-Oriented Software

Fujitsu's Blockchain Activities in Hyperledger Project

Data Exchange Networks to Accelerate Digital Co-Creation

Managing the Rise of API Economy with New API Learning Technologies

Programmable Optical Network as a Service
Follow us on Twitter: @fujitsulabs
Contact the Event Planning Team at Fujitsu Laboratories with any questions or feedback: event@fla.fujitsu.com
Organizer of Fujitsu Laboratories Advanced Technology Symposium 2017
About Fujitsu Laboratories
Founded in 1968 as a wholly owned subsidiary of Fujitsu Limited, Fujitsu Laboratories Ltd. is one of the premier research centers in the world. With a global network of laboratories in Japan, China, the United States and Europe, the organization conducts a wide range of basic and applied research in the areas of Next-generation Services, Computer Servers, Networks, Electronic Devices and Advanced Materials. For more information, please see: http://www.fujitsu.com/jp/group/labs/en/.

About Fujitsu

Fujitsu is the leading Japanese information and communication technology (ICT) company, offering a full range of technology products, solutions, and services. Approximately 132,000 Fujitsu people support customers in more than 100 countries. We use our experience and the power of ICT to shape the future of society with our customers. Fujitsu Limited (TSE: 6702) reported consolidated revenues of 4.0 trillion yen (US $36 billion) for the fiscal year ended March 31, 2019. For more information, please see www.fujitsu.com.

Fujitsu is the world's 7th largest IT services provider and No.1 in Japan.*

Fujitsu is among the World's top10 providers of servers.**

Fujitsu is named to FORTUNE Magazine's 2019 list of "World's Most Admired Companies" as part of the IT Services industry with high evaluations in categories including Global Competitiveness and Innovation.

Fujitsu has been chosen for inclusion in the Dow Jones Sustainability World Index (DJSI World), the world's leading Socially Responsible Investment (SRI) index for 19th time.