Description
We're starting off the FUJIFILM fair workshop with a Photo talk on how to maximize your X-series cameras by Master Street X-Photographer Rommel Bundalian on July 13, 2018, 6PM.
Get your Vlog game strong with top Youtube Content Creators Aura Azarcon, at 12NN, and Baninay Bautista, at 1PM, on July 14, 2018 (Saturday). We will also conduct a workshop on how to curate you Instagram feed by Content Curator Issa Pressman on July 15, 2018 (Sunday), at 3PM.
Premium Fashion Photography, at 4PM, & Videography, at 5PM, workshops on June 15 will also be led by X-Photographer Niko Villegas and Director Silver Belen respectively. Capping off the Fujifilm fair workshops is Top advertising photographer G-Nie Arambulo's Dance Photography Workshop at 6PM.
These and more at the FUJIFILM Fair and the launch of the new X-T100!
See you at Glorietta 2 Activity Center, Palm Drive area, and avail huge cash discounts, get freebies, have your Fujifilm cameras and Fujinon lenses cleaned for free, get a chance to win a FUJIFILM XT100, and experience various fun activities. [Plus et a chance to meet and greet our celebrity Dapper James Reid!]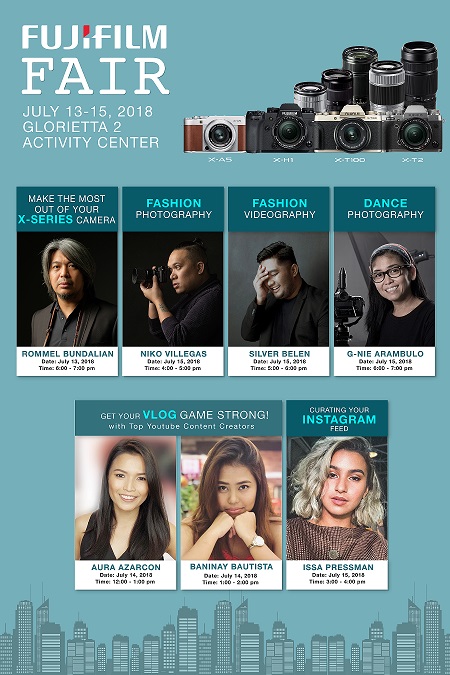 Available in a variety of colors such as Dark Silver, Black, and Champagne Gold and familiar to the sleek design of the X-T series, you can now purchase the X-T100 (inclusive of the XF15-45mm Kit lens) for only P39,990 at any of our authorized dealers nationwide (http://www.fujifilmph.com/dealers).
KNOW MORE ABOUT THE X-T100 at http://www.fujifilm.com/news/n180524_01.html
#XT100LAUNCHPH
#FUJIFILMXT100
#EnjoyShooting
#FUJIFILMPHXJamesReid
#FUJIFILMPH
#XT100
#FUJIFILMPHLifestyle