When you were a teenager, did you ever think you would be going to your 50th high school reunion? Neither did we....
About this event
Fullerton Union High School
Class of 1970 50th Reunion, September 11, 2021
Who knew ? It's "Deja Vu!" We have all been here before
And definitely worth the wait !!!
This event has been in the planning stages for over two years. It is finally becoming a reality. After rescheduling several dates, this once-in-a-lifetime event is absolutely confirmed.
Date: September 11, 2021
Time: 5:30 to 10:30 pm
Location: Alta Vista Country Club
Theme: "Deja Vu"
Website: FUHSClassof1970.com
Facebook: FUHS Class of 1970 50th Reunion
Tickets: $60.00 per person. Purchase by clicking the TICKETS button to be taken to a secure site. These advance ticket sales are available through September 01, 2021. Buy your tickets now!
We hope to see you there!
FUHS Class of 1970 50th Reunion
The golden anniversary of high school reunions - The 50th. You do not want to miss it. Come and see your old classmates who really want to see you. You'll remember the tales of years ago that you didn't even know you'd forgotten. The conversations can go for hours because there is so much to talk about. This will be like the parties of yesteryear, like you've been there before but it's different...it's deja vu. You will sense immediately that something about the fifty year reunion is just very special. We're all feeling it. We look forward to seeing our Classmates coming from near and far. You should be among them.
Two years in the making. This reunion dinner party has been organized to the hilt. The Alta Vista Country Club is the perfect venue with creative decorations, complete dinner including complimentary non-alcoholic beverages of your choice and one free drink ticket for the fully stocked no-host bar. You'll have memories galore from our numerous streaming videos. We have an amazing DJ with the best 60's music and a dance floor to make it all work. Capture your memories in the present with our photo booth, and expect a few additional surprises as well. Attire from business casual to island appropriate. For directions see location above. If you have food, other sensitivities, or needs, please contact Helen (Serrano) Blum: helenblum@yahoo.com
Campus Tour on Friday
A tour of the campus is being planned for 3:00 pm Friday afternoon, September 10th. It will last about 1.5 hours. Please arrive by 2:45 pm. Meet at the School Administrative office. Wear comfortable clothing and walking shoes. You may park in the teacher's parking lot off of Lemon Street. There will be no charge for the tour, but an RSVP would be appreciated. Send to Barbara (Lunnon) Horzen: momto8greatkids@icloud.com
Before, During and After the Football Game
For those who want to meet up before, during, and after the football game, the back patio area has been reserved at Rutabegorz restaurant from 5:00 pm to 10:00 pm. This is a no-host event that has been a friendly meeting area for our class for decades. Come say hello to your friends at any time on Friday evening and enjoy the food and beverages of this classic Fullerton establishment. 211 N. Pomona Avenue, Fullerton, CA 92832, (714) 738-9339. Any questions, email Jim Duke: jimdukeservice@sbcglobal.net
Varsity Football Game
Friday night, September 10, 2021. Starting approximately at 7:00 pm. FUHS Indians will play a home game against the Santa Fe Chiefs. A Class of 1970 seating section is being planned along with halftime activity arrangements to recognize the FUHS Class of 1970 graduates from 50 years ago. We will make more information available as it becomes available. Pick up and pay for your tickets in cash at the stadium.
Sunday Brunch Farewell
A Sunday brunch get together will be held on FUHS campus beginning at 11:00 am. Park in the parking structure on Lemon Street just north of Chapman. Meet at Senior Corner. Continue your conversations from Saturday Night or say hello to more classmates you didn't catch up with the night before. Please bring your own food and beverage. Alcoholic beverages are not permitted. If you have questions, for additional information please contact the organizers:
Cheryl (Ortmayer) Davis: zkdavis3@verizon.net
Janie (Linder) Haughn: janiehaughn@hotmail.com
Barbara (Lunnon) Horzen: momto8greatkids@icloud.com
Mary (Maturino) Sambrano: mmsambrano52@gmail.com
Hotel Accommodations
Arrangements have been made for a special room rates with Marriott Hotels discounted 25% to approximately $140 per night and for the Double Tree Hotel discounted 25% to approximately $120 per night. PLEASE! Book your hotel rooms early to ensure group rates can be had. The group rate goes away by August 10, 2021. More details are on the website.
Marriott Hotels, 2701 Nutwood Avenue, Fullerton, CA 92831 (714) 738-7800 USA
Reservation Link: https://www.marriott.com/event-reservations/reservation-link.mi?id=1620785064332&key=GRP&app=resvlink
Double Tree Hotel, 2932 Nutwood Avenue, Fullerton, CA 92831 (714) 579-7400.
Reservation Link: http://doubletree.hilton.com/en/dt/groups/personalized/F/FULLADT-FUH-20210909/index.jhtml
Final Thoughts
As we work towards finalizing this wonderful 50th Reunion, we would like to thank the several donors who have helped to make this reunion such a wonderful event. Without the financial support we've received, we would probably be having a much different type of reunion. Although we have done well in the fundraising department, we are still short of our original goal. If you are in a position to make a contribution, it would certainly help to offset our costs as we are running on a very tight budget.
DONATIONS/SPONSORSHIPS can be made by writing a check made payable to Kevin Healy Class President and sending it to Kevin Healy, 464 Santa Ana Ave., Newport Beach, CA 92663. Thank you so much — your FUHS 1970 classmates.
More Information
Special thanks to our artist, Olivia Collins who kindly volunteered to create the wonderful reunion artwork.
If you are not comfortable paying online and would prefer to pay by check, you can send a check payable to Jim Duke Service Company at the following address: Jim Duke Service Company, Inc, 8360 Clairemont Mesa Blvd, Suite 109, San Diego, Ca 92111
If you have a suggestion, or if you would like to update your contact information or provide contact information for another classmate, please email Roger Yount: rog.yount@gmail.com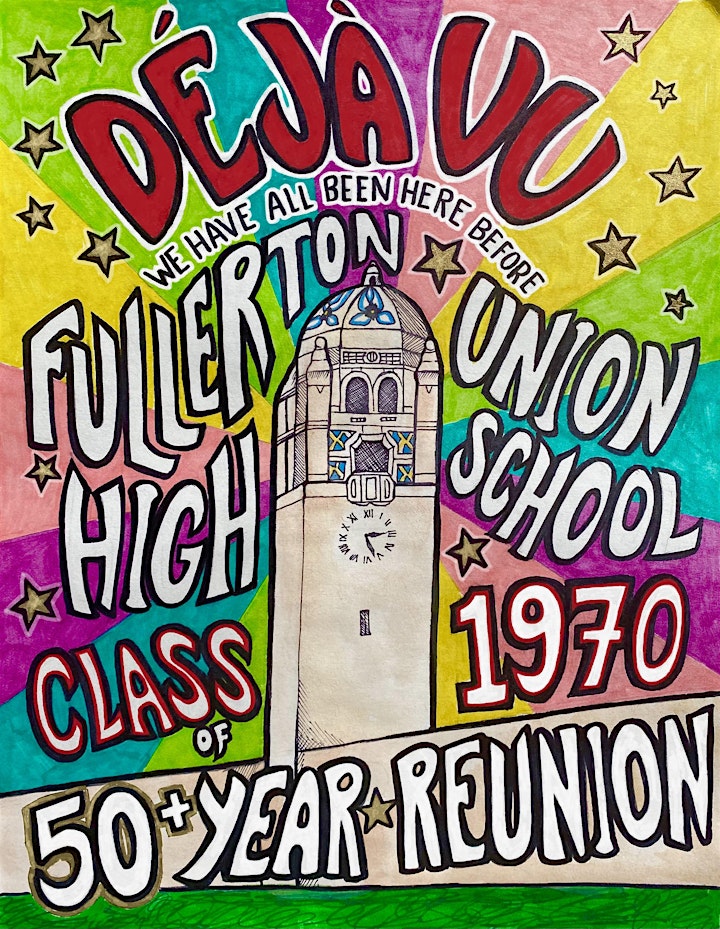 Organizer of FUHS Class of 1970 50th Reunion