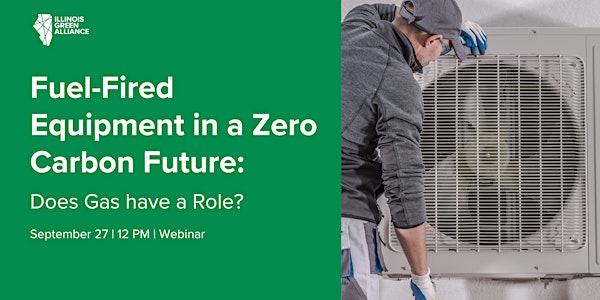 Fuel-Fired Equipment in a Zero Carbon Future: Does Gas have a Role?
Join Illinois Green Alliance for our upcoming webinar on September 27th!
About this event
Can technology developments in fuel-fired equipment provide a viable pathway for Net Zero Carbon, replacing fossil gas in companion with electrification in order to meet decarbonization goals? This session will not talk about what's expected, but explore what's possible and happening. While true fossil fuels will always have concerning GHG impacts, this session will map out multiple pathways to achieve lower greenhouse gas emissions, leveraging technologies that are nearing market introduction to provide a renewable dual-fuel future.
Next generation equipment such as residential CHP, hybrid air source heat pumps, and fuel-fired gas heat pumps provide multiple end uses of space heat, water heat and cooling with annual COP over 1. When combined with a combustion fuel that is renewably sourced - including bio-methane and hydrogen - these technologies can combine to offer resilient and renewable energy sources, with long-term seasonal energy storage capacity to assist electrification efforts. Pilot field demonstrations of some of these technologies have provided rich data sets, and performance results will be shared in this session.
Panelists will map out fuel pathways for a Zero Carbon future, share case studies of the technologies, and apply performance results in modeling software for retrofit and new construction applications. Finally, market readiness and cost effectiveness of the technologies and short-term commercialization will be discussed.
Speakers:
Allen Dusault, Energy Research & Development at Franklin Energy Services
Martha White, Energy Efficiency Policy Manager at Nicor Gas
Paul Glanville, Research & Development Director at GTI Energy