Sales Have Ended
Registrations are closed
Oops, I did it again...
Sales Have Ended
Registrations are closed
Oops, I did it again...
Description

Wassup!!!!
Yeah, since I announced my departure/resignation as the host of Fuckupnights KL in last week's monthly meet up, I have been getting questions one normally get asked when going through a divorce (I know because I've been in one #relationshipfuckup).
And one question I've been asked is, "Is there gonna be a sendoff party?"
And to that, my reply is, "Hell Yeah!"
So for the last Fuckupnights I'll be hosting, I'm bringing the community building legends, who I'm lucky to have as friends, peers and mentors, because seriously, as glamorous as it looked being the face of a movement or a community, between the four of us, there's easily half a century worth of fuckup stories.
First up is grandmaster Wu Han from LVLUP KL (a.k.a. WebcampKL), who was one of the first community leaders in the tech space go KL. From getting the common man on the street to be interested in blockchain propagation integrative syntaxes (totally made up by me), to getting more girls in a dude-fest of a meet up, WuHan has successfully dragged the coders, developers and techies out of their caves (or their mom's basement) into the light, so that they can be the Tony Stark of any startup team you see today. But was it an easy journey? How did he commit to such an altruistic initiative while raising FOUR startups? Yeah, when it comes to the grandmaster, you can only expect uncensored tales told in raw, pure, wit.
Next up is Zikry Kholil from Incitement, whose movement started off as a little "fuck-man-I-am-not-invited-to-that-awesome-company-event" to a "high-five-I-am-the-Oprah-for-the-youths" worldwide phenomenon. Seriously, from a small meet up at Bangsar, Incitement has gone to 43 countries all over the world, spreading the message of positive psychology, community awareness and generally an "if-you-know-what-you're-worth-go-out-and-get-what-you're-worth" attitude into he hearts of next-gen leaders. As one of the very rare movements that managed to cross borders, generations and cultures, grilling Zikry is gonna result in more pearls of wisdom than that roll of super-absorbable kitchen towel can soak up.
Last by not least, a party is not complete without the Black Widow, and no one rocks community outreach better than Laís de Oliveira of Startup Grind KL. I've the privilege of being one of the few people to welcome her to the scandalous shores of Malaysia a few years back, and I'm just amazed at how within such a short time, she has hosted one iconic guest speaker after another, and her community grew at a rate that left me jealous like a deprived housewife on Desperate Housewives! So what's it's like being a foreigner building a local and regional community, when she knew only a handful of people the moment she popped in the local SIM card in her phone? In a very male-dominated (#dickfest)ecosystem, how did she carve her niche and her unique following? And most important, how did slot in travelling to exotic locations along the way too? All that, and way, way, way more.
So yeah, more than just an epic line-up of speakers, this is one event you don't wanna FFK because they are my friends (although we'll probably just talk cock if you're not coming). Grab your tix, bring your friends, neighbours, moms, and your friend's neighbour's moms!
And no, this is not the end of Fuckupnights KL. Far from it. With a new host, trust me, in a couple of months you'll be like "Maverick who?"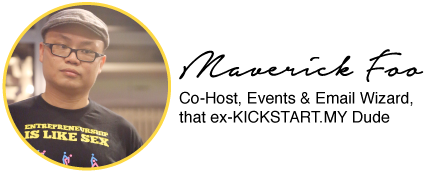 p.s. Ok sure, if you really wanna know why I'm resigning as the host of this awesome worldwide movement, I guess I can tell you more at the event. Yeah, a couple of fuckup stories from me and my KICKSTART days too. :)
p.p.s. No, this is NOT a publicity stunt to get you to come to my fake sendoff party. This is really, really gonna be the last Fuckupnights KL I'll be hosting.
p.p.p.s. Ok, if you don't believe me, then you can just come over and find out yourself.
p.p.p.p.s. But don't just come for the food and drinks. There can only be one cheapass in the house and that's me. Wu Han would be a close second, and Zikry a farther third.
FAQ:
You: Seriously?!? What the fuck is FuckUpNights?
Mav: I'll let this video do the explaining. :)
FuckUpNights KL is brought to you by: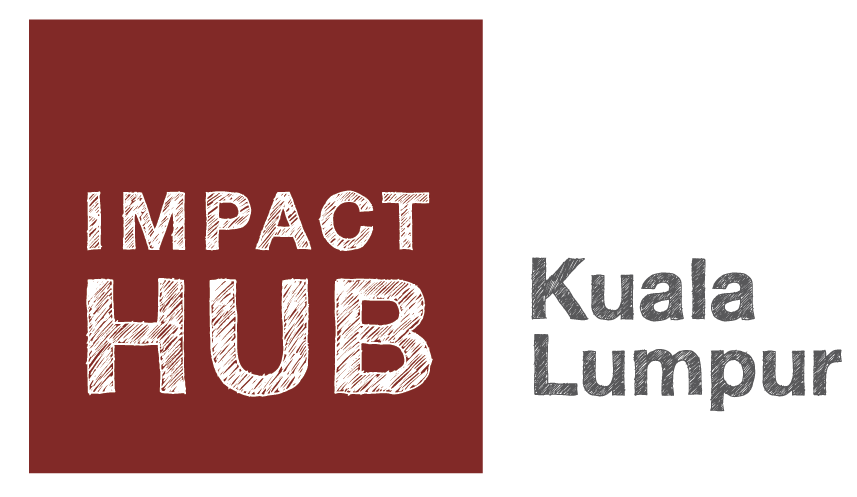 The Impact Hub community is made up of social businesses addressing challenges both locally and globally. Our members are entrepreneurs, social investors, freelancers, advocates, campaigners, creatives, artists, consultants, and more. Here at Impact Hub KL, members enjoy access to a friendly co-working environment; a flexible exhibition and events space; a global platform connecting them to 10,000+ entrepreneurs; and a programme of community events, learning and development workshops, and much much more.... Hub KL also runs a series of programmes – most recently the flagship VIP fellowship, placing international and local professionals in Impact Projects across Malaysia. We are part of a global network of connected communities that enable collaborative ventures. Impact Hubs unite people from every profession, background and culture with imagination and drive to pursue enterprising ideas for the world. These are the people who see and do things differently and have entrepreneurial passion to create sustainable impact.
Date and Time
Location
Impact Hub Kuala Lumpur
D7@Sentul East Design Centre
Jalan Sentul
Kuala Lumpur, Wilayah Persekutuan Kuala Lumpur 51000
Malaysia