Description
What is FuckUp Nights? A global movement where stories of professional fuckups + failures are told, questioned, and celebrated.
FuckUp Nights is an event series that happens in over 80 countries and over 200 cities globally. Hundreds of people attend each event worldwide to hear 3 to 4 entrepreneurs or industry leaders share one of their biggest professional or business fuckups + failures in a candid and irreverent way in 7 min, using 10 images followed by Q&A. Why? Because the majority of us don't create the "project of the year" in our first attempt, and because stats show, we learn more from stories of failure than from success.
---
Our Storytellers...
Tony Michaelides~Music Man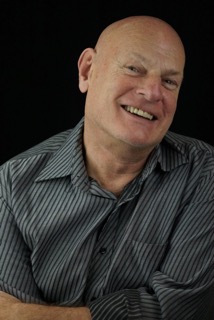 Tony has an irrefutable reputation achieved from over thirty years in the music industry where his portfolio reads like a who's who of the music industry. With a stellar cast of clients that include David Bowie, U2, REM, Genesis, Dave Matthews, Bob Marley, Depeche Mode, Happy Mondays, Matchbox Twenty, The Police, The Pixies, New Order, The Stone Roses, Massive Attack, Neneh Cherry, Annie Lennox, Whitney Houston, Take That, Natalie Imbruglia, P. Diddy, Elvis Costello, Genesis, Peter Gabriel….the list goes on. Tony has worked with BMG, Island Records, A and M Records, Transatlantic, Mute, Circa, Factory Records and with industry giants Simon Fuller and Simon Cowell. He's a TEDx Speaker, Rebels & Rockstars: Inspirational Stories from my Career in the Music Industry, and currently an advisor for Magic Leap, a digital media and technology company that develops and delivers proprietary content.
---
Meredith Andrade ~ Wild Child
Meredith has worked in radio for almost 15 years. She's had experiences many veterans would envy including being the female voice on the syndicated MJ Morning Show in Tampa. She started out her career as a producer but quickly worked her way up to being the new co-host of 'Orlando and The Freakshow' on Wild 94.1. She's proved that she can hang with the guys but also speak for women on almost any topic. Working at Wild 94.1 is the most fun she's ever had while working in radio and absolutely loves the environment and passion everyone brings to the station. In addition to her radio career, Meredith's outgoing personality has led to many other opportunities including being featured in the NY Post (twice) and Huffington Post, on reality television shows, commercials, magazines and even earned a spot on Dancing With The Stars Tampa edition.
---
Jason Atheney~Punk Sta

Jason is the saxophonist in ska-punk band Victims of Circumstance and President of local beard care company Beard Brewery Inc. He joined the band in early 2008 and has been instrumental in the writing of three studio albums released since then, as well as handling the majority of the social media and booking duties. Based in Clearwater, VoC has toured the SE United States, toured Europe three times ('11, '12, '15), and has shared the stage with pretty much every giant in the genre including the likes of the Mighty Mighty Bosstones, Streetlight Manifesto, Big D and the Kids Table, and many others. They have also played several major festivals in Tampa Bay and abroad including SunFest, Rebellion Festival (UK), and Boomtown Fair (UK).
---
Eddie Rosicky ~ Lounge Cat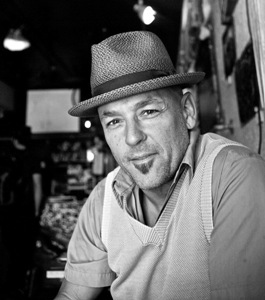 Eddie is a jack of all trades and a master of none who has had fun for 30 years creating music, film, design and performance art. As an Entertainer/Musician, he has experienced more than his share of anecdotal mishaps from the ridiculous to the fantastical. He integrates each of these experiences into his creative work while enthusiastically seeking out new adventures. Eddie knows he has chosen the hardest ways to make an easy living and he wouldn't have it any other way.
---
EMCEE~Funny Dude
Law Smith~Cigar City Comedy & TocoWorks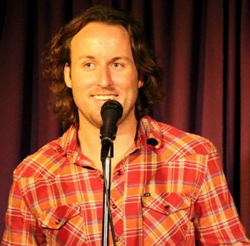 ---
Open Mic Fuckups


We love great stories, that's why at every event we open the floor to anyone who has a mini or epic professional fuckup to share...we're all ears.
The best fuck-up story will win a grand prize which includes a FuckUp Nights T-shirt and other goodies. The winner is selected by votes from our storytellers and the audience.
---
FuckUp Nights

T-Shirt

...
Razzle dazzle in a snazzy FUN T-shirt...you know you want one to wear to the event. Click HERE to buy or select the "Combo Package" ticket.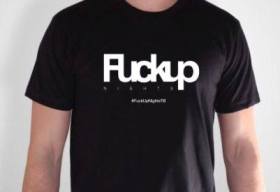 ---
On Tap...
Beer cash bar and complimentary cocktail tasting by Kozuba & Sons Distillery.
6pm - 6:30pm ~ Grab a drink and start mingling
6:30pm - 8pm ~ Storytellers + Q & A, peppered with Open Mic FuckUps Competition
---
Venue Host ~ Paper Crane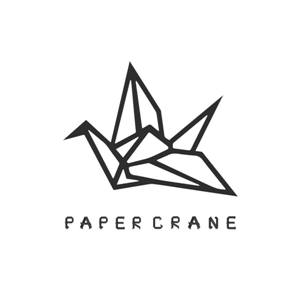 ---
Lots of Love to our Sponsors + Community Partners