Location
The Hub Singapore (near Lasalle)
128 Prinsep Street
188655
Singapore
Description
for more about Fuck Up Nights Singapore, past speakers, and upcoming events!


--
SOLD OUT!
Next Fuckup Nights is on April 5th, Wednesday. Save the date!
Join the mailing list at fuckupnightssg.com.
Fuckup Nights Singapore is back for ROUND 14!
There's enough press around success, and not enough for all the frustrating, confusing, chaotic, hilarious moments inbetween.
Fuckup Nights is a global movement to share business failure stories in a candid way -- to destigmatise and explore the tough moments, to create a more solid foundation for innovation.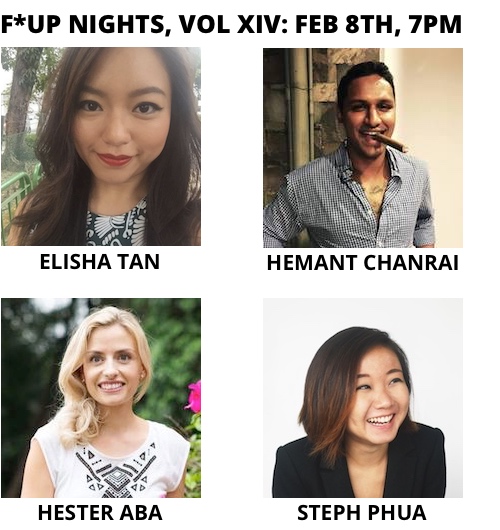 OUR SPEAKERS IN THIS ROUND (Bios below):
1. Elisha Tan - Developer Programs at Facebook, Founder of TechLadies, Founder of Learnemy
2. Hemant Chanrai - Director at Eight Four Capital, Founder of award-winning social enterprise, Azzura Solar
3. Steph Phua - Runs Duo Studio (social media agency, Disney and like clients)
4. Hester Aba - Founder of Delilah Creative


THE GAME PLAN:
3-4 entrepreneurs share their failures -- each speaker gets 6:40, for 10 images or 40 seconds each.
Then, you ask them questions: ask anything you're curious about, that would add value to your night. Don't hold back! The speaker will decide whether or not to answer.
You bring yourself. We bring the cool vibe, drinks, music, and kickass speakers. We unite at 7pm, break for mingling at 840pm, and reunite every other month.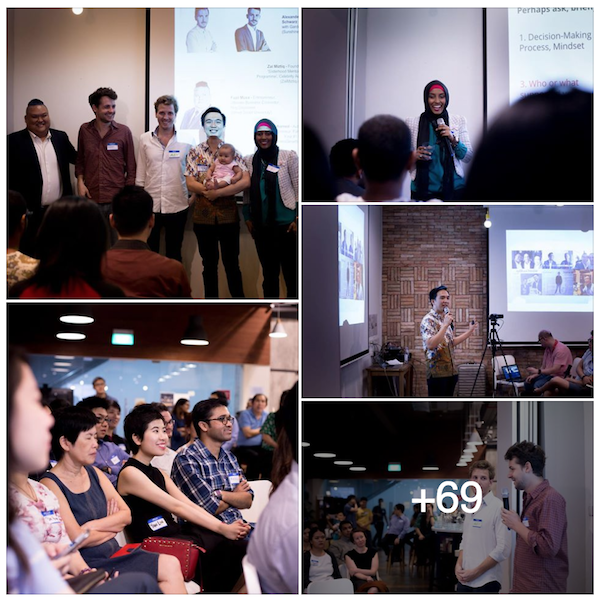 SPEAKER BIOS:
Elisha Tan
Elisha Tan is the founder of TechLadies, a community for women to learn and advance in the tech industry.
When she's not getting more women to fall in love with programming, she is the Developer Programs Manager at Facebook.
Prior to having a proper job, Elisha founded Learnemy - an online marketplace for in-person classes, and she fucked that up after working on it for 3 years.
Hemant Chanrai (Rishi)
I founded a social enterprise called Azzura Solar, aimed at providing solar power systems for families in Indonesia living without access to power.
I have been featured in Forbes magazine and named one of the top ten social entrepreneurs in Indonesia, for this work.
Over the past 3 years, Azzura Solar has installed over 4,000 solar power home systems and provided over 15,000 rural residents with electricity, they desperately needed.
Despite the commercial success of the company, it took an emotion toll on me, causing me to rethink it all.
Background: I am an Indian citizen, born and bred in Indonesia. After completing my Masters in the UK, I returned home to Indonesia and founded Azzura Solar.

Steph Phua
Steph stumbled into the world of social media marketing early in her career and then boldly went to look for the right job for herself. After numerous tries, she then decided to give up on the hunt to create an environment that she enjoyed working in. Starting up obviously didn't come easy as well.
Today, Steph runs Duo Studio, a social media agency that calls Uniqlo, PlayStation, and Disney clients.
In her free time, Steph loves watching speculative fiction, doodling and cat-watching.
Steph also hates talking about herself in third person.
Hester Aba
Hester Aba is the Founder and Creative Director of Delilah Creative and Co-Founder of S Media Group.
Hester is originally from the UK, with stops in Switzerland and Hong Kong before landing up in Singapore. She loves spending time with her two little girls, Cross-fitting and eating her weight in Cha Siu Bao.
She fucks things up and creates awkward situations on a daily basis.
P.S. The event is free to attend but bring cash for drinks or donations.
A collaboration betwen The Hub Singapore & Cut The Small Talk