Description
What's Fuckup Nights?
Failure is a part of any success story, but we don't talk about it enough. We've all been to plenty of events where people tell you how they hacked, hustled, and created their success, but very few where someone gets up and says "I totally messed up, and this is what you can learn from it."
Fuckup Nights is a global speaker series where stories of failed businesses and projects are told, questioned and celebrated. Each speaker is given 7 minutes and is able to use 10 images. After each speaker, there's a Q&A session, as well as time for mingling and drinks!
250+ cities, 80+ countries, 7 minutes, 10 images, 1 failure.
Agenda:
6:00 - 7:00 pm: Registration, meeting fellow fuckuppers, drinks and food
7:00 - 8:30pm: Fuckup presentations + Q&A

8:30 - 9:00pm: More drinks, more mingling with fellow fuckuppers
Host: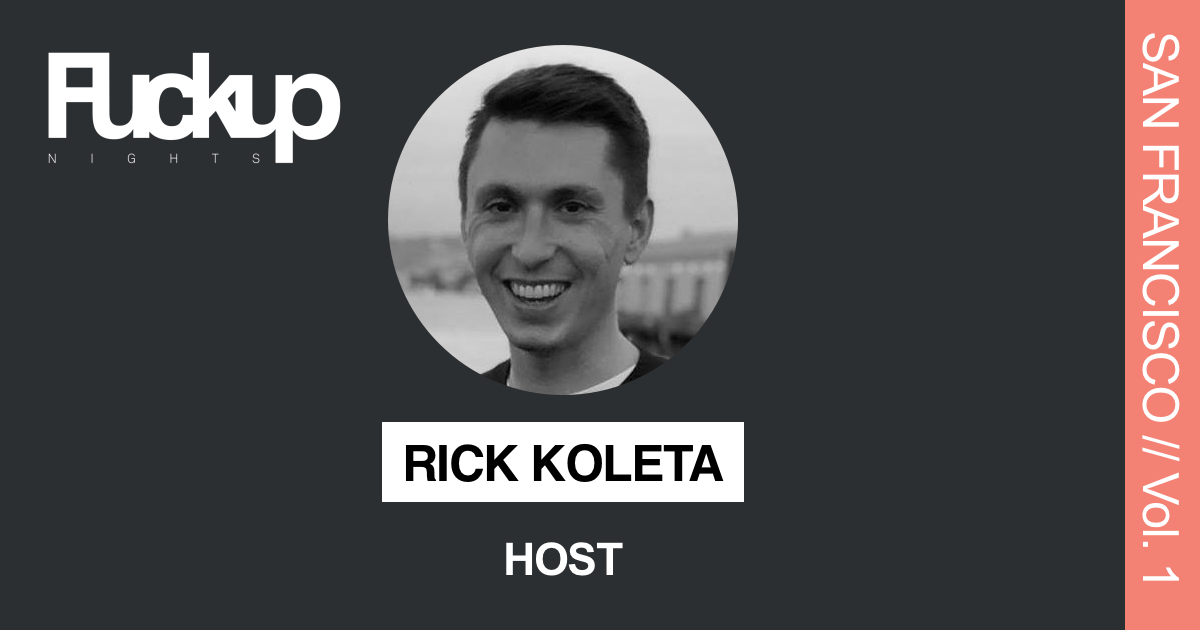 Rick Koleta is a growth marketer and business developer -- Rick founded CreatorDen, the fastest growing influencer marketing business in Turkey. The idea of applying advertising mechanics to individuals on top of social media platforms was hatched during a two-month fellowship program with legendary entrepreneur turned investor, Sir Terry Matthews. He has shared his thoughts at TEDx and is also the founder of Fuckup Nights San Francisco, Fuckup Nights Istanbul, and Influencer Talks.

Speakers:

Ali is a tech entrepreneur with over 5 years of software engineering in Cloud Computing and Blockchain. Ali is an ex-Google, ex-Amazon engineer, and is the Co-founder at Beetoken, a blockchain startup aiming to decentralize short-term rentals and the sharing economy. Ali is also a technical advisor for multiple Blockchain startups in the fields of sharing economy, A.I, IoT, and energy.

Dmitry is the CEO/co-founder of Finfox, a financial planning and forecasting service for SMBs. Prior to Finfox, Dmitry worked at the International Monetary Fund and a global macro hedge fund. He is a graduate of Harvard Business School and a World Economic Forum Global Shaper.

Eric is the Head of Growth for StartPad, a Silicon Valley Accelerator for product-based businesses. His passion is helping startups bring their ideas to market, allowing them to create, launch, and scale. Previously, Eric was on the Adwords team at Google, advising companies on strategizing their marketing efforts. Combining his sales training from top sales organizations and marketing knowledge, he soon pivoted into the world of e-commerce. Eric's focus is to adopt growth strategies in order to scale his own business and to provide direct value to his clients.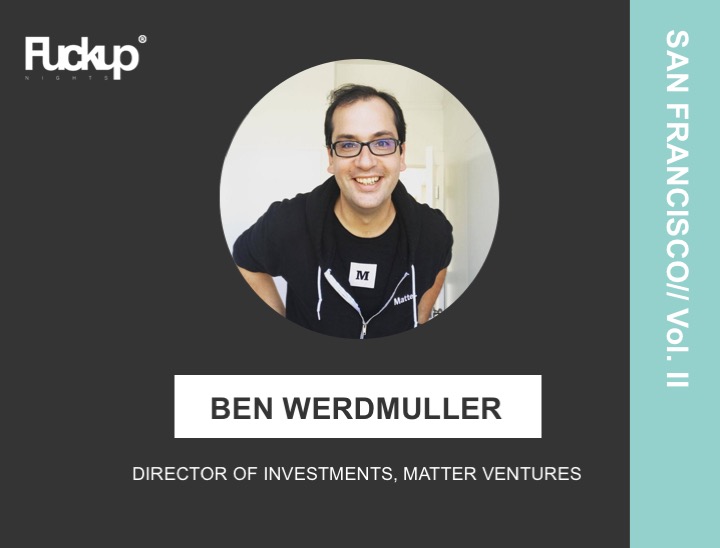 Ben Werdmuller is the Director of Investments in San Francisco for Matter Ventures, which supports early-stage entrepreneurs who have the potential to create a more informed, inclusive, and empathetic society. He previously co-founded Elgg and Known.
Stay tuned for more speakers!
Hey you! Yes, you :) We're always on the lookout for great speakers with epic fuckups to share. Fill out the speaker submission here and we'll be in touch!
---
Join the conversation:
#FuckupNightsSF
---
Terms & Conditions
By participating at our Events, you authorize Fuckup Nights San Francisco and Global, its officers, directors, organizers, and event photographers and videographers to use any photograph(s) and/or videos that are taken of you while participating in each Event at its sole discretion.

Fuckup Nights San Francisco reserves the right without refund or compensation to refuse admission to any persons whose conduct is disorderly or unbecoming.

Fuckup Nights San Francisco may add, withdraw or substitute speakers and/or vary advertised programmes, event times, seating arrangements and audience capacity without prior notice.

Fuckup Nights San Francisco may postpone, cancel, interrupt or stop the event due to adverse weather, dangerous situations, or any other causes beyond reasonable control.

As a Member of our community, you agree to act professionally, treat everyone with respect, and treat the event facilities with proper care. You agree that you are responsible for any accidents or damage that you cause. You also agree to not hold us, your local volunteer team, or any of the event supporters liable for any loss, damage, injury, or any other unforeseeable incident.

You realize that there are potential risks inherent in your participation in our Events. You freely and voluntarily accept and assume all such risks, dangers and hazards and the possibility of personal injury, death, violence, property damage or loss, during all the time of each event, resulting from activities during each event.

In consideration of approval to participate in each Event, you and any personal representative, hold harmless, release and forever discharge Fuckup Nights San Francisco and Global, its organizers, attendees, volunteers, agents, trainees, contractors or employees from any and all actions, causes of actions, including negligence, claims and demands for damages, loss or injury, resulting from or arising out of your participation in the event.