Description
What's Fuckup Nights?
Failure is a part of any success story, but we don't talk about it enough. We've all been to plenty of events where people tell you how they hacked, hustled, and created their success, but very few where someone gets up and says "I totally messed up, and this is what you can learn from it."
Fuckup Nights is a global speaker series where stories of failed businesses and projects are told, questioned and celebrated. Each speaker is given 7 minutes and is able to use 10 images. After each speaker, there's a Q&A session, as well as time for mingling and drinks!
Speakers:
Carlos Diaz
Co-founder & General Partner, The Refiners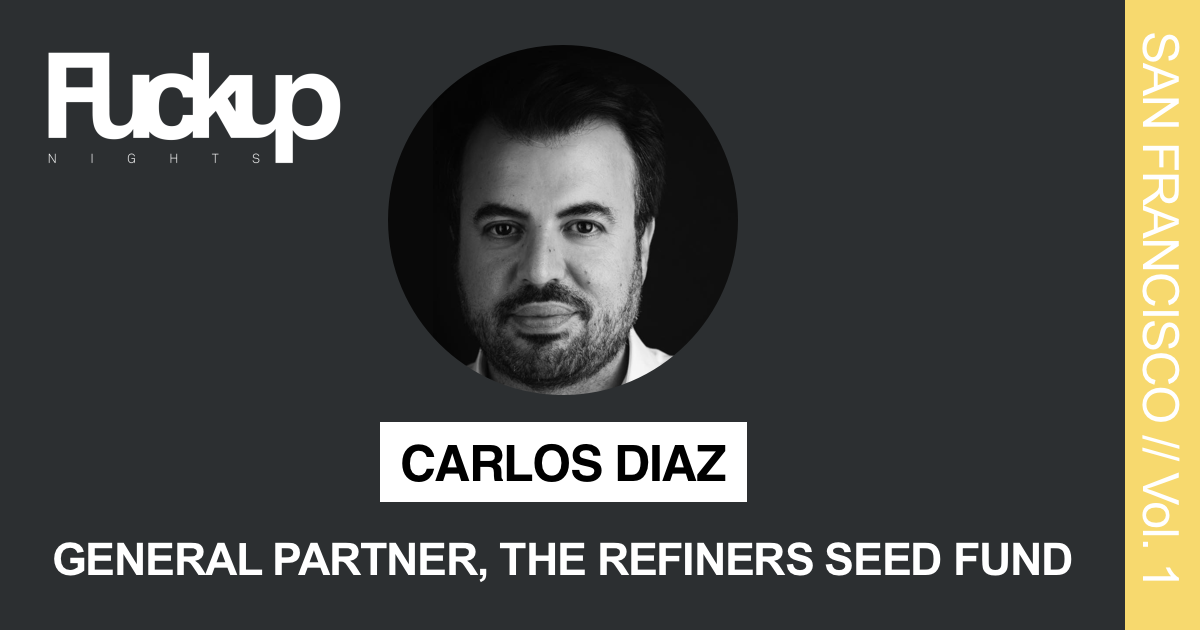 Carlos Diaz is the Co-founder of Reflect Digital Agency in Paris. After Reflect was acquired by the Emakina group and became public, he went on to form blueKiwi, which became a European leader in Social Enterprise Software and was acquired by ATOS in 2012. He later built Kwarter, a San Francisco based company determined to revolutionize how people interact with Live TV programs, which failed. He is now managing The Refiners, a Cross-Border Seed Fund Program based in San Francisco that helps international startups thrive in Silicon Valley.
Sam Parr
Founder & CEO, The Hustle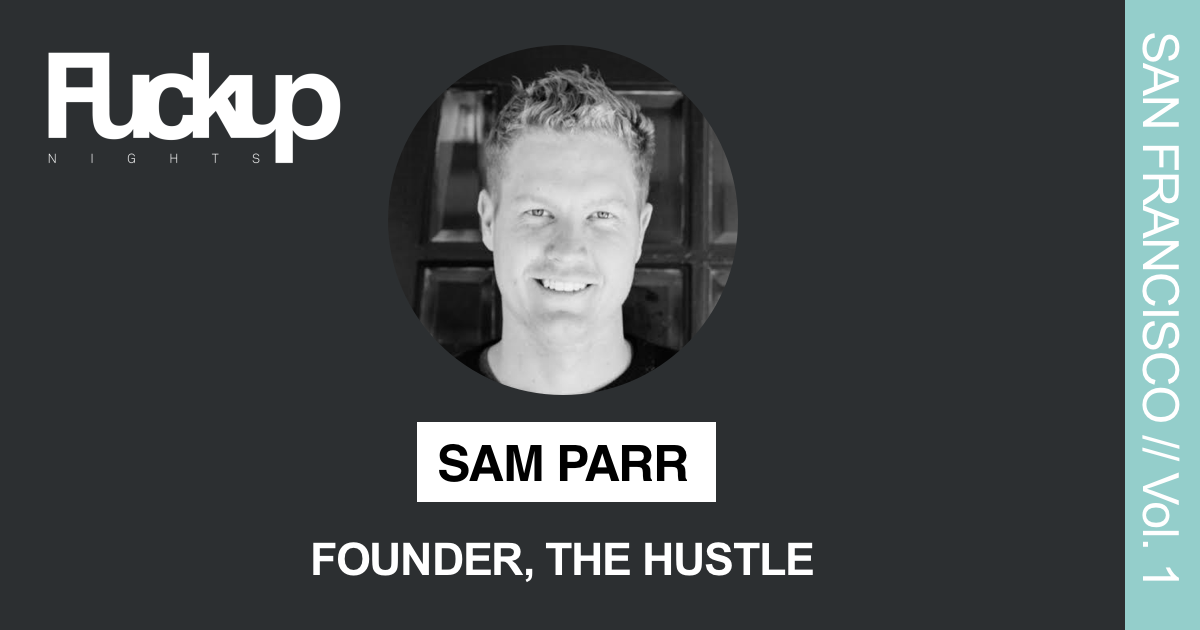 Sam Parr is the founder of The Hustle, one of America's fastest growing media companies. Each month over 10 million young people refer to The Hustle to get the business news they need to start their day. Sam is also the founder of Hustle Con -- A one-day startup conference where the best non-technical startup founders tell the stories, tactics, and tips they used to start and grow their startup.
Dmitry Zhdankin
Co-founder & CEO, Finfox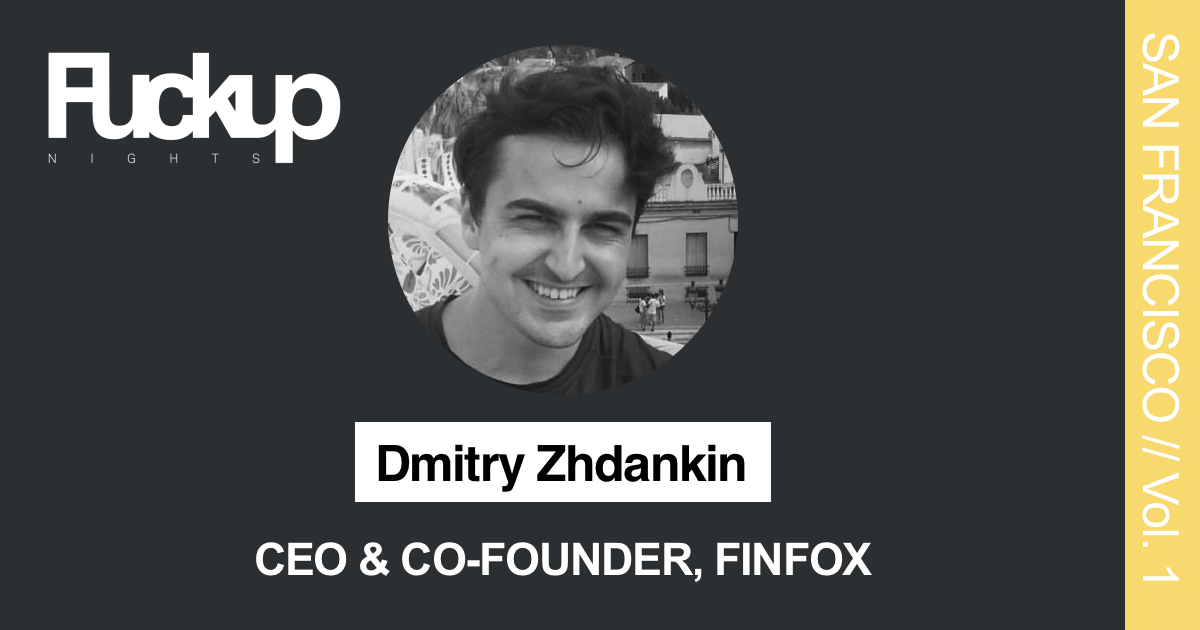 Dmitry Zhdankin is the CEO/co-founder of Finfox, a financial planning and forecasting service for SMBs. Prior to Finfox, Dmitry worked at the International Monetary Fund and a global macro hedge fund. He is a graduate of Harvard Business School and a World Economic Forum Global Shaper.
Rick Koleta
Fuckup Nights San Francisco - Host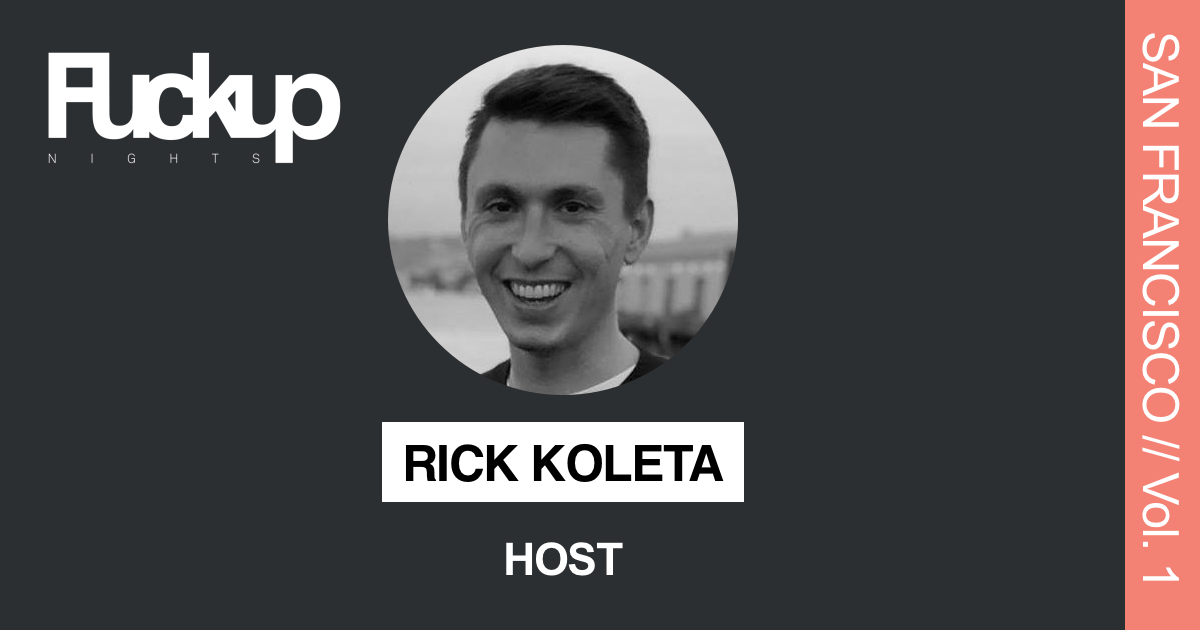 Rick Koleta is a growth marketer and business developer -- Rick founded CreatorDen, the fastest growing influencer marketing business in Turkey. The idea of applying advertising mechanics to individuals on top of social media platforms was hatched during a two-month fellowship program with legendary entrepreneur turned investor, Sir Terry Matthews. He has shared his thoughts at TEDx and is also the founder of Fuckup Nights San Francisco, Fuckup Nights Istanbul, and Influencer Talks.

---


Join the conversation:
#FuckupNightsSF
---
Terms & Conditions
By participating at our Events, you authorize Fuckup Nights San Francisco and Global, its officers, directors, organizers, and event photographers and videographers to use any photograph(s) and/or videos that are taken of you while participating in each Event at its sole discretion.

Fuckup Nights San Francisco reserves the right without refund or compensation to refuse admission to any persons whose conduct is disorderly or unbecoming.

Fuckup Nights San Francisco may add, withdraw or substitute speakers and/or vary advertised programmes, event times, seating arrangements and audience capacity without prior notice.

Fuckup Nights San Francisco may postpone, cancel, interrupt or stop the event due to adverse weather, dangerous situations, or any other causes beyond reasonable control.

As a Member of our community, you agree to act professionally, treat everyone with respect, and treat the event facilities with proper care. You agree that you are responsible for any accidents or damage that you cause. You also agree to not hold us, your local volunteer team, or any of the event supporters liable for any loss, damage, injury, or any other unforeseeable incident.

You realize that there are potential risks inherent in your participation in our Events. You freely and voluntarily accept and assume all such risks, dangers and hazards and the possibility of personal injury, death, violence, property damage or loss, during all the time of each event, resulting from activities during each event.

In consideration of approval to participate in each Event, you and any personal representative, hold harmless, release and forever discharge Fuckup Nights San Francisco and Global, its organizers, attendees, volunteers, agents, trainees, contractors or employees from any and all actions, causes of actions, including negligence, claims and demands for damages, loss or injury, resulting from or arising out of your participation in the event.