Description
"Success is most often achieved by those who don't know that failure is inevitable." – Coco Chanel
Join us at our next Fuckup-sharing night on January 30, 7:30PM, as top innovators and entrepreneurs share their infamous failures as they struggled to reach the top! From one failure to the next, listen as these startup entrepreneurs share what it cost them to achieve success.
Speaker Lineup: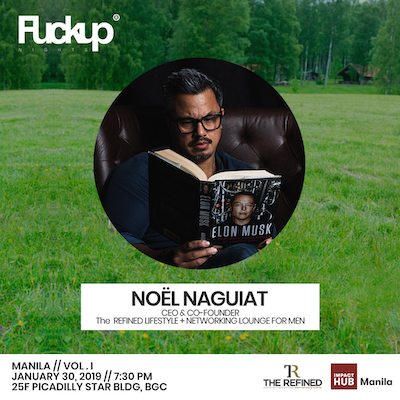 Noël Naguiat is a 20 year veteran in the advertising industry. He graduated from Ontario College of Art & Design. Noël worked on accounts such as Mazda Canada, Mazda USA, Blockbuster Canada, Fuji Films, PacifiCare Health Insurance, PAC Sun, Mazda North America, Bell Canada, Bank of Montreal, Shopper's Drug Mart, and Yellow Pages just to name a few.
While working full-time, Noël opened Toronto's first men's only grooming salon called MANKIND GROOMING STUDIO FOR MEN. He was responsible for the branding, marketing and interior design of all locations. Noël eventually introduced this concept to the Philippines and co-founded The REFINED Lifestyle + Networking Lounge for Men in Bonifacio Global CIty. "It's the next level version of Mankind. That's why it's called The 'REFINED'".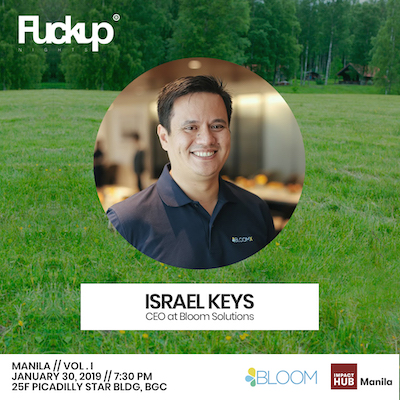 Israel Keys is the founder and CEO of BloomSolutions - a financial technology startup providing modern blockchain solutions to money transfer businesses and financial institutions around the world.
He combines a background in international humanitarian development and technology startups. Prior to the Philippines he led two high-tech startups in Boston, USA; and directed the programmatic efforts of an INGO in Mozambique. He came to the Philippines to help respond to typhoon Haiyan.
Israel holds a Masters in Public Administration from the Harvard Kennedy School of Government, and Bachelor Degrees in Engineering and Science from the University of Queensland, Australia. He brings insight from multiple disciplines and is passionate about fostering innovation, developing people and building impactful organizations.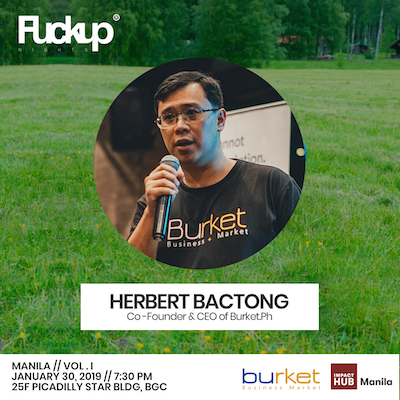 Herbert Bactong is the co-founder and CEO of Burket.Ph— he's also been an IT management professional for the last 16+ years. He's worked for various multi-national companies in the past including BPI as the Chief Technology Officer of the stock market trading group, Bank of America as Technology Head of back-office operations in the Philippines, and Camaya Coast's IT Subsidiary, Contextus Community Technologies as the President and Group CIO.
Aside from Burket, he is also the founder and director of One Php Technology, the company behind 1PesoHosting.Com and was the co-founder of TechSupport.Ph.
__________________________________________________________________
What started as a normal gathering for friends in Mexico 2012, became a night that would be held worldwide. FuckUp Night is a night to celebrate your failures to make way for success!

We always hear about success stories but never about failures. Impact Hub believes that Failure is something we should not be afraid of hearing or experiencing. It makes us stronger and wiser yet humble.

Every LAST WEDNESDAY of the month, Impact Hub invites you to listen to and be inspired by stories of failure of entrepreneurs and how they managed it.