Description
Fuckup Nights Bangkok is back!
We are excited to announce Fuckup Nights Bangkok Vol. VI, this time with another English Language Edition. The event will be taking place at 18:30 on the 8th of February, 2018 @ BU Gallery, Bangkok University City Campus. Once again, we are delighted to have some of Thailand's most inspiring entrepreneurs sharing their stories with us and are very honored to have the following speakers confirmed for our upcoming event.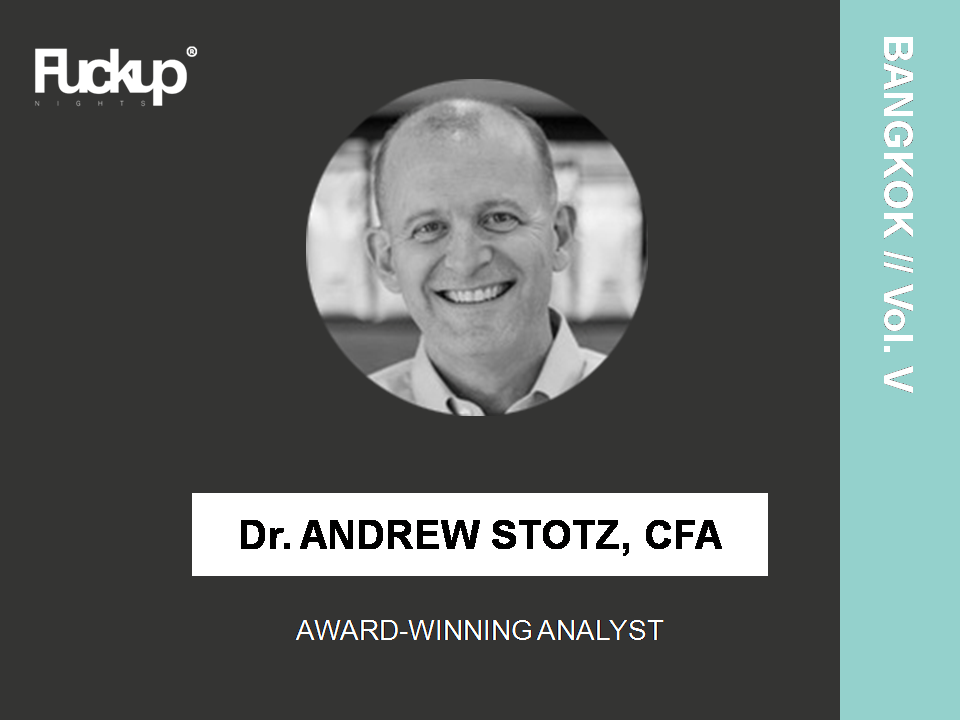 Dr. Andrew Stotz, CFA, is an award winning analyst (voted #1 equity analyst in Thailand) and is the past President of the CFA Society, Thailand. He is also the Co-Founder and Finance Director of CoffeeWORKS Limited, as well as Co-Founder and CEO of both A. Stotz Investment Research and A. Stotz Academy. In addition, Dr. Stotz has also been a faculty member of Thammasat University since 2004. His passion in life is to help others ethically build wealth.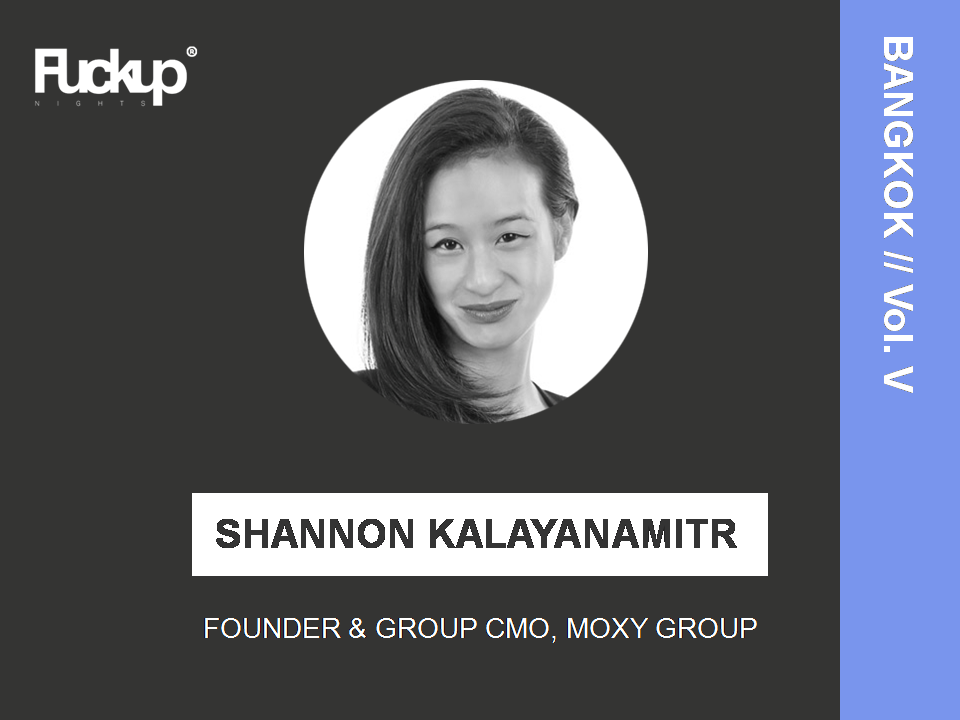 Khun Shannon Kalayanamitr is the Founder and Group CMO of MOXY Group as well as the CEO of both Iconic Media and the Ikigai Group. Moxy is the only WOMEN focused shopping destination in Asia and wants to serve women by being their one-stop online platform. Before joining Moxy, Khun Shannon was the Co-Founder and CMO of Orami, Thailand, as well as Director of Altus Transactional Services and Director of Corporate Planning for Boonrawd Trading International, just to name a few. Khun Shannon is passionate about solving real world problems, creating and nurturing ecosystems, as well as closing the opportunity gap.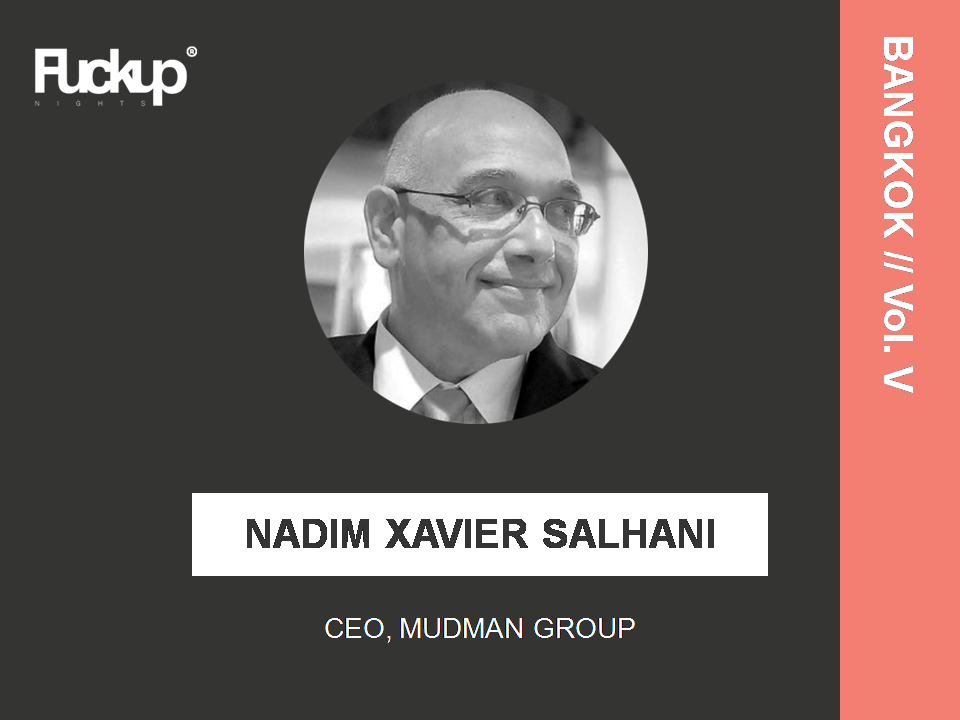 Mr. Nadim Xavier Salhani is currently the CEO and Director of the MUDMAN Group, authorized franchisee for Au Bon Pain, Dunkin' Donuts and Baskin Robbins, as well as owners of Greyhound Original, Greyhoud Café, Another Hound Café, and Mudman Catering Services. Before joining the Mudman Group, Mr. Salhani was the first General Manager for Starbucks, Thailand, from 1977 to 2003 and was responsible for opening the first 40 stores in Thailand. Mr. Salhani is not afraid to share his life and work experiences and as a consequence is a part-time instructor at leading Universities in Thailand.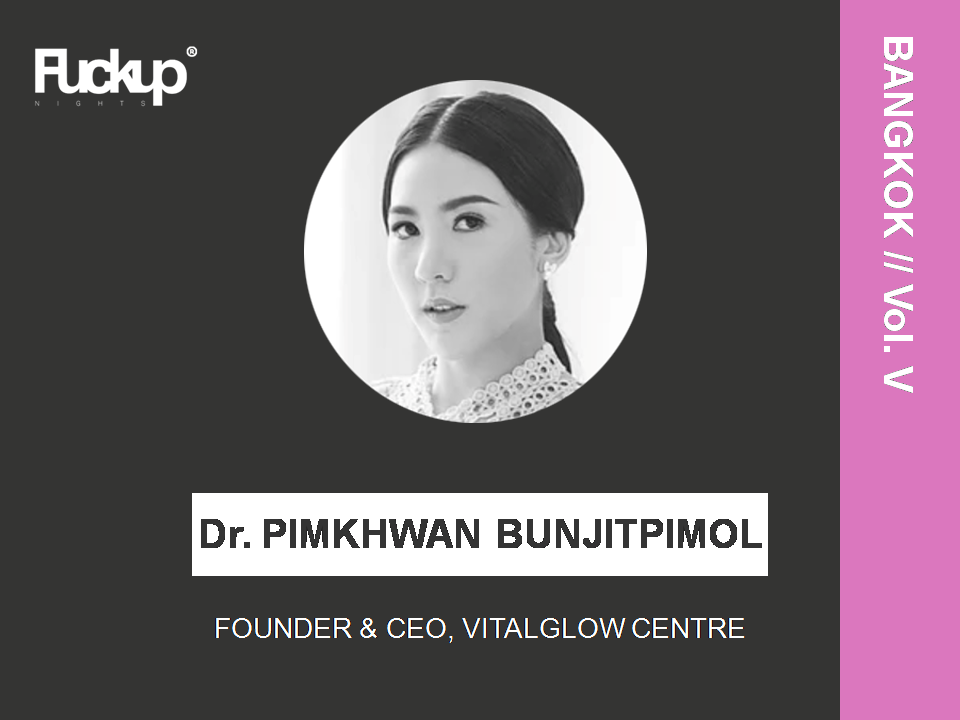 Dr. Pimkhwan Bunjitpimol is the Founder and CEO of Vital Glow Centre and the VP of Navamin 9 Hospital. Founded in 2015, Vital Glow Centre is a state-of-the-art health and beauty center in Bangkok focusing on skin and aesthetics. Their mission is to bring natural beauty to all women by providing skin and body treatments and products for perfect natural beauty. Besides being a CEO, entrepreneur, and health & beauty guru, Dr. Pimkhwan is also an actress and model and has made many magazine, newspaper, and TV appearances.
It is a simple truth that no great success was ever achieved without failure. Let's come together at Fuckup Nights Bangkok and learn from each other.
"I have not failed. I've just found 10,000 ways that won't work." Thomas A. Edison
Fuckup Nights is a concept from Mexico City and started in 2012 with the goal of having successful professionals and entrepreneurs share their failures with an audience in order to have a chance to learn from their mistakes. Failing is part of every success story, but what if you could learn from other people's failures and avoid having to make those mistakes yourself?
Four speakers will have around 7 minutes and 10 slides to share their own stories of business failure. After each speaker, there will be time for a Q&A session. We highly encourage networking before and after the speakers' presentations.
To stay informed about this event and for information about our upcoming events, please check out and like our Facebook Page.