The FTX community in Africa will be launching a Masterclass.A wholistic training on Cryptocurrency trading, come learn & sharpen your skills
About this Event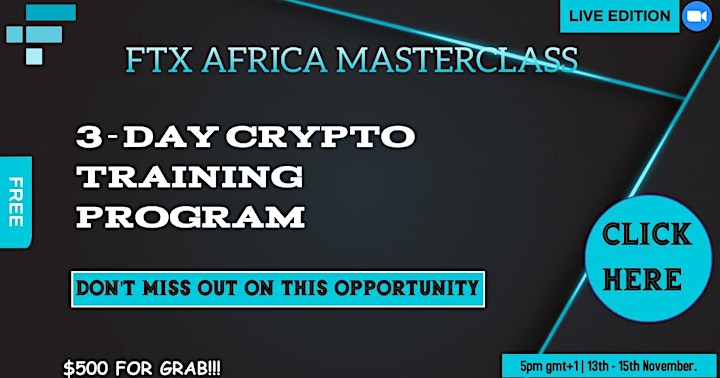 The FTX community in Africa will be launching a Masterclass. A wholistic training on Cryptocurrency trading, come learn & sharpen your trading skills on Nov, 13th -15th 2020, at 5PM. Live on ZOOM.
We have some seasoned and experienced speakers who will take you through:
1. History and Fundamentals of Bitcoin and Cryptocurrencies.
2. Risk management and Profitable trading.
3. Technical analysis for beginners in crypto.
4. Trading Blockchain Crypto Assets and Staying Regulation and Policy Complaint.
5. Crypto Regulation in Africa: Regulation or Strangulation of Innovation?
SPEAKERS
Chuta Chimezie is an Advisory Board Member at Kinesis Money, Caymans, and formally Regional Director for Africa at Paxful Inc. He is the Founder of Blockchain Nigeria User Group, Protem Chairman Organization of Blockchain Technology User (OBTU), Africa Lead, Technology & Innovation at Blockspace Africa Technologies and CEO of both Techbuild Innovation Partners and Lagos Drupal Varsity.
Kamau Nyabwengi is the Founder and CEO, Young Entrepreneurs Africa, experience in financial markets, forex trading and Blockchain technology.
Trader Kessy is a Hedge funds manager and consultant, he helps trading organizations within and outside Nigeria increased their portfolio irrespective of market conditions.
George Mwakisha is a Certified Blockchain Expert, a digital asset trader and investment advisor. Has experience working with traditional banking services.
Senator Ihenyen is a Lead Partner at Infusion Lawyers, a virtual intellectual property (IP) and technology law firm, where he heads the Blockchain Practice and the Intellectual Property & Technology Practice.
Winston Adaete Is the Lead market researcher and CEO Globance Ltd, CFO and community leader TobbyEpay Ltd. Veteran Financial market Trader and trading coach. Chief Crypto Strategist at Ace Africa. FTX Ambassador, and a crypto enthusiast.
NOTE: The Content is for informational purposes only, you should not construe any such information or other material as legal, tax, investment, financial, or other advice.
Register for FREE on Eventbrite.