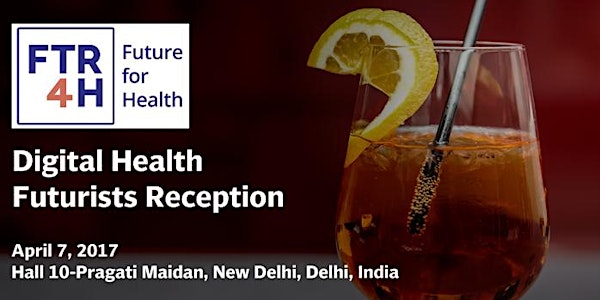 FTR4H: Digital Health futurists Reception
When and where
Location
Pragati Maidan Hall 10-Pragati Maidan,New Delhi, Delhi, India New Delhi, India India
Description
Digital Health Startups from India, are you ready to join the future?
Are you ready to accelerate healthcare improvement through Mobile, IOT and other technologies? So are we! Join us at FTR4H LAB & LOUNGE, Pragati Maidan, New Delhi.


What is on the program?
04:00 pm - 04:45 pm Pitches for the FTR4H India Award
04:45 pm - 04:55 pm Jury Deliberation
04:55 pm - 05:15 pm Award Ceremony honouring Top 3 places
05:15 pm - 06:00 pm Meet, Greet, Mingle with the Digital Health community
*The jury:
Dr Vishal Bansal – Investor, Mentor, Technology Enthusiast & Docpreneur
Pradeep K. Jaisingh – Chairman HealthStart India
Mark Wächter – FTR4H Chief Evangelist & Mobile Strategist
Dr. Tarun Ramole – Digital Health Evangelist, Director Utilis Capital
Tjaša Zajc – FTR4H Global Audience Developer & Journalist
Learn more at: Digital Health Startups from India, are you ready to join the future?
FTR4H: Digital Health futurists Reception is your chance to meet the FTR4H team, speak to decision makers, Venture Capitalists, Incubators, Accelerators. Listen and help the Hospitals, Clinical Institutes with your solutions. Enjoy drink and appetizer with your peers, formulate partnerships, and discuss ideas. We are even looking into rewarding disruptive Digital Health solutions from India. Interested?
Call us on +91 97169 39792.
FTR4H (acronym for: Future for Health), is an international platform for Digital Health Aficionados on this planet: see www.FTR4H.org. It brings together entrepreneurs, visionaries, thought leaders working on transforming healthcare. FTR4H acts as a Think Tank and connector of Digital Health ecosystems in China, Europe, India, Israel and the US with the World of MEDICA.