FTM™ SIG - REMINDER --- Apr 15, 2017 Read Important Info Below!

Saturday, April 15, 2017 from 1:00 PM to 4:00 PM (PDT)
Event Details
Family Tree Maker™ Special Interest Group 
April 15, 2017
!!! MACKIEV FAMILY TREE MAKER NEWS !!!
The new FTM 2017 Edition is scheduled to be available Apr 4, 2017
The Good News:
If you have a latest version of FTM you can order the new FTM2017 for $29.95 at:
http://www.mackiev.com/offers/ftm2017/upgrade_promo_us.html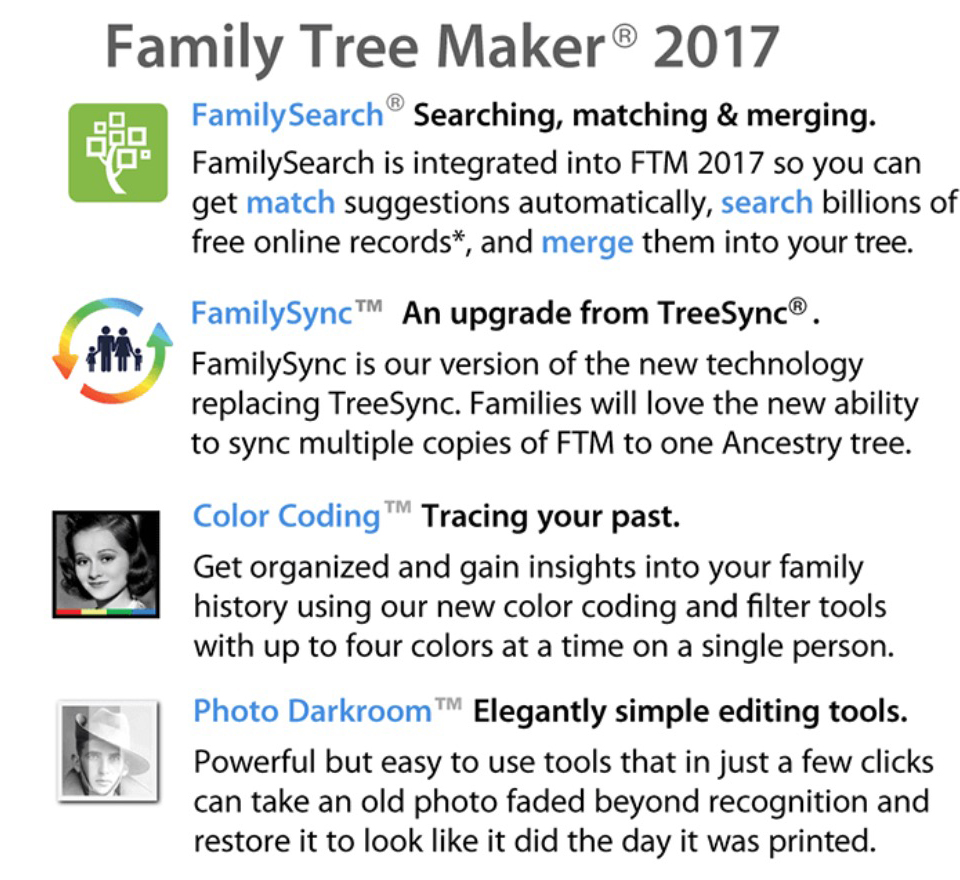 The BAD News:
MacKiev told me this morning (Apr 3, 2017)  that NO previous version of FTM will ever again be able to SYNC with Ancestry.com.  If you want to sync your trees you will have to up grade to FTM2017 !!!!
For The Latest Update From MacKiev:
https://support.mackiev.com/498640-RELEASE-OF-FTM-2017
And please see the Family Tree Maker Facebook Page:
https://www.facebook.com/search/top/?q=Family%20Tree%20maker
FTM-SIG Meeting Topics For April 15th:
1)  FTM2017! Our Experiances - Reactions - We hope FTM2017 Will be available by Saturday
2)   Dick Curry Talk.
3) Rick Womack Sharing His "Places" Suggestion
4) Tree Operations – The New TreeSync, Privatizing, Exporting, Importing, Uploading, Download
5) Q-n-A and Discussions. Your Concerns, Victories, And FTM Brick Walls
 Ron will be available at CGS for help with FTM issues 10:00 AM to12:00 noon, the morning of the FTM-SIG meeting.
A  Special Interest Group (SIG) has been formed devoted exclusively to the Family Tree Maker™ Software from Software MacKiev. Join the FTM-SIG facilitators Ron Madson and Karen Halfon on the third Saturday of each month, from 1:00 p.m. to 4:00 p.m. in the CGS classroom. 
A  FTM-SIG web site has been created at http://ftm-sig.org where you will find handouts of past meetings, the schedule, and topics for the upcoming meetings. The "Help-n-Hints" page of the site has a detailed description of one approach to Family History Digital File Organization and Naming Digital Genealogy Files. Check it out.
We invite you to enjoy drinks and snacks with us.
REGISTRATION INFORMATION:
• Class size is limited to 25 attendees. 
• Special Interest Groups are free to CGS members.
• Non-members are welcome to attend two meetings at no charge; thereafter, you may join CGS and attend for free or pay $10 for each meeting attended.
Register early to confirm your seat. 
When & Where

California Genealogical Society & Library
2201 Broadway, Suite LL2
Entrance on 22nd Street
Oakland, CA 94612


Saturday, April 15, 2017 from 1:00 PM to 4:00 PM (PDT)
Add to my calendar
Organizer
California Genealogical Society & Library, 2201 Broadway, Suite LL2, Oakland, CA 94612
   Connecting people to their diverse family heritage

Whether you have Gold Rush ancestors or have no family connection to California, you will find extensive support for your genealogy research at the California Genealogical Society (CGS) in Oakland. The society offers research services, online indexes and databases, and a research library housing over 38,000 reference materials from California, the United States, and around the world. CGS is a 501(c)(3) nonprofit corporation. The library is conveniently located in Uptown Oakland, one block north of the Paramount Theatre, at 2201 Broadway, Suite LL2. We are three blocks from the 19th Street BART Station.
Phone: (510) 663-1358

Courtesy Request
In order to maintain a welcoming and healthy environment, please refrain from using scented products at CGS events or in the library.
Photography Notice
California Genealogical Society (CGS) may take photographs, audio recordings, and video footage in our library, classrooms or events for historical records or publicity purposes.  If you do not want to be photographed or filmed, it is the individual's responsibility to 'opt out' by notifying the event leader or photographer at the event.
FTM™ SIG - REMINDER --- Apr 15, 2017 Read Important Info Below!