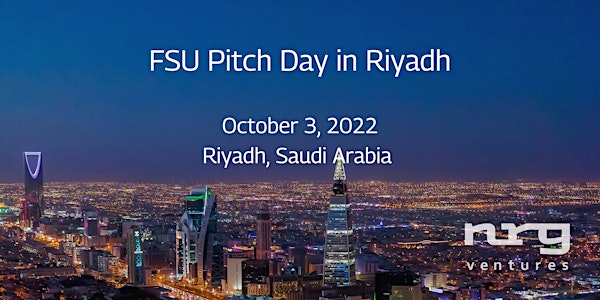 FSU Pitch Day in Riyadh
We invite you to the premier event that will showcase some of the best technology startups by founders from the former Soviet Union (FSU)!
When and where
Location
Riyadh, Saudi Arabia Place will be announced Riyadh, Riyadh Province 11461 Saudi Arabia
About this event
The first-ever FSU Pitch Day by NRG Ventures will take place in Riyadh on October 3, 2022.
This event is a unique opportunity to see cutting-edge innovations by FSU founders who will localise their businesses in Saudi Arabia and the GCC.
When: October 3, 2022 at 6:00 PM (KSA)
Where: Riyadh, Saudi Arabia. The place will be announced in advance.
Why join?
1. Startups Showcase
NRG Ventures will bring to Riyadh up to 14 most promising startups focused on expanding into the GCC. Each startup will shorty pitch its project to the guests. Every pitch will be followed by a Q&A session.
2. Exclusive access
All the invited guests will be given an exclusive introduction to the world of innovative Russian-speaking startups that aim to develop in the Gulf region. You will also be able to get to know their founders personally to discuss their projects and ask questions.
3. Investment Opportunity
The 14 exclusively selected startups will include both NRG Ventures' existing investee companies and those in the fund's pipeline. You will have a chance to explore potential investment and cooperation opportunities with these companies before they hit it big in the region.
! Please note: participation does not require any upfront cost. To attend the event, simply register here. We will send you the final confirmation email depending on availability as the number of spots is limited.