Description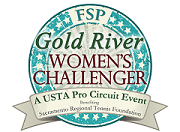 In its 6th year the FSP Gold River Women's Challenger has been a huge success on the USTA Pro Circuit. The 2017 event will be even better. The tournament is going to be July 23 - 30, 2017 and will be part of the US Open Wild Card series. The winner of this series is given a main draw wild card to the US Open (worth over $43,000).
Women athletes from over 64 nations compete in Pro Circuit events. Top WTA stars like Maria Sharapova, Justine Henin-Hardenne, Anastasia Myskina, and Christina McHale have all played Pro Circuit events. We will have players in this event that will be in the top 100 in the world and fresh from The Championships at Wimbledon.
All purchases are final.
For more information go to our website at www.goldriverchallenger.com