FSMA * HAR-PC Workshop (Certified) Fairfield, CA

Wednesday, September 23, 2015 at 8:00 AM

-

Thursday, September 24, 2015 at 1:00 PM (PDT)
Event Details
Sorry this event was postponed.
FSMA is now mandating that at least one person in a company that has sales greater than 1 million dollars be a "qualified individual".  Those same companies will have 1 year to update their HACCP to HAR-PC.  This workshop is a blended learning (online + in-person) training that is certified by FSPCA to meet that requirement.  Participants should have already been through HACCP training whether formal or informal. 
Part 1 is an

online

knowledge and understanding check of the principles of HACCP.  No need to repeat what you already know.  You can skip the online knowledge test if you have documented HACCP training (certificate, etc - bring that to the training).  (Part 1 will occur

AFTER

the in-person workshop).
Part 2 is an in-person 1.5 day workshop that drills down into the new FSMA process of HAR-PC and how its different from HACCP. The remaining time will be spent on walking through various Hazard Analyses and discussing Preventative Controls: Allergens, Sanitation, Supply, and Recall (Traceability).  The workshop will also include a discussion about Salmonella in dry foods control (candy, etc).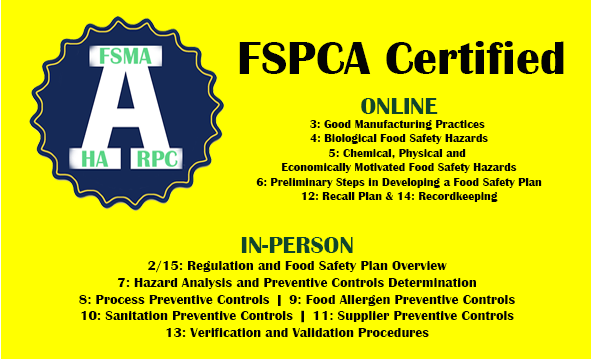 Q: Its August and the FDA has not officially released the HARPC mandate.  Will this training still be required/certified?   A: Yes, the release is a matter of public knowledge and the training mandate will be in there according to all of the FDA folks (basically no surprises).  The FSPCA was awarded grant funds to roll out this training and certification and they have done so over the past year.  UPDATE: The FSMA HARPC Final rule was published Sept 11th.  And, as mentioned above - no surprises.

Q: What's up with the Part 1 Part 2 thing? 

A: The new FSMA is mostly a repeat of the concepts of HACCP (Part 1) with some new added in (Part 2).  If you have completed a HACCP training and have your certificate OR you can demonstrate your knowledge by taking a test, you skip another 1.5 - 2 days of workshop time.

Q: Hotel near by? 

A: Yes.  There is a Hampton Inn in Suisun, CA.  I am staying there myself.
Q: Will this training be certified by FSPCA? 

A: Yes, but the FSPCA will not officially register participants until October or as late as November.  Certificates from USU will be issued by email within a few days of completeing the course and followed up with FSPCA certificates when they become available.

Q: Is there a multiple person (from same company) discount? 

A: Yes, please email me for a discount code.



Dr. Nummer is a food safety specialist and experienced food safety trainer.  He is engaging and

NOT BORING!! 

This workshop requires participants have already completed a HACCP course and have knowledge of good manufacturing practices.  Basic materials on both of these topics will not be presented (HACCP, allergen basics, sanitation basics, supply chain basics, recall basics).  Instead the workshop will discuss how these programs are used as preventative measures in the new HAR-PC food safety plan and how to comply with the new mandates in FSMA.
Some of the ?? important ?? things you will learn are answers to these questions:
Are we really just giant donuts?
Are there more cells "in" our body than "on" our body?
What does the Homer Simpson crayon up his nose episode have to do with Staphylococcus aureus?

How many quality control and food safety professionals are required for a company with 400 employees?
Why are there no calories in foods consumed during workshops?
WMAGPBA: Why must all government programs be acronyms?
Why is the FSMA final rule document over 900 pages!!?

When & Where

Jelly Belly Candy Co
One Jelly Belly Lane
Fairfield, CA 94534


Wednesday, September 23, 2015 at 8:00 AM

-

Thursday, September 24, 2015 at 1:00 PM (PDT)
Add to my calendar
FSMA * HAR-PC Workshop (Certified) Fairfield, CA