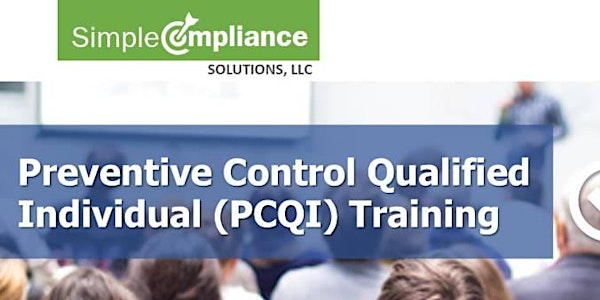 FSMA - FSPCA Preventive Controls for Animal Food Course | Virtual Online
Refund policy
Refunds up to 30 days before event
FSPCA Preventive Controls for Animal Food Course Agenda - Online Virtual
About this event
FSMA - FSPCA Preventive Controls For Animal Food Course | Virtual Online
***NOTE-This 20-hour couse is given 5 hours per day over 4 days plus breaks.
New FSMA regulations require that key personnel in charge of developing and implementing/managing the Food Safety Plan at a company must be a "Preventive Controls Qualified Individual." The Food Safety Preventive Controls Alliance (FSPCA) has partnered with the FDA to develop course curriculum to meet the "Preventive Controls Qualified Individual" requirements. Companies have a specific amount of time to comply depending on their size.
Simple Compliance Solution LLC, now offers FSPCA-approved classroom training, both at public venues and on-site at companies/organizations, or at a company or organization's preferred location for private training and NEW live interactive instructor-led virtual for private and public training – this saves travel time and money! .
Note: The Current Good Manufacturing Practice, Hazard Analysis, and Risk-based Preventive Controls for Animal Food regulation requires that certain activities must be completed by a "preventive controls qualified individual" who has "successfully completed training in the development and application of risk-based preventive controls, or is otherwise qualified through job experience to develop and apply a food safety system." This course, developed by FSPCA, is the "standardized curriculum" recognized by FDA; successfully completing this course is one way to meet the requirements for a "preventive controls qualified individual."
Benefits
Prepare for the new FSMA regulations, when a Preventive Controls Qualified Individual (PCQI) must perform or oversee activities, including preparation of the food safety plan, validation of the preventive controls, records review, and reanalysis of the food safety plans.
Learn how to develop a food safety plan compliant with the Preventive Controls rule.
Engage in an interactive classroom environment, with an instructor who holds the FSPCA certificate and has real-world industrial experience with FDA compliance.
Learn best practices and review case study examples.
Receive the official FSPCA Certificate of Completion and the official FSPCA course book, with reference material as PDF for the virtual course.
Who Should Attend
Food Safety personnel
QA Directors, Managers, and Supervisors
Other key leaders and cross-functional team members instrumental in building or strengthening a company's food safety culture
Regulators, State and Federal
Company trainers
FSPCA Preventive Controls for Animal Food Course Agenda - Online Virtual
Official 10 module FSPCA curriculum taught by a Lead Instructor who holds the FSPCA Lead Instructor Certificate
Regulatory overview & Introduction
Current Good Manufacturing Practices
Animal Food Safety Hazards
Overview of the Food Safety Plan
Hazard Analysis & Preventive Controls Determination
Required Preventive Controls Management Components
Process Preventive Controls
Sanitation Preventive Controls
Supply Chain Preventive Controls
Recall Plan
The live interactive instructor-led virtual online course is identical to the site-based course with the exception of it being conducted over the ZOOM platform over more days with fewer hours each day. You will need webcam and audio (headset is ideal) to join the live but virtual conference training. The 20-hour course, normally 2.5 days on a site, is conducted in 4 live virtual sessions, 5 hours each, directed by an FSPCA lead instructor.
Once you register, you will receive additional information, including how to download the Zoom software. Participants must be 'present' virtually during the entire course, and actually, you will enjoy participating face-to-face and voice-to-voice virtually with the instructor and other participants over the full hours of the course, aside from the breaks that will be provided. Note: If you are not already internet savvy or have any concerns that your internet is not fast enough for full audio/visual communication over the Zoom platform, contact the instructor before the course for a 'practice session' just with you to try things out.
System Requirements:Webcam, microphone and speakers are required.
Lead Instructor holds the FSPCA Lead Instructor Certificate
Rachel Montgomery
Mrs. Montgomery is an FSPCA Lead Instructor (Human Foods Certificate # 32c592bd and Animal Foods Certificate # 1bd2c691) with over 30 years experience as a food safety executive in large-scale manufacturing. Montgomery is the Principal of Simple Compliance Solutions, LLC and a Registered Microbiologist (National Registry of Certified Microbiologists).
**Cancellation Policy: A full refund is available within 48 hours of the initial order date. Any cancellation or refund requests that occur after the initial 48-hour period will be processed less a $200 cancellation fee. Cancellations or refunds are not available within 2 weeks of the course date. However, you may transfer your course registration to a future course date or send another person in your place with advance notification.