Reimagining how we create together
About this event
Join our immersive 4-week creative strategy program that is designed to help you reset, reconnect, and feel so that you can not only survive this moment of uncertainty, but THRIVE.
Kicking off a seasonal strategy in the midst of a global pandemic can seem unimaginable, especially as many of us are physically disconnected from our teams.
The Thrive Program is here to help you navigate the complexity caused by these turbulent times, align with your team, rejuvenate your creative center and tackle this new normal head-on.
Over the course of 4 weekly learning modules, we will help you build an informed, heart-led framework that is both human centric and solution-oriented to help you unlock your creative potential so that you can clearly analyze the world as it is and imagine a future in which it could be better.
Each week is broken up into 4 main sections: Mindful Practices, Cultural Sentiments, Design Aesthetics, and Market Alignment.
Through the lens of our #heartled methodology, each learning module will help you understand what consumers are feeling and why, how those feelings or needs will influence what people will want and how that will ultimately influence Color, materials, pattern + graphics and key items for your specific market.
Each section of the program also includes interactive ideation charts that will guide you through the process, generate provocations that apply to your brand or business and translate those provocations into an actionable design map for the season.
By the end of the four weeks, you will walk away with a new, creative approach and a powerful action plan for both yourself and your team.
Visit www.fs-thriveprogram.com to discover more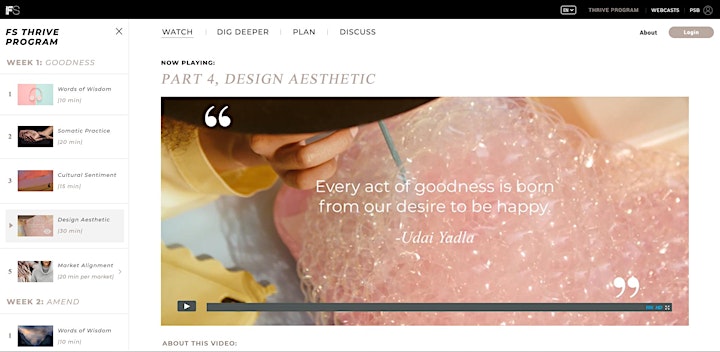 Organizer of FS Thrive Program
FS is a global trend forecasting agency that helps brands and companies harness future trends and act on the opportunities they bring. FS provides trend consulting services to global fashion and beauty brands as well as an online collaborative workspace wired for creators - allowing them to create smarter. 
Headquartered in NYC, Fashion Snoops has clients and contributors in 50 countries around the globe.
For more information, visit www.fashionsnoops.com.