Event Information
Location
Kaua`i Food Forest
Malama Kaua`i Community Farm, Wai Koa Plantation, Kahiliholo Road, Kalihiwai
Kilauea, HI 96754
Description
Regenerations Botanical Garden, in association with Malama Kaua`i, is excited to herald the return of our fruit tree pruning workshop series, at the lush and diverse Kaua`i Food Forest in Kalihiwai.
Proper pruning of fruit trees is an essential practice that keeps fruit within reach, establishes and maintains a healthy form for the tree, encourages flower and fruit production, and more. In this workshop, we will discuss the principles of pruning and then work our way through the food forest, pruning a wide diversity of common and rare types of fruit trees.
Though the principles and practice of pruning will be covered by 1pm, we will continue pruning until about 5pm, so you are welcome to join us throughout the day.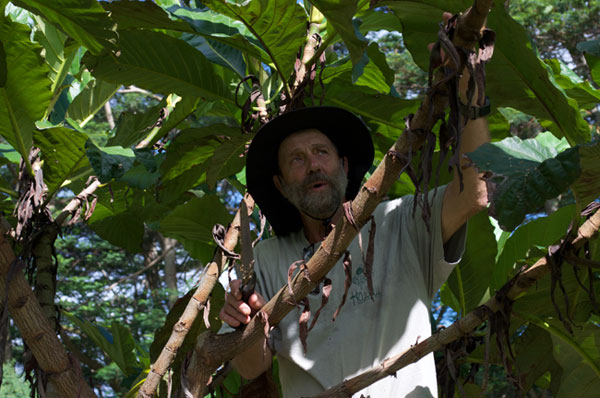 Workshop instructor:
David Whatmore • David has been growing tropical fruit in Kilauea for 30 years and has taken a special interest in tree pruning. He does all of the pruning on his 700 fruit trees as well as advising and pruning at a few other farms. As a member of the Hawaii Tropical Fruit Growers he has toured over 50 other fruit farms observing tree management techniques, and has attended many pruning workshops given by international experts. He has read more than a dozen books on pruning, but hands on experience and seeing the long term results has been the most informative for him. This workshop represents the fourth round of pruning led by David in the Food Forest, so we will be learning how to build on the results of previous pruning, as well as give some trees their first pruning.
Workshop fee: $25. Space is limited.
Please bring water, sun and mosquito protection, notebook and/or camera, gloves, and a snack.
Directions:
From the South:
Pass the Shell station in Kilauea, then pass the mini-golf course on the left. Make the next left onto Kahiliholo Road. There is a left turn lane and you will see a large sign saying "Kalihiwai Ridge." (See below for more).
From the North:
Cross the Kalihiwai bridge, then make the next right onto Kahiliholo Road. You will see a large sign saying "Kalihiwai Ridge."
From both directions:
Once you are on Kahiliholo Road in 1/2 mile there is a sign for "Pepperwood Plantation" on the right. Pass it and as the road curves to the right take the next left into a large driveway with a yellow flag. Go through the stone gate, and follow the yellow parking signs to the left past the dog park. We will meet behind the community garden greenhouse located back toward the gate you entered.
By bus:
The nearest stops are in Kilauea and across from the Shell station.
Date and Time
Location
Kaua`i Food Forest
Malama Kaua`i Community Farm, Wai Koa Plantation, Kahiliholo Road, Kalihiwai
Kilauea, HI 96754