Dave Kiss Presents: Frozen Soul, Sanguisugabogg Vomit Forth and Inoculation at Kung Fu Necktie
About this event
*Proof of Covid-19 vaccination required for entry*
*Attendees are encouraged to wear masks while not actively drinking*
Frozen Soul
FROZEN SOUL's brand of straightforward, in-your-face death metal is a gasp of fresh air in a genre that's stretched the very limits of technicality. Fully formed in 2018, the quintet has rapidly made a name for itself and churned the underground with a sound that evokes the old school sound of bands like Obituary, Mortician, and Bolt Thrower. That reverence for death metal's roots was apparent from Frozen Soul's initial four-song Encased in Ice demo, which includes a cover of Mortician's "Witch's Coven" and was released in early 2019 on California's Maggot Stomp Records.
FROZEN SOUL entered the studio in early March 2020 to record its first full-length with former guitarist Daniel Schmuck handling production and mixing duties. Crypt of Ice is nothing short of a breath of very fresh and very cold air on death metal's fiery landscape. From re-recorded demo tracks including the call-to-arms of "Encased in Ice" and the savage frost blister of "Wraith of Death" to the brutal, pummeling, and momentous guitar churn of "Arctic Stranglehold," FROZEN SOUL have delivered a record that embraces the genre's past while pushing death metal forward with frigid force.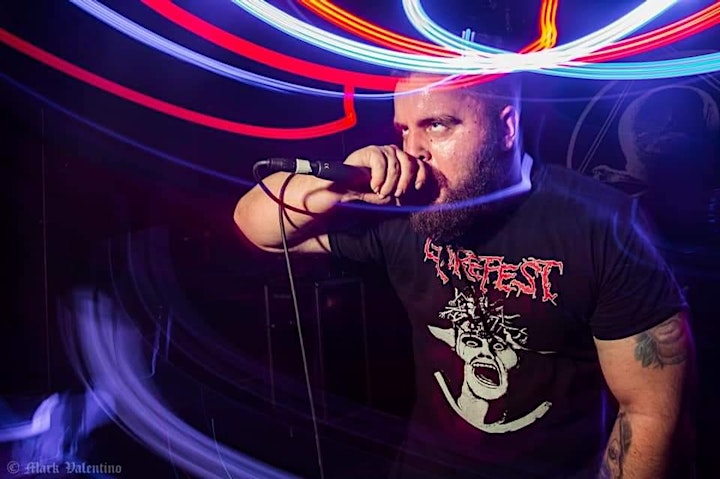 Sanguisugabogg
"Filthy. Putrid. Vile. Disgusting. Shat from the slime-ridden bowels of hell. You can see where I'm going with this." That's how Sleeping Village described SANGUISUGABOGG, the upstart gore merchants whose reverence for old-school death metal is matched only by their unapologetic celebration of splatter. SANGUISUGABOGG paint musical crime scenes with blood and all other manners of bodily fluids, spewing carnage with a glee to rival cult classic b-movies like Dead Alive. Tortured Whole, the full-length debut from the Ohio foursome who describe themselves as "down-tuned drug death," is a demonstration of sludgy traditional death metal of the highest order, with a slaughterhouse's worth of body parts and punishment oozing from any speakers brave enough to broadcast it. To say that the joyful humor with which it's all delivered is "tongue in cheek" would be to do it a disserve; SANGUISUGABOGG is more of a severed tongue used to defile fresh victims.
In accordance with Philadelphia's citywide mandate, attendees will be required to show proof of Covid-19 vaccination for entry to all Dave Kiss Presents events. Please note that negative PCR / antigen test results will not be accepted. We ask that you bring your vaccination card, a copy of your vaccination card, or a legible photo of your vaccination card on your phone. Full vaccination must be completed at least 14 days prior to the date of the event. No refunds for the event if you are unable or unwilling to provide proof of vaccination.
All Dave Kiss Presents events will be presented in accordance with city & state guidelines and requirements as of the date of the event, which could include changes to capacity, attendance prerequisites, procedures, and other protective measures. Any updated protocols will be included in your ticket reminder e-mail closer to the event date.
Organizer of Frozen Soul ~ Sanguisugabogg ~ Vomit Forth ~ Inoculation