Description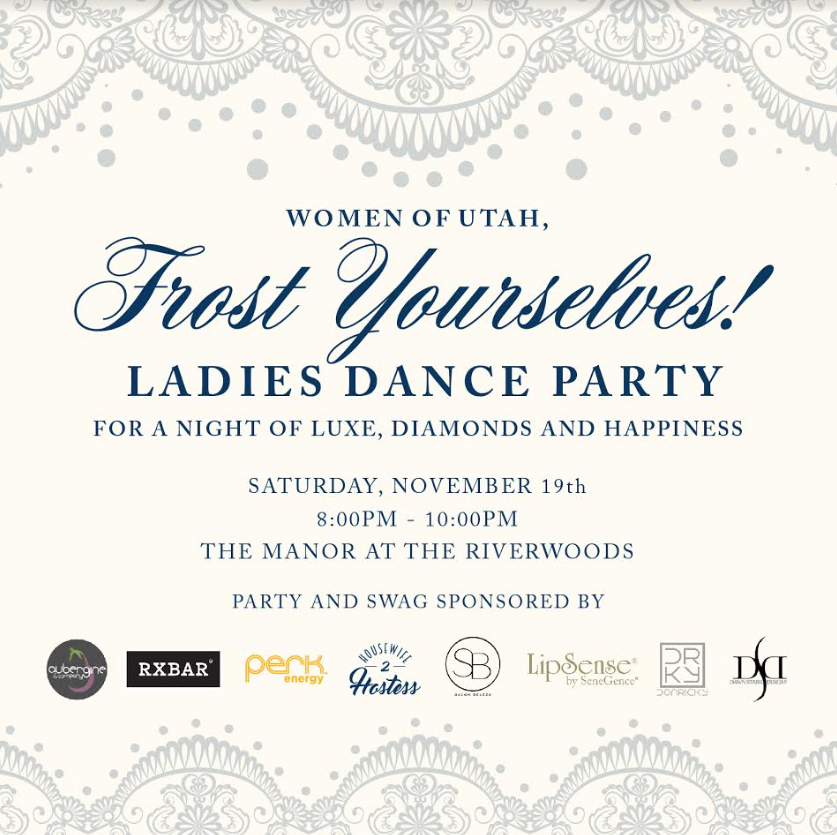 This "Frost Yourself" Ladies Dance Party, inspired by the movie "How to Lose a Guy in Ten Days", is for women (18+) looking to DANCE their sequins off and enjoy a night of Luxe, Diamonds and HAPPINESS!
This event will be held on Saturday, November 19th from 8-10PM at The Manor at the Riverwoods (across from Tucanos) in Provo, Utah.
______________________________________________________________________________________________________
Dress Code: Leave the evening gowns at home (unless you can bust a move in one!) Think little black dress, jersey dresses, jumpsuits, leggings (dress comfy, so you can shake it like a salt shaker) Don't forget to Bedazzle your look with Diamonds, Sequins, Faux Fur and Gaudy Jewelry.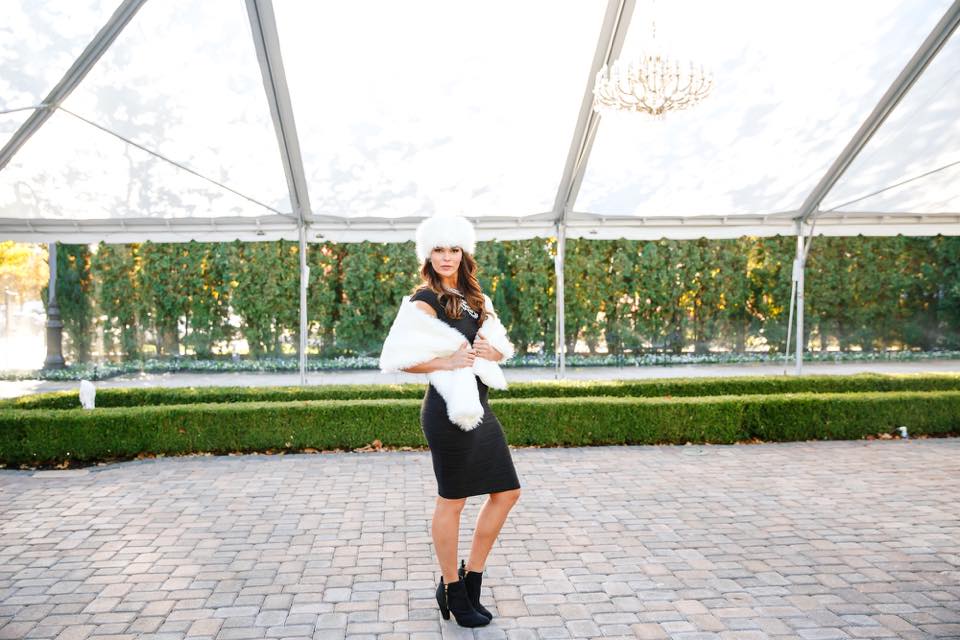 ______________________________________________________________________________________________________
Here's what's included in the ticket price:

• The First 100 guests in line will receive a FREE lip gloss ($20 value) from Lipsense!
• Each Guest will recieve a FREE Jewelry Set at the "Frost Yourself" Jewelry Bar ($20 value) - Dawn Stark Designs

• Elegant Up-dos and Braid Bar - Salon Beleza

• Face and Brow Bedazzling - Beleza Brows

• A Luxe Lipsense Bar - Lipsense

• My main DJ Donricky, he will have you dancing all night, and feeling like you're on cloud 9

• Frosty photo-ops with Luxe Props and FREE 4 x 6 photos - The Selfie Scene

• Warm Up with Perk Hot Chai (my new favorite hot beverage) - Perk Energy

• Gourmet Protein Dessert Shots - Muscle Egg

• As Always, TONS of Healthy Munchies and Clean Treats - Aubergine & Co

• Fresh Acai Bowl - Vida Acai
• Gourmet Fruit-Infused Water

• EVEN MORE Surprises and Goodies

• One ENTIRE Evening of Luxe, Diamonds and Happiness to Dance your sequins off with your Favorite Ladies.
Tickets are $25
ALL TICKET SALES ARE FINAL AND NON-REFUNABLE
______________________________________________________________________________________________________
I cant wait to dance with you, blow your mind, dazzle and spoil you with a night away from work, laundry, kids, and other obligations! So grab your best girls for an unforgettable night of pampering, healthy treats and feeling like the one in a million woman you are!
I'll see you on the dance floor,
Chelsey
PLEASE READ THIS RELEASE:
By purchasing a ticket to the "Frost Yourself" Ladies Dance Party, I hereby grant the following rights and permissions to Housewife2Hostess LLC:
1.Liability & Safety. I hereby release, discharge, and agree to hold harmless Housewife2Hostessand its heirs, representatives, and assigns from any and all liability associated with the Activity. This complete waiver of liability includes, but is not limited to, any and all theft, death, damage, and/or injury to my person, guests, and/or property, which are in anyway related to my participation in the Activity, as well as any and all associated damages, monetary awards, injunctions, legalfees/costs, and/or judgments. I understand and agree that my safety is primarily my own responsibility. I agree to observe any rules and practices set forth to minimize risk of injury to person or property, and to stop and seek assistance if I do not believe I can safely continue my participation in the Activity. I agree to refrain from any actions that would pose a hazard to my self or others.
2.Permission & Credit. Housewife2HostessLLC has given me limited permission to capture images and digital mediaclips/streams at the Activity for promoting the Activity on social media and the internet. I understand that I am prohibited from representing that I am a co-creator, contributor, representative, or sponsor for the Activity, the Activity's sponsors (for the specific Activity), or Housewife2HostessLLC unless I receive expressed written permission from Housewife2HostessLLC. I agree to credit Housewife2Hostess LLC (@housewife2hostess) on any posts related to the Activity.
3.Model Release. I understand that I may be photographed or included in digital media clips/streams taken at the Activity. I give Housewife2HostessLLC the universal and irrevocable right to use my name, voice, likeness, and depictions in connection with the exploitation and promotion of the Activity in any manner and any medium whatsoever (including, but not limited to, promoting future events on social media and blog posts).
4.Consideration. My opportunity to participate in the Activity is the sole and sufficient consideration for this Agreement, and no additional compensation will be provided under any circumstances.
5.Governing Laws.The following provisions govern this Agreement:(i)incorporates the entire understanding of the parties and supersedes any or all agreements; (ii)modifications must be in writing and signed by both parties (iii) waiver of a breach or default here under shall not be deemed a waiver of a subsequent breach or defaul to feither the same provision or any other provision of this Agreement;(iv) this Agreement shall insure to the benefit of,and be binding upon, the parties' respective heirs, executors, administrators, assignees, and successors shall be governed by the laws of the State of Utah.