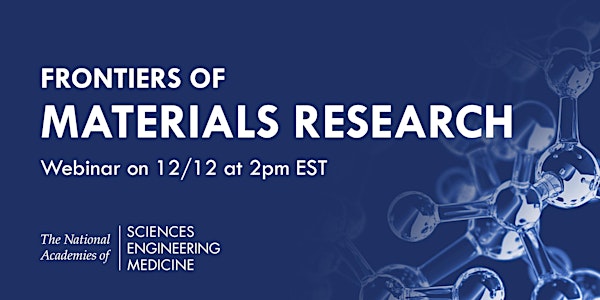 Frontiers of Materials Research: Virtual Town Hall
Description
The National Academies of Sciences, Engineering, and Medicine invite you to participate in a virtual town hall as part of the Decadal Survey on the Frontiers of Materials Research. During the webinar, the committee co-chairs will give a brief overview of the study and explain how you can share your input with the committee, followed by two talks from invited speakers on important issues in materials science. Paul Alivisatos will discuss his groundbreaking research on nanocrystals and Alexander H. King will discuss shortages of critical materials and how we can craft research agendas to help avoid supply disruption. These talks will be followed by a Q&A session with the audience.
Committee Co-Chairs:

Laura H. Greene, Florida State University
Tom C. Lubensky, University of Pennsylvania
Matthew Tirrell, University of Chicago and Argonne National Laboratory
Guest Speakers:

Paul Alivisatos, University of California, Berkeley
Alexander H. King, Department of Energy's Critical Materials Institute
Moderator: Gregory S. Boebinger, Los Alamos National Laboratory
Download full agenda with talk abstracts and speaker biographies

WEBINAR INSTRUCTIONS

Click Here to Join the Webinar
Webinar Password: materials
---
ABOUT THE STUDY
The Decadal Survey on the Frontiers of Materials Research is sponsored by the Department of Energy and the National Science Foundation. The committee's final report will identify key research priorities for federal agencies that support materials research, science policymakers, and researchers in the field. Learn more about the study and share your comments with the committee at nas.edu/materials.
---