Description
A SHOW OF STRENGTH FOR THE UNDERSERVED IN THE ECONOMY

An Education & Action Programme Agenda accelerating economic growth by ensuring Mid-Tier & SME businesses understand, embrace, have resources, adopt and benefit from the opportunities that blockchain, AI & frontier technology offer.

There are 10 FREE SCHOLARSHIPS available for women or youth led businesses and SME's from regional or underserved areas. If you qualify, please apply through the Scholarship Opportunity Ticket Option.


Introduction
The Mind Shifting Frontier TechED Accelerator Education & Action Programme is an exclusive initiative focused on educating, helping and supporting SMEs [Small Medium Enterprises) and Mid Tier Businesses across all industries to learn about the potential of frontier technologies such as Blockchain, Artificial Intelligence & IoT (Internet of Things) and deploy simple solutions in their businesses with tangible tools.
This isn't a 'regular' event where 'speakers' talk about technology ideas or their own enterprises at a 20,000-feet-above-the-sky level. We use a "reverse accelerator" methodology starting with businesses like yours and working together to understand how to make quantum leap improvements using the latest technology.

We bring together the best educators, colleagues with real experience, tangible results and actual technology that is being used and focus and customise it to your identified challenges - minus the tech hype and corporate focus. No conference wasted time and money - Mind Shifters you can talk, network with and stay connected to who will support you in the use of technology ensuring everyone is able to benefit from what the digital future has to offer.

The Agenda includes a VIP Community Pass and customised tour of Blockchain Live by the Mind Shifting Team.

Benefits

1. If you are a business that wants to understand how to build a business case for the use of frontier technologies (Blockchain, DLT, AI, IoT) that can easily be implemented to radically transform your business, reduce costs, increase efficiency, and increase revenue, this Education & Action Programme and day is designed for you.
2. If you are a traditional business that doesn't use technology effectively today to save costs, this event will give you fantastic tangible ideas to do so, by demonstrating real-life case studies.
3. If you want to interact with a VIP group of diverse and world-leading technologists and business leaders to discuss specific issues facing your business, this event is for you.
4. If you feel that you are part of the underserved part of the economy, including women led business, young entrepreneur, regional business or SME and want to have tangible tools and people to mentor your journey this is a day for you.
5. If you are a tech company who needs to find a 'go to market' customer and deliver a MVP then this is a day for you.
6. If you want to make your business 21C ready this is a day for you.

Mind Shifters | The Educators, Presenters and Facilitators
We have a world- pre-eminent team delivering the Education & Action Programme on the day, including: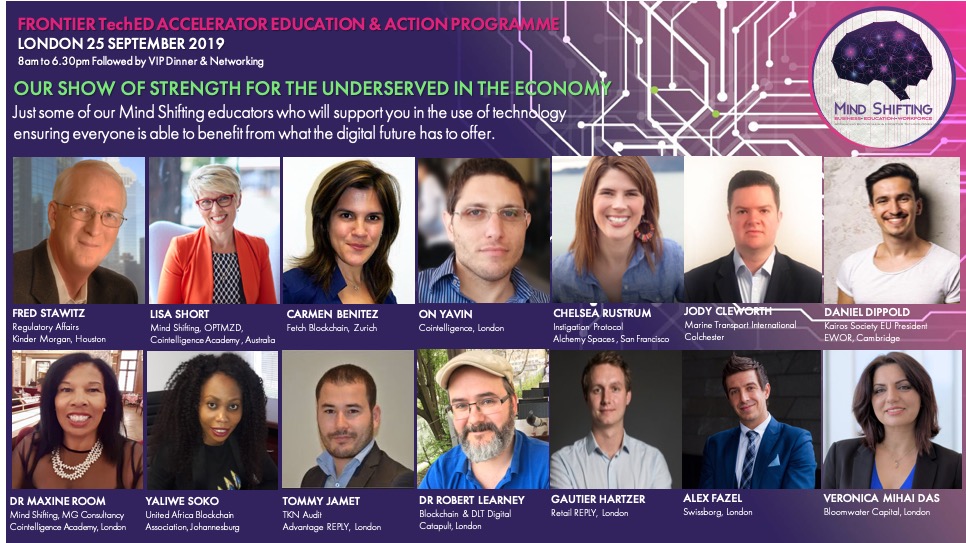 Plus many more.

Open link for full details but a brief summary is below:
8:00am - 10:30am | Business Case Workshops & Sessions at the Mercado Metropolitano, 42 Newington Causeway, London SE1 6DR.
11:00am - 2:50Pm | Exclusive VIP Entry, Lunch and Customised Tour of Blockchain Live at London Olympia, Hammersmith Road, London W14 8UX.
3:30pm - 6:30pm | Taking Action, Building a Business Case, Supported Next Steps & Networking Sessions at Reply Consulting, Level 2/160 Victoria Street, Westminster, London SW1E 5LB.
7:00pm - 10:00pm | Networking, Drinks & Dinner at the Mercado Metropolitano, 42 Newington Causeway, London SE1 6DR.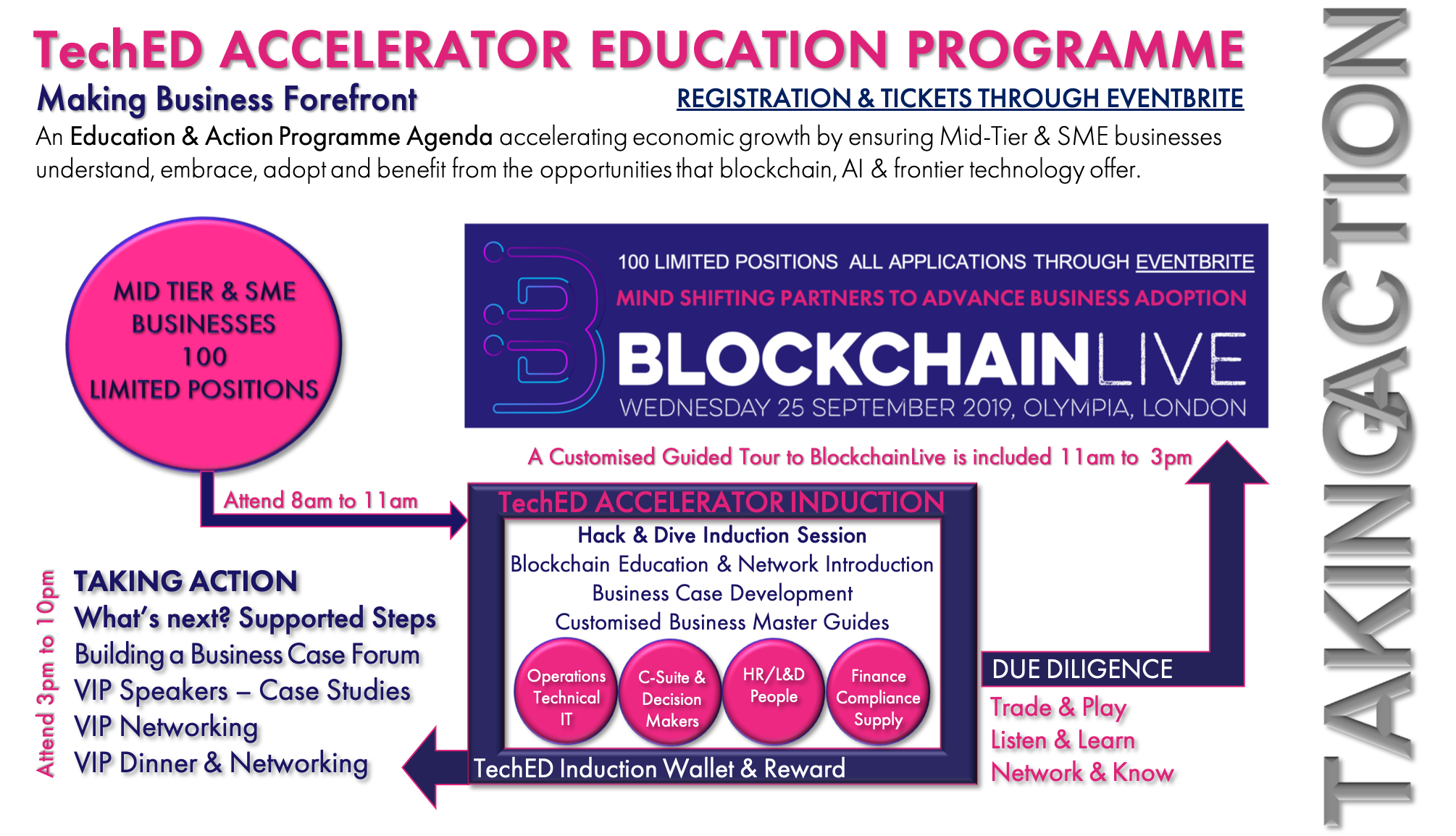 Supported By: