Frontier Anarchy: Detroit's Weird, Wild & Forgotten History Tour

Multiple Dates
Event Details
Frontier Anarchy: A Historial Tour
featuring Amy Elliott Bragg

"Since its founding in 1701, Detroit's history has been thoroughly wet — rough, bloody, and dissolute, but uninterrupted, despite the best efforts of Jesuits, Yankee Puritans, preachers, Temperance activists, and two legal Prohibitions." -Amy Elliott Bragg
Three-hundred years of history. Dozens of places you've been meaning to visit. The story of Detroit in person, from Hog Island to Log Cabin Park, Scott's Folly to the State Fair. Along the way, we'll talk parties and pranks, pioneers and pony carts. Governors and steamboat captains, tobacco magnates and tabloid darlings. We'll visit cemeteries, statues, houses, factories, parks, and churches. And we'll go to some bars.
This tour is currently schedule for:
January 6th @ 11AM + 3PM: SOLD OUT!
February 3rd @ 11AM + 3PM: Tickets Available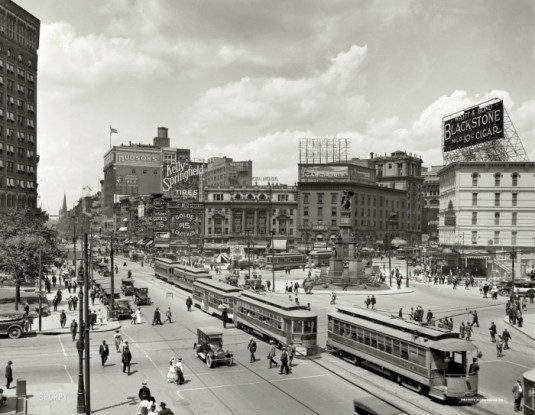 The details: This is a 2.5 hour tour. It's BYOB because all historical tours should be drink-in-hand affairs. You may be picked up in Royal Oak @ Gusoline Alley at 10:20AM or 2:20PM, Ferndale @ The Imperial at 10:30AM or 2:30PM or Eastern Market Shed @ Detroit at 11:00AM or 3:00PM – you'll be prompted at checkout for your choice of pickup location. You'll be dropped off where you were picked up at the start of the tour. You must select a seating time and stick to that time; you will not be permitted to ride an earlier or later seating as seats are limited. No passes will be sold at the bus – only online tickets will be accepted.

 Amy Elliott Bragg is a Detroit-based freelance writer & the author of Hidden History of Detroit. She loves 19th-century cemeteries, old history books and the historians who wrote them, memorial statues, prankster millionaires, and cocktails. She writes about all of these things and more at her pre-automotive Detroit history blog,nighttraintodetroit.com. Oh, and she's a founding member of the Detroit Drunken Historical Society.
Organizer
The Detroit Bus Company
We're a new take on an old problem of getting around. We do things differently with our own special public services, events and bus rentals. Details can be found at TheDetroitBus.com.
Call (313) 444-BUS1 anytime or find us on Twitter and Facebook. Join up, get on and let's put our city back on wheels. It's time we got going.
Frontier Anarchy: Detroit's Weird, Wild & Forgotten History Tour