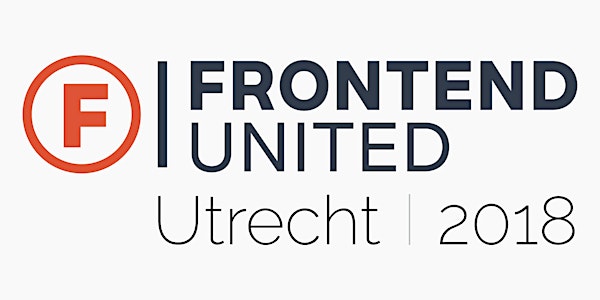 Frontend United Utrecht
When and where
Location
Kinepolis Utrecht Jaarbeursplein 6 3521 AL Utrecht Netherlands
Refund Policy
Contact the organiser to request a refund.
Description
What is Frontend United?
Frontend United is a yearly European conference that moves from country to country. Its aim is to bring frontend developers, designers and Drupal themers from all kinds of backgrounds closer together and share knowledge, experiences and ideas face-to-face. We look towards frontend development and Drupal from the outside-in and reach out to specialists around the globe to share their passion.

Frontend United looks to help grow the local community as well as build bridges across Europe for future collaborations and cross-border networking and working opportunities.
A full week of Frontend United!
This year's Frontend United will be a full week - from Monday 28th of May until Saturday the 2nd of June! Why a whole week? Because why not? Life is too short to not enjoy Utrecht and it's beautiful gem of a city-centre for just a bit longer. Also, booking flights for a 2-day trip is as expensive as booking flights for a 6 day trip. :)
Monday to Saturday: coworking & code sprints
We will have our very own Frontend United's co-working space for the whole week! Sip a coffee in between other frontend-enthusiasts and work from Utrecht in between the relaxing sound of sass-writing, JS-framework name dropping and overheating laptops running Slack. In the evenings we will be suggesting mini-social or cultural activities, so don't worry about getting bored. We will be selling these days modularly at 10€/day, so they fit everyone's schedule, and anyone can opt in however and whenever they want. Don't even hesitate to invite any colleagues with you, they can come enjoy the buzz without having to buy a ticket for the main event!
As usual, this week will also be used as a collaboration room to work on Drupal's Open Source Frontend code (better known in the Drupal world as a code-sprint).
Thursday: workshops
On Thursday we will be organising a few world-class workshops! Last year we had Rachel Andrew who dropped some serious knowledge about CSS grids. And Nir Kaufman giving an extended introduction to React. This year we're offering the following pre-conference frontend workshops:
Friday & Saturday: main conference
Early Friday-morning, we will kick-off the main event with our first keynote speaker. The 2 days will consist of 2 tracks filled to the brim with energetic sessions and drool-provoking topics. Have a look at our speakers. We won't have all our speakers announced by the time the ticket sales open, but so you could have a good feeling about what to expect from quality, have a look at our recorded sessions from the last 2 years.

Not convinced yet? Check our full program on our website.
You need to convince your boss first?
No problem, we got you covered! See you in Utrecht :)
Joël van Bodegraven

Travelbird

Product Designer

Heather Burns




Digital law specialist

Dries Buytaert

Acquia

Drupal founder

Cristina Chumillas

Ymbra

Designer / Frontend Developer

Simona Cotin

Microsoft

Cloud Developer Advocate

Bram Van Damme




JavaScript Developer

Saskia Freeke




Interaction and visual designer

Mike Herchel

Lullabot

Frontend Web Developer

Burke Holland

Microsoft

Frontend developer

Necoline Hubner

Google Fiber

Necoline Hubner

Asim Hussain

Microsoft

Cloud Developer Advocate

Stefan Judis




Frontend Developer

Niels Leenheer




Frontend Engineer

Aga Naplocha

Adobe

Designer / Frontend Developer

Blake Newman

Attest

Frontend Engineer

Charlie Owen

Springer Nature

Frontend Web Developer

Heydon Pickering




Web accessibility consultant

Harry Roberts




Frontend architect

Preston So

Acquia

Innovation lead

Ruben Teijeiro

1xINTERNET

Drupal Developer

Sara Vieira




Frontend Developer

Hidde de Vries




Frontend Developer

Marija Zaric




Freelance web designer