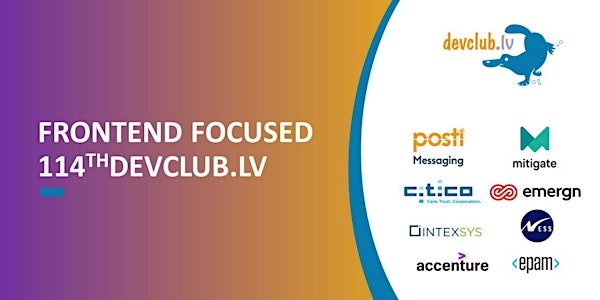 Frontend focused 114th DevClub.lv
.
When and where
Location
Microsoft Latvia Zaļā iela 1 Riga Latvia
About this event
Hi!
New year, new topics, but the same wonderful DevClub.lv events! Let's start 2023 strong with talks about Microfrontends and Web3.
You are welcome to Frontend focused 114th DevClub.lv event on Thursday – 26th January 18:30 at Microsoft Latvia office - Zaļā iela 1, 4th floor.
Unfortunately, Covid-19 is spreading therefore we ask you – friends, please, be nice and responsible and if you have any Covid-19 symptoms or symptoms of any other contagious illness, please be cautious and take all needed safety measures and instead of attending the event, please, watch this time recording of the event published afterward.
Agenda for Reliability focused 114th DevClub.lv
Reinis Pakers from Ness Digital Engineering Riga will give a talk "Microfrontend Architecture - technical implementation.".
In this talk, I will share how transition from monolithic web application to micro frontend architecture was implemented. I will give high level overview of what is micro frontend and how it is achieved. I will cover also main motivation and considerations for switching towards micro frontends architecture. Speech will be based mainly from technical point of view.
(Language – English)
Tags: Micro frontends, JavaScript, Web Components, Module Federation.
Reinis is Technical Lead at Ness Digital Engineering taking charge of teams delivery, technical decisions and overall systems architecture.
Alberts Bušinskis will speak about "How to Hack a Web3 Hackathon: Tips & Tricks."
Winning a hackathon prize and winning in the Casino are not the same. You will find tips and tricks about why and how to succeed with the Web3 hackathon nowadays and increase your chances of winning a valuable prize. A prize like $6k USDT in less than a week.
(Language - English)
Tags: Web3, Blockchain, Hackathons, Ethereum, Solidity
Alberts is a Web3 enthusiast with almost 20 years of experience in IT, developing, managing development teams, and helping projects to grow. He has also participated in about 20 hackathons and wants to share a few valuable insights with other devs.
Videos from previous events you can find at our homepage and our YouTube channel. The best way to be informed about new videos is to Subscribe to our YouTube channel.
Posti is a modern delivery and fulfillment company. Our HQ is in Helsinki, Finland. Software development center (Posti Messaging Latvia) established in Riga in 2010 to develop group products. 
Mitigate is a team of passionate custom software developers. We specialise in tailored made software for medium and large enterprises, we are very strong at developing Backend, Front-end solutions and Mobile applications, as well as developing UI&UX. 
We are hiring:
C.T.Co employs over 650 employees, and this number keeps growing each year! We are always in search for experienced professionals, as well as young talents who are ready to grow their expertise and join our friendly company! 
At the moment we are actively looking for DevOps Engineers and .NET Developers. 
Take your career to the next level! Join CTCo
Emergn is a global digital business services firm on a mission to improve the way people and companies work. Forever. Every day, across the world, our teams are pioneering faster, better ways to bring our clients' most exciting ideas to life. Want to join us? 
INTEXSYS is a large-scale E-Commerce developer supporting online sales of over $500M/year. INTEXSYS works on the USA market as well as develops top online stores locally. With over 80 employees in Riga, INTEXSYS is growing and always has challenging open positions. 
Top picks for today: 
– Senior/Middle Front-end Engineer (React) 
– Senior Software Engineer (PHP) 
We promise – it will never be boring!
Did you know that Ness Digital Engineering is a strategic partner of AWS, Azure, Confluent, Snowflake and Salesforce. Within a team in Riga, we have a deep expertise in Cloud Engineering, Data & Analytics, UI/UX and Machine Learning. We are looking for great minds and smart self-starters who thrive in an open-ended environment and take ownership in delivering quality results.
– Technical Lead (NodeJS Full-stack) 
Did you know that Accenture Baltics has more than 200 Java developers onboard? Our Clients are agile, ambitious, and future-oriented – they focus on Cloud, Microservices, AI, etc. We support and encourage our employees' growth in moving towards excellence with trainings, mentoring, exciting work tasks, and a decent compensation package! Contact us – maybe this can be your future workplace! 
EPAM is a team of 61,600 technologists, strategists and designers in over 50 countries. EPAMers help leading brands transform their business through our engineering expertise, design thinking and business consulting. 
We foster creativeness and unconventional ways of doing things welcoming like-minded professionals. Our office in Latvia has celebrated its 1st birthday with the ever-growing team of 100+ innovators inviting you to join. 
– Senior Azure DevOps Engineer 
– Workato Automation / Integration Engineer 
Thanks to our sponsors for supporting DevClub.lv events: