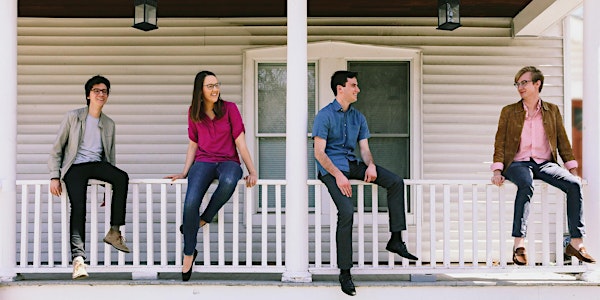 Front Porch Presents: Share - A House Concert
Come hear the music that will appear on our debut album! Unlike our October 7 event, this event will not be recorded
When and where
Location
Chez Madeline (Maddy's House) Address delivered upon registration Ann Arbor, MI 48103
About this event
Free with registration!
On October 7th, Front Porch will be recording a live show that will become our debut album! Due to the limited capacity of our performance space, we will be performing the show 2 nights in a row. This registration page is for Saturday, October 8th (performance only).
If you are interested in being an audience member for our October 7th live video recording, you can reserve a spot here.
There will be tea, snacks, cozy vibes, and a little bit of very low-stakes audience participation. It will be at Maddy's house in Ann Arbor (you will receive an address after registering).
Health and Safety:
Capacity for this event is limited to 30 people who will be seated in a 234 square foot area (roughly 8 square feet per person). Seating in chairs and seating on the floor will be available.
Masks are optional. If you are ill, please stay home. Questions regarding safety can be directed to info@frontporchensemble.org
Program
Maddy Wildman - Disenraged
Dayton Hare - Architecture of Silence
Evan Premo - Earth Rites
Nina Shekar - DEAR ABBY
Nathan Thatcher - A Little Lower than the Angels
Ari Sussman - Mesmera
Colin McCall - Share