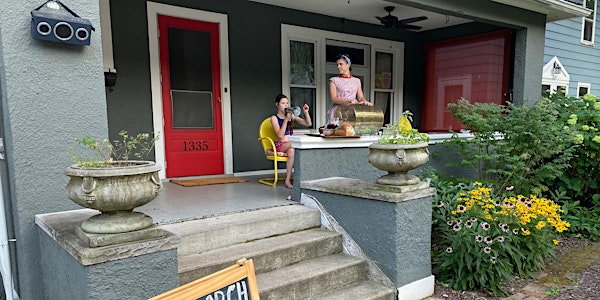 Multiple dates
"Front Porch Bingo" by Jen Plants
Join us in the heart of the Isthmus, and play bingo from our terrace, our driveway or even across the street!
Date and time
July 2, 2021 · 7pm - September 17, 2021 · 7:30pm CDT
About this event
"Front Porch Bingo" by Jen Plants
Family friendly, short and sweet, Front Porch Bingo is made for Friday nights. Join us in the heart of the Isthmus, and play bingo from our terrace, our driveway or even across the street! Everyone plays one card until first, second, and third place winners are awarded via a stellar collection of ever-changing prizes.
Print your card at at https://bingobaker.com/#1228516.
Jen Plants teaches playwriting and performance studies at UW-Madison, makes theatre in her house, and believes in storytelling as the heart of placemaking.
With Martin Foys (Sir Prize) and Hazel Foys (El Numero Uno & Caller of Numbers).
Location:
Isthmus.
After signing up, you will receive an email with the specific address.
Logistics and Accessibility:
Front Porch Bingo is held entirely outdoors and participants will be asked to follow all Dane County Public Health guidelines in effect on the date of each event. Front Porch Bingo started in summer 2020 as a way for our neighbors to gather for an in-person, live event in a way that adhered to all social distancing and mask mandates. Front Porch Bingo can be played from our terrace (the grassy space between the sidewalk and the street) in front of our house, the terraces across the street, or our driveway.
Up to 50 attendees per event.
Other Info:
There is no seating provided, so some folks do bring a blanket or a lawn chair.
In the event of bad weather, event will be cancelled.
A Home Stretch Performance
Home Stretch is a "distributed festival" of small artistic acts taking place in Madison, WI between the summer solstice (21 June) and the autumn equinox (22 September). By appointment, local artists are offering intimate performances and other arts experiences throughout the summer.
In this time of transition between COVID lockdowns and eventual reopening, Home Stretch explores how forms of performance and other kinds of aesthetic sociality can help us re-learn how to be together.
The title Home Stretch refers less to the idea of the final part of a race, since the pandemic is far from over. Rather, it's about artists stretching their homes into public space, and the public stretching out of lockdown bit by bit. These art experiences are a chance to stretch both social and artistic muscles.
All events are free to attend, though some performers may pass a hat or request donations to specific causes. Information and registration is at homestretch.art.
Home Stretch is a project of Spatula&Barcode, a Madison-based arts collaborative devoted to conviviality, criticality and commensality. More information about Spatula&Barcode can be found at https://spatulaandbarcode.net/ and you can follow @spatcode on Instagram (if you post about Home Stretch on social media, we encourage you to use #homestretch).
Home Stretch is funded in part by grants from the University of Wisconsin Division of the Arts and the Madison Arts Commission, with additional support from the Wisconsin Arts Board.
About the organizer
Spatula&Barcode is dedicated to making events in which the performance of place and of hospitality are central aesthetic concerns. Discourse, food and swag are persistent elements of our work.
Spatula&Barcode was founded in 2008 by Laurie Beth Clark and Michael Peterson (both Professors in the Department of Art at University of Wisconsin - Madison).