Front Porch at Suitland: BECKY CANE
About this event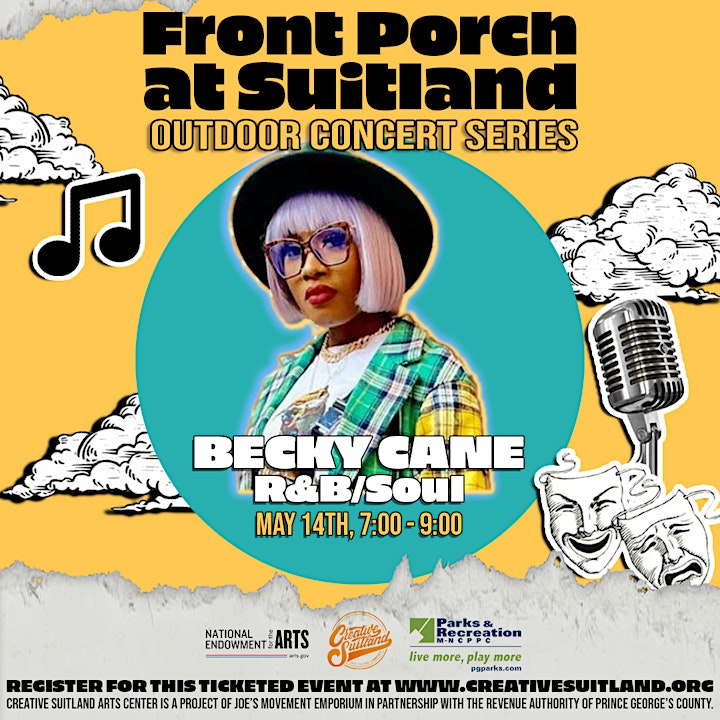 The 2021 Front Porch Concert Series at Creative Suitland Arts Center
With gathering restrictions likely to be in place for some time due to the COVID-19 pandemic, Creative Suitland Arts Center is committed to enhancing the greater Suitland area by presenting live outdoor concerts. Sponsored by the Arts and Cultural Heritage Division of Park and Planning and the National Endowment for the Arts, the Creative Suitland Front Porch Concert Series features a wide array of live music and entertainment for the family.
Due to COVID-19 and limited gathering, this event will have LIMITED IN PERSON tickets.
2021 Creative Suitland Front Porch Concert Series Schedule:
Friday, May 7 | Deborah Bond
Friday, May 14 | Becky Cane
Friday, May 21 | Comedy Night: Rob Gordon & Stephen Stacks
Friday, May 28 | Kenny Sharp
ABOUT BECKY CANE
Introducing Becky Cane! @beckycaneworldwide is the original soul queen from your nations Capitol, Washington DC. From birth she experienced unimaginable hardships that shaped her into the poised woman she is today. Originally, she went by the name "Becky", a nickname stemming from her name Rebecca. However, 5 years ago, following a car accident that left her ambulating with a cane, she began to go by the name "Becky
Cane" and ultimately wrote her first Debut Album titled, "The Risen Queen". It is a story depicting her resurrection and redemption. After a 4 year hiatus, she released "Apartment" on March 19th. Currently she is gearing up for her next single, "Black Woman Is You" to release top of May. She is also working on her second EP "Black Sheep" with platinum producer Tone P. The EP is definitely one that will put this city's music scene on the map, with a soulful feature from Raheem DeVaughn. It's set to release in June. Many say she is the rebirth of Billie Holiday, mirrors Erykah Badu and is the essence of Amy Winehouse. Her mission is to tell her story in hopes of affecting change and producing hope throughout the world at large. With her forward writing and her beautiful, unique sound she is going to change the music industry forever.
www.creativesuitland.org
Organizer of Front Porch at Suitland: BECKY CANE