Ever experienced that feeling when you can't stop your thoughts tumbling and whirling? Learn how to spot the signs and regain control.
About this event
'Be It – Spin Recovery' is the fourth of five events in this series. Join Dean Bellman, Director ValueBehaviours and creator of the Front Of Mind™ programme to identify the signs and symptoms of anxiety encountered in times of challenge or adversity, and learn a 'recovery drill' that can be practised and applied to help.
Front of Mind™ is a programme of five short training sessions that brings positive psychology research to life in practical strategies, helping you to take responsibility and control of your positive mental health.
A former Special Forces Hercules C130 pilot and RAF flight instructor, Dean Bellman has first hand experience of the power of positive mindset. He now enables individuals, teams and entire organisations to enhance positive mental health and performance through practical Positive Psychology based training.
Prevention is better than cure, so join the growing number of people investing in their Positive Mental Health and learn how to 'Own it, Be it, Share it'.
This series of five training sessions build into a complete programme to help you understand why and how to proactively manage your mental health. To give you an insight to the programme you may like to listen to the Front of Mind introduction recorded in January 2021. To get the maximum benefit from this programme we encourage you to join us for the other events in this series.
Our Speaker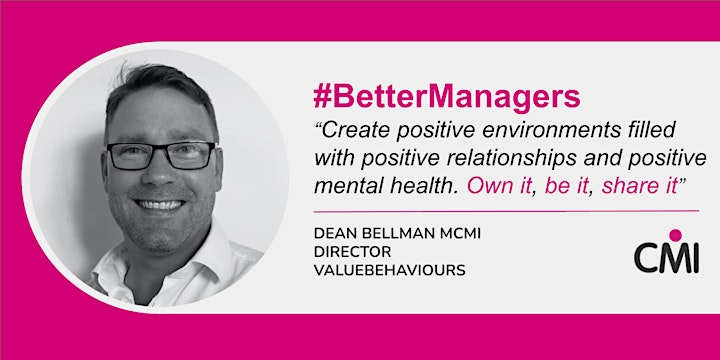 Dean Bellman MCMI
Director, ValueBehaviours
Through his experiences as a Royal Air Force Special Forces Hercules (C130) pilot and flight instructor, Dean has witnessed, first hand, the power of positive mindset.
In both Special Forces Operations and Flying Training mindset is of equal importance to skillset and the combination of both determines the level of performance, resilience and success.
Dean is a keen proponent for the relatively new field of Positive Psychology which focuses on the study of positive outliers. The strategies and techniques are proactive in nature, meaning that, instead of diagnosis and treatment, all focus is on build and prevent.
Dean now works, with his team at ValueBehaviours, to deliver Positive Psychology based training in Performance and Positive Mental Health to audiences across all sectors.
By creating and teaching practical techniques, which can be adopted to enhance Positive Mental Health and Performance, we can help individuals, teams and entire organisations to Take Responsibility and Take Control.
Our Host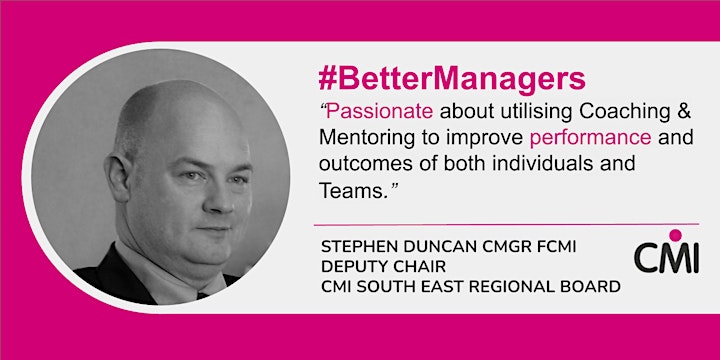 Stephen Duncan CMgr FCMI
Deputy Chair, CMI South East Regional Board
Stephen is an experienced military aviator whose current role is to project manage and deliver training to aircrew instructors. A qualified Flying Training Manager and Training Supervisor he both develops and assesses instructors in various aircrew specialisations. Allied to this Stephen delivers, and assesses on, a CMI accredited Level 5 Management Coaching and Mentoring course to personnel from across the 'whole-force' of the military. A Chief of the Air Staff's Fellow he holds an MA in Airpower and is currently completing an MBA in Leadership and Innovation.
Alongside his primary role he has been involved in the delivery of major change programs, and is a member of the APM and an associate member of the EAAP ( European Association for Aviation Psychology). Having held positions as a Mentor, Trustee, Director and Chair for several charities Stephen is passionate about utilising Coaching and Mentoring to improve the performance and outcomes for both individuals and Teams.
A member of the CMI Thames Valley Regional Board since 2016, Stephen was selected as Deputy chair in 2017. Following the restructure of the CMI volunteer network in 2020, Stephen became the Interim Board Lead for the newly formed CMI South East Regional Board and is currently Deputy Chair.
In the meantime…
If you're a member of CMI, or subscribe to our content, don't forget you can find thousands of exclusive, practical development resources in ManagementDirect. Log in here and search for a topic to get started.
Not yet subscribed?
From free newsletters packed with the latest trends, insights and tips for managers and leaders, to the full suite of invaluable tools and benefits that come with being a CMI member, we've got something for everyone. Visit our website to find out more.