Sales Have Ended
Registrations are closed
Thank you for your interest in this event. The registration for this Online Hiring Event has ended. Please make sure to check the Crossover Company Profile for upcoming Hiring Events!
Sales Have Ended
Registrations are closed
Thank you for your interest in this event. The registration for this Online Hiring Event has ended. Please make sure to check the Crossover Company Profile for upcoming Hiring Events!
Description
We're running an Online Hiring Event on December 1st, 2018, to hire Front End React Chief Architects ($100K/yr).
Online Hiring Events are live forums designed to enable you to understand the role and requirements through an interactive Q&A session followed by a self-directed testing process. The testing takes between 3-5 hours to complete. It's worth taking the time to finish all the tests because we evaluate every single complete application to find the top talent.
This event will include all testing required to apply for the role. Upon grading the tests, and if you advance, we will set up an interview with the hiring manager.
You can see more details about this role here:
https://www.crossover.com/job-front-end-react-chief-architect?utm_campaign=Dec1event

---
As a React Chief Software Architect, you can expect to be a member of one of our central assembly line teams such as easier or code review team. You may also be in the role of a product Chief Architect, responsible for a product's quality and weekly release.
The code review team spends most of their time reviewing pull requests created by other teams. Members of the team review code which may be written in a variety of frameworks and tools. The members of this team are not product specialists but are expected to have very high coding standards, be able to clearly articulate what is wrong with a developers code and be able to defend their findings of poor quality code.
The easier team rebuilds the user interface of legacy products in our standard tech stacks and build new screens with a modern UI and enhanced usability. The team also creates the REST API layer required to connect the new UI with the product legacy backend and business logic. You will also be required to deliver UI unit tests, REST API unit tests and integration tests, and functional browser compatibility testing.
In all cases, you will have aggressive daily and weekly targets to work against and you can expect to receive daily and weekly feedback about your performance. The regular feedback is used to help you improve immediately and to resolve blockers which may be slowing down your performance.
Candidate Requirements:
Bachelor's degree in Computer Science, Computer Engineering, or Electrical Engineering

At least 8 years of experience in front-end development

At least 3 years experience using React library

1 + years of experience working in an environment where CI/ CD tools are used

2+ years of experience in unit testing

Have a minimum of 2 years experience leading or mentoring junior developers

At least 2 years of working experience using cloud technologies such as AWS

Proven experience with performing code reviews and/or mentoring sessions (has dedicated a minimum of 25% of monthly time on this activity)

Proficiency in the following skills and technologies is mandatory:

Database knowledge in technology such as SQL Server/Oracle/MySQL/MongoDB/Cassandra

SOA, EDA, and Design patterns

Some experience in Linux, Django, REST and shell scripting

Has experience with one or more cloud or devops services like AWS, Docker, Kubernetes

Demonstrate success as a problem solver

Be a results-oriented individual

Comfortable "working virtually" with teammates and customers around the world

Has worked with back-end technologies and latest development frameworks

An intermediate level of English
System Pre-requisites
These are the recommended and minimum system requirements for participating in the online hiring event.
- Any IDE
- Node.js v8.9+
- NPM v5+
Register by clicking the green button. The Webinar address and test platform link will be sent to confirmed candidates by email.
Join our community of remote professionals!
We have over 4,000 Crossover team members and are growing our network around the world. Watch this video to hear from team members in Brazil, Russia, Poland, Argentina, Turkey, Romania, Ukraine, and Hungary. https://youtu.be/L_hhRUutsko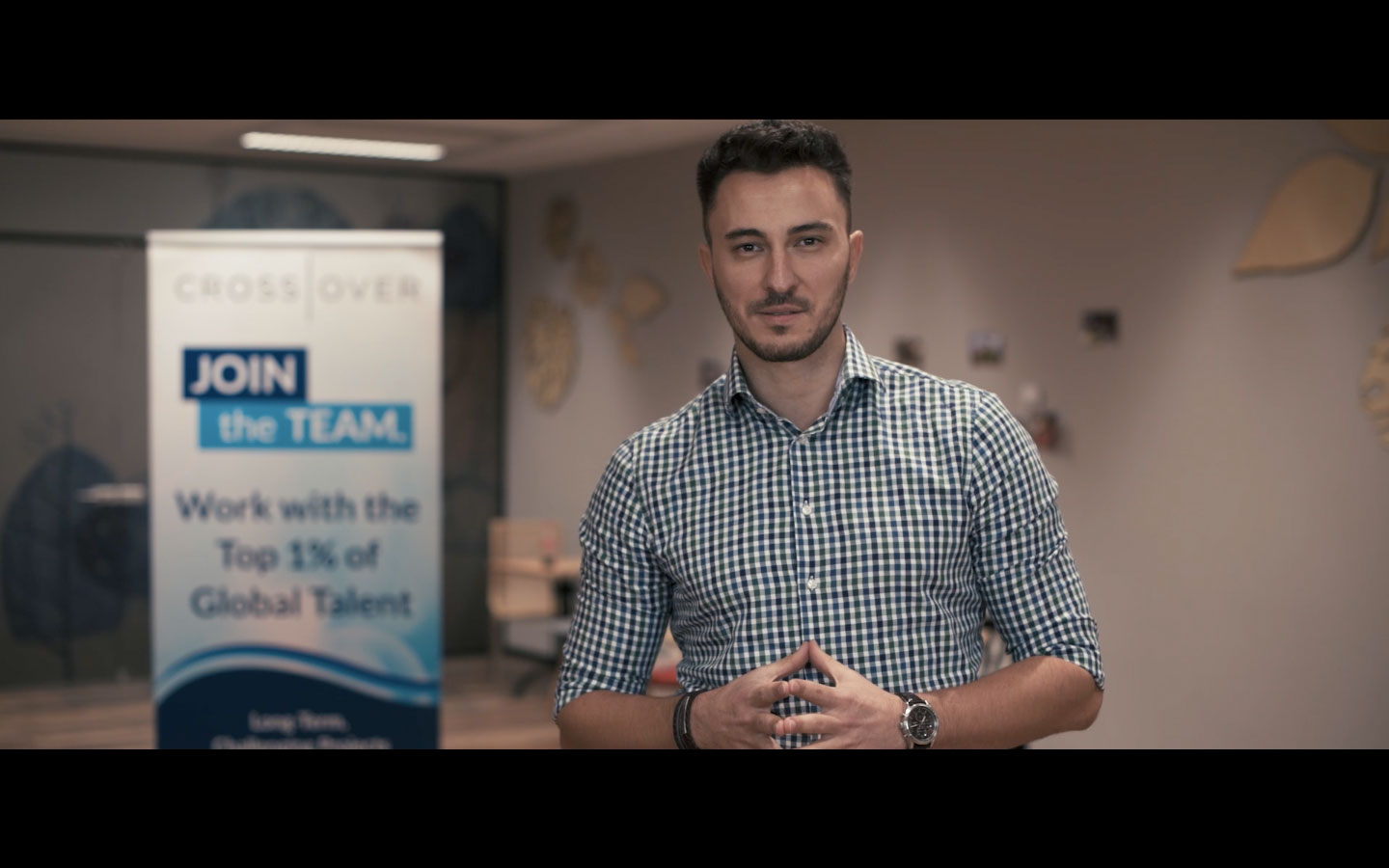 Watch our Pre-Event Checklist Video: