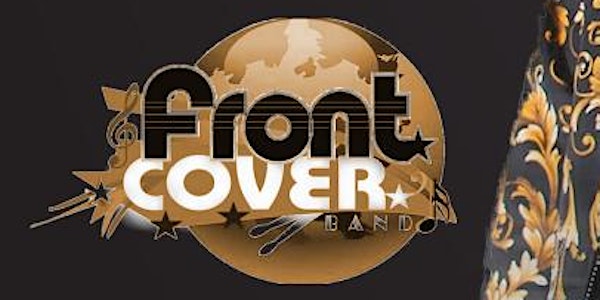 FRONT COVER BAND
Front Cover Band | 1/20/2023 | 8PM CST @ The Warehouse DFW, 1125 E. Berry Street, Fort Worth, TX 76110. 817.923.9305.
When and where
Location
The Warehouse 1125 E. Berry St Fort Worth, TX 76110
About this event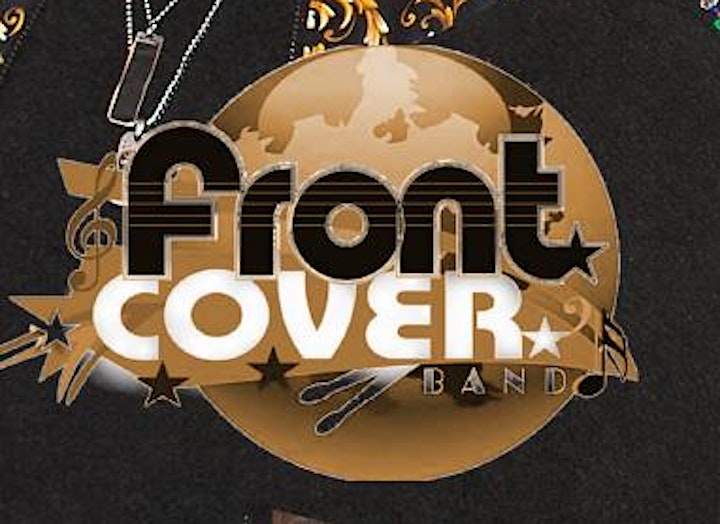 FRONT COVER BAND, Friday, January 20, 2023, 8PM CST @ The Warehouse DFW, 1125 E. Berry Street, Fort Worth, TX 76110. (817) 923-9305 .
Doors Open: 7:00 PM CST
Concert: 8:00 PM CST
TICKETS:
GA: $20 Advance | $25 Door
VENDORS:
Vendor Booth: $100.00
EVENT SEATING INFO:
Table Seating Available.
Reservations for Tables and Groups Accepted.
Special Celebration Reservations (Birthdays, Anniversaries, etc.) Accepted.
VENUE FOOD & BEVERAGE INFO:
Food and Beverages for Purchase
Proceeds benefit National Multicultural Western Heritage Museum 2023 Dr. Martin Luther King, Jr. Holiday Celebration Programs.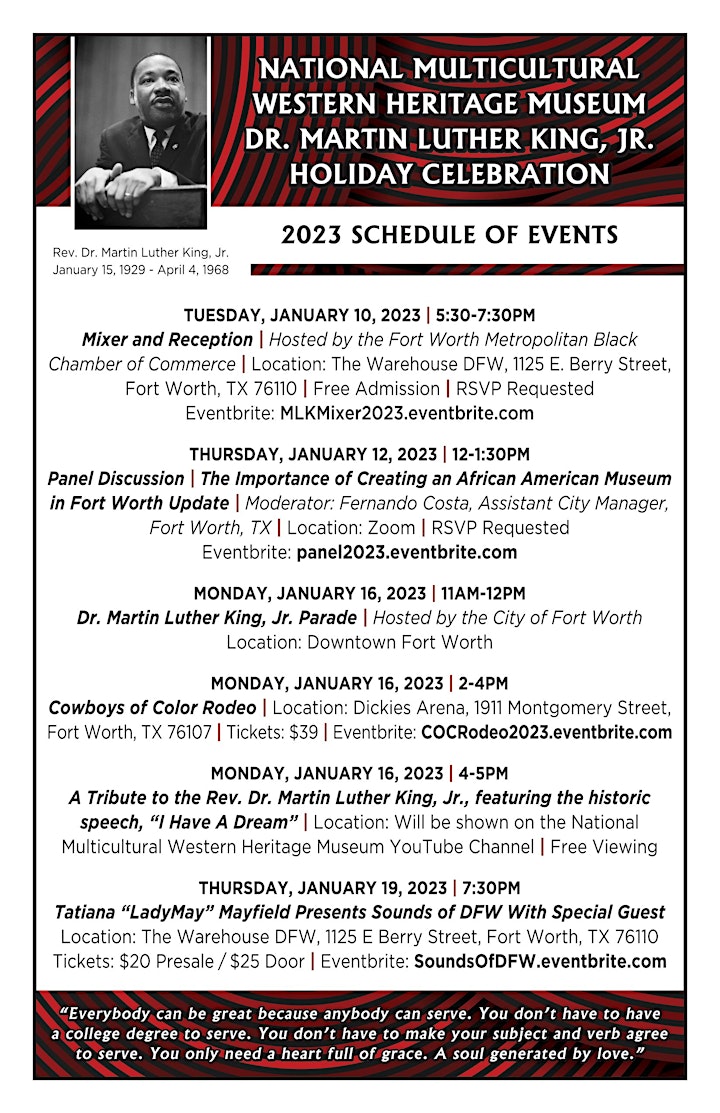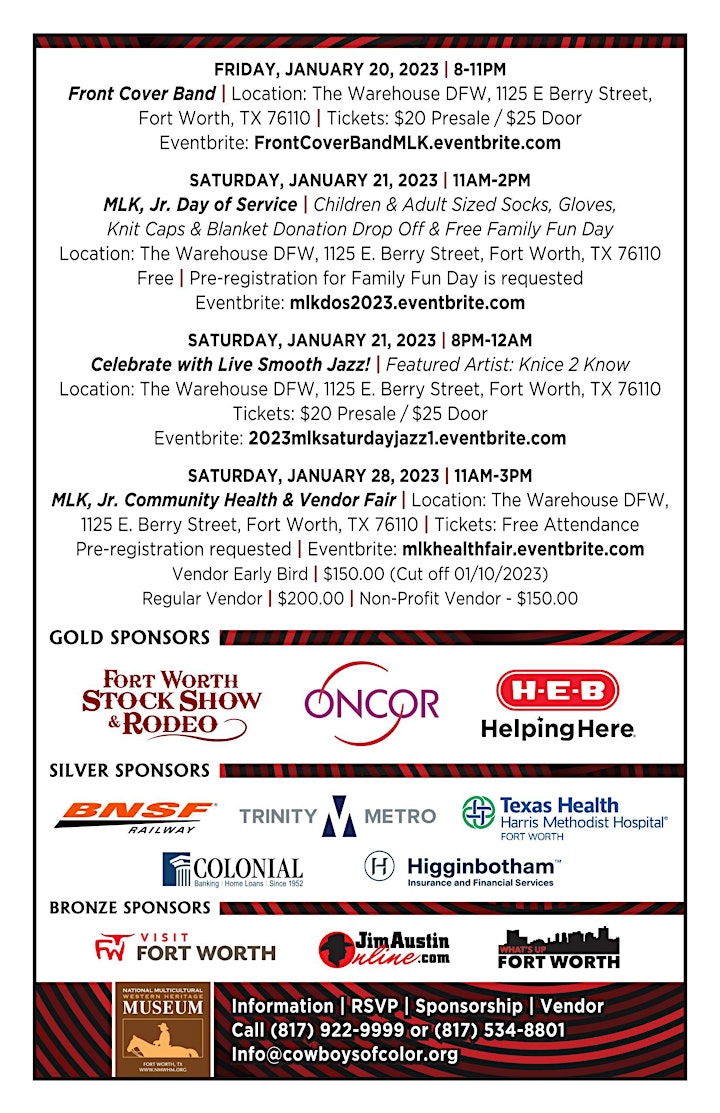 ABOUT THE FEATURED ARTIST IN CONCERT: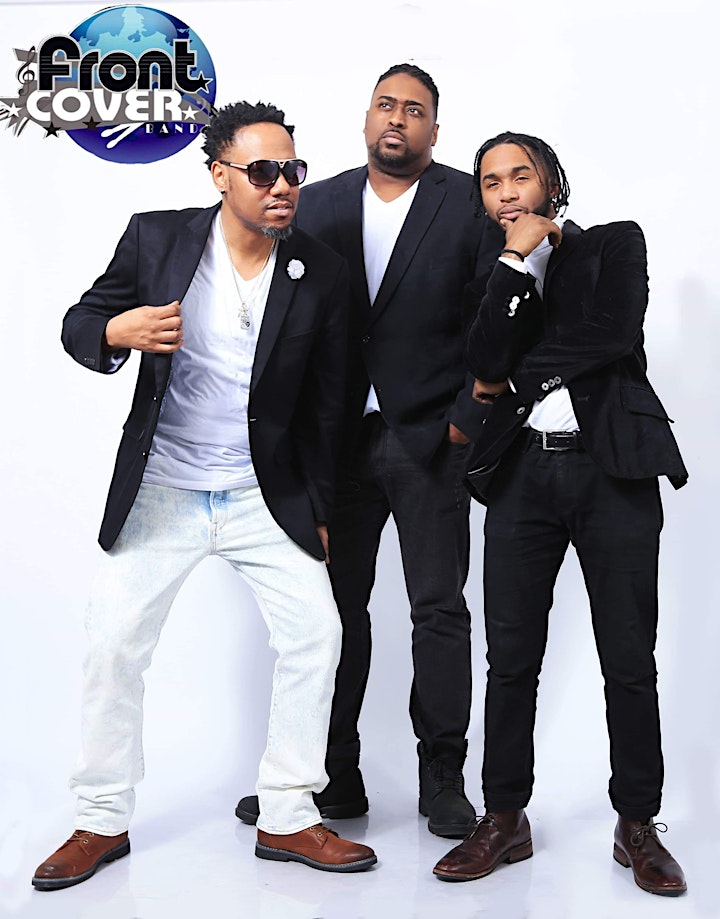 FRONT COVER BAND
Front Cover Band was established in 2009 under the leadership of the current band director, TaShakka Stills. The purpose of Front Cover is to showcase Old School and Top 40's hits rendered by talented local singers and musicians that TaShakka Stills has had the opportunity to meet and work with. Since forming the band, Front Cover has played and traveled all over the Ark-La-Tex working in local casinos, clubs, and venues. It should be noted that Front Cover is the only band to ever be featured weekly at Boomtown Casino in Bossier City, LA every Tuesday night for almost two years. Front Cover Band has been the featured act at Horseshoe Casino's Rocking on the Rooftop, has played monthly at Eldorado Casino Celebrity Lounge, and has performed at Sam's Town and Diamond Jacks Casino. Front Cover has played in San Antonio at Rita's on the River, in Dallas at BH Lounge, and in Button's Restaurant in Addison and Fort Worth, Texas. The band even had the honor of performing for Jason Peters of the Philadelphia Eagles at his annual celebration. Also, the band has performed for NBA champion Willis Reed, Jr.
Repeatedly, the band has participated in several festivals throughout Louisiana and Texas including the Red River Revel, Let the Good Times Roll, Juneteenth, Leesville Mayfest, and the Marshall Fire Ants Festival. Currently, Front Cover Band can be seen regionally performing all over the Dallas and Fort Worth areas in Texas, in El Dorado, Arkansas, in Vicksburg, Mississippi, and, of course, in their own hometown Shreveport (and Bossier City) in Louisiana. The band works with several different lead singers and musicians depending on what a particular venue may need. Presently. we are working mostly with the awesome talent of Fred "Ljai" Robinson, the lead singer of the R&B group Profyle. With TaShakka Stills' vision and dynamic ability to run Bass Lines, keys, and auxiliary sounds, along with Jameel Davis' young, energetic ability to make even the greatest guitarist amazed (especially at his rendition of Purple Rain), this team of musicians combined with several drummers we have available on call, will give you a show and performance like none other.

BOOK YOUR EVENT TODAY!
EVENT VENUE WEBSITE:
TheWarehouseDFW.com | 1125 E. Berry St., Fort Worth, TX 76110. (817) 923-9305.
Vendor Opportunities Available
Call (817) 923-9305 | Jim Austin Online Business Office
Sponsorship Opportunities Available
Call (817) 923-9305 | Jim Austin Online Business Office
Questions:
Jim Austin Online Team | (817) 923-9305
Email: Receptionist@JimAustinOnline.com
WANT MORE LIVE MUSIC???
WANT TO ADVERTISE YOUR BUSINESS TO A NEW AUDIENCE?
Be sure to join us for upcoming Live Music Events at The Warehouse.
Visit JimAustinOnline.com to purchase tickets and sign-up to receive the E-Newsletter, Livestream Concert info and exciting updates!
VENDOR & EVENT SPONSOR OPPORTUNITIES
Sponsorship & Vendor Opportunities are available for all scheduled concerts and events at the Warehouse.
Call the Jim Austin Online Business Office (817) 923-9305.
Keeping you safe!
Masks are optional but welcomed in all spaces for visitors and staff.
We ask that you respect others' choices, and alert a staff member if you have any concerns. Protocols are subject to change in compliance with revisions to national and local guidelines regarding COVID-19.
Public Events Policy Waiver
An inherent risk of exposure to COVID-19 and variants still exists in any public place where people are present. By visiting/participating you voluntarily assume all risks related to exposure to COVID-19 and variants. Mask are optional. Mask and sanitizer will be available.
Non-vaccinated attendees are encouraged to wear a mask at all times (including parking lots), except when they are actively eating or drinking.
We will continue to implement a series of health and sanitization policies and procedures and is monitoring guidelines from the CDC, and public health officials. Please be advised that these safety protocols remain subject to change.
Thank you for helping us to keep our event location clean and healthy in this difficult time. Your cooperation helps to keep our non-profit organization running and supporting educational family oriented programs.