Description
From Welfare to Faring Well is a prosperity manifesto that outlines how WE THE PEOPLE can quickly fund and implement this program in communities across America. Read this book to learn about our 5-year plan to eradicate poverty in the US, and how your family, association, non-profit, or business can PROFIT from joining our team this year.
Now Available: PDF, Paperback, Kindle Version, ebook
You may also support this program by making a donation of any size. Just choose that option when you check out.
For details on this program: www.iTrainInvestors.com.
---
US Ambassadors for Prosperity, LLC
Membership Drive Kickoff Feb. 13 - 28th.
My Name is Nancy Gaskins.
I Train Investors.
I have a dream and a plan to help every household in America become more financially fit and significantly more prosperous over the next 5 years.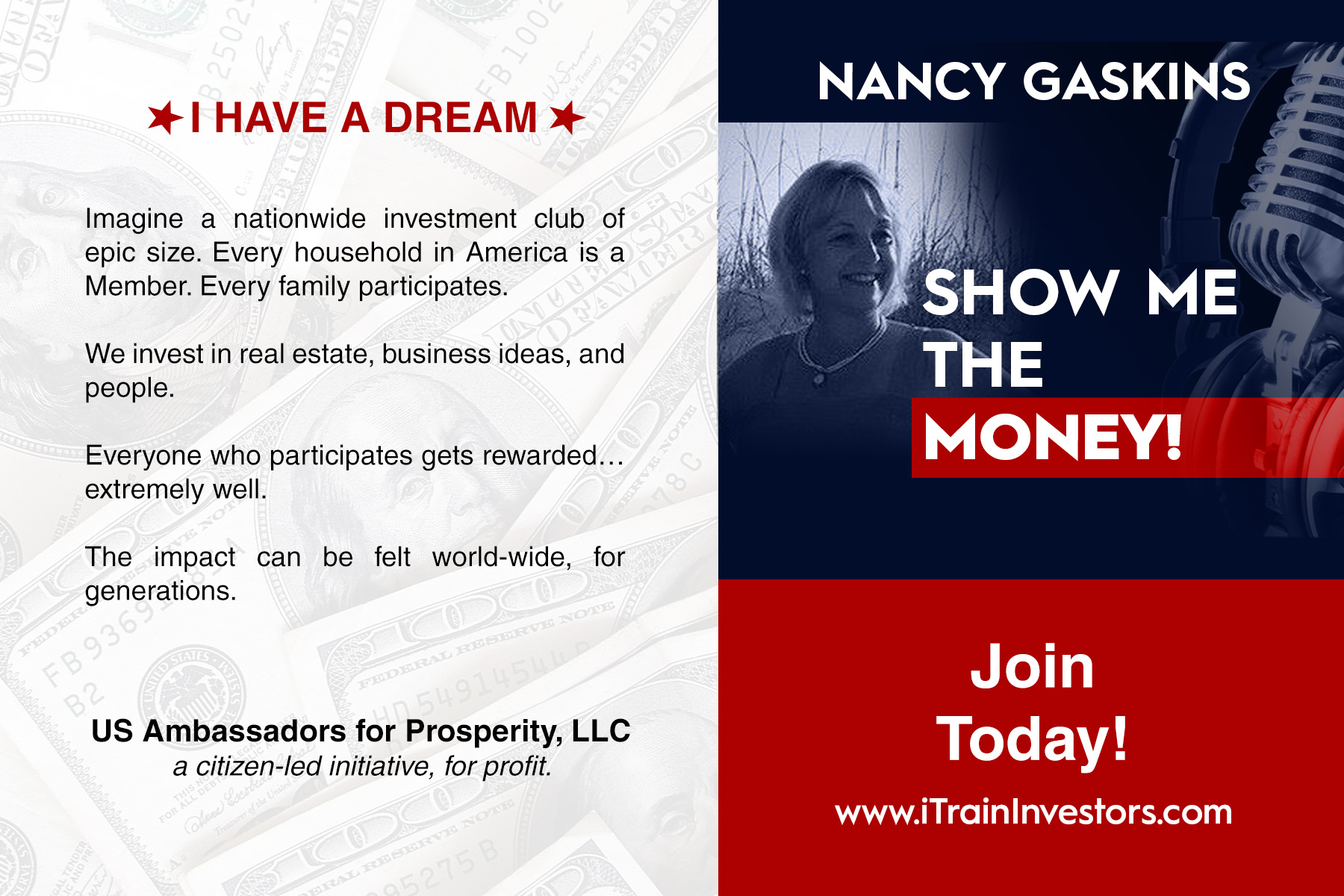 With your help, we can inspire, educate, reward, and transform millions of lives in communities across America.
Who Can Benefit?
There are at least 9 ways you can benefit from joining our team.
If you are an individual, business owner, employee, not for profit, club, organization, or Christian organization in the US, I'm sure you will find something that will resonate with your head, heart, and wallet.
Industry Specific Overview:
If you work in any of the following industries or provide support services to any of these industries, you should know that a significant portion of this program will be directly or indirectly tied to your industry:
Real estate sales, rental properties, property management, vacation rentals, tourism, hospitality, food & beverage, retail, mortgage brokers, lenders, and financial institutions. Financial Services, Retirement Planning, Money Management, Credit Counseling, Wealth Management, and Insurance. Travel agencies, entertainment, fine arts, and philanthropic organizations.
---
9 Ways To Join Our Team & Benefit:
(1) Ambassador Memberships (PROFIT-sharing perk)
(2) Real Estate Investment Club ( Earn as you learn )
(3) Vacation Club (vacation at cost, layaway plan, discounts, and profit-sharing perk)
(4) Sponsorships (Advertising / Referrals)
(5) Training Site Hosts (Private or Public options)
(6) Referral Partners (Earn cash commissions or credit)
(7) Make a Donation (Rewards & Perks)
(8) Wealth Builder Program Applicant (fast track to financial independence)
(9) Purchase the book (PDF or Paperback versions available)
---
From this page you can do any of the following:
1. Make a donation of any size.
2. Register as an Ambassador, Sponsor, or Prosperity Site
3. Purchase a PDF version of the book, "From Welfare to Faring Well,"
---

1. Membership & Sponsorship opportunities are now available.
2. Now Hiring Reps to Promote this program nationwide.
3. Now accepting applications for the FREE Wealth Builder Program
4. For more info: www.iTrainInvestors.com