From Visual Programing to Media: Approaches to Starting Computing

Monday, June 14, 2010 at 8:30 AM

-

Tuesday, June 15, 2010 at 4:30 PM (EDT)
Event Details
From Visual Programing to Media: Approaches to Starting Computing
Getting Students Excited About the First Course
Workshop hosted by CITI, CAITE and Rick Adrion of UMass Amherst
UMass Amherst, Computer Science Building
140 Governors Dr, Amherst, MA
Mon. June 14 - Tues. June 15, 2010
Learn approaches to introducing computing that engages a broad range of students. This two-day workshop will include brief introductions to visual programming in Alice and Scratch and techniques for motivating textual programming in Java and Python for manipulating media.
Who should attend?  The workshop is aimed at educators in computing and technology at 2-year and 4-year colleges and is open to high school teachers. Media Computation approaches that work with students as early as high school will be presented.
What will I learn? This workshop will describe different approaches for getting students started with computing. We will be using Scratch, Alice, and Media Computation. Alice is an approach to teaching introductory computing where students drag-and-drop program elements in order to construct 3-D stories. Scratch is similar but with a simpler interface and a focus on 2-D stories. Media Computation is an approach to teaching introductory computing where the focus is on manipulating pictures, sounds, and video. All three approaches motivate and engage students, by contextualizing computing in a relevant activity. 
We will not aim to teach Alice in this workshop, but only give a flavor of Alice. If you want to learn more Alice, please visit http://www.alice.org to download a copy of Alice and try running some of the tutorials. A CD with all the software will be provided at the workshop. We will also have a limited number of USB drives for copying the software at the workshop.
Sample schedule for the workshop is at: Georgia Computes Wiki.
Cost? The workshop is free, but pre-registration and a commitment to attend both full workshop days is required. Continental breakfast and lunch will be provided on both workshop days. Mileage reimbursement (up to $100) or travel (up to $250) for those more than 50 miles from Amherst. Lodging is no longer available! Parking passes will be available at the check-in table day-of.

Registration deadline is June 4. Space is limited, so do register early!
If you have registered and find you are no longer able to attend, please contact us so that we can release your ticket to the waitlist.

When & Where
Lincoln Campus Center, Room 163 C
1 Campus Center Way
Amherst, 01003


Monday, June 14, 2010 at 8:30 AM

-

Tuesday, June 15, 2010 at 4:30 PM (EDT)
Add to my calendar
Organizer
CAITE (Commonwealth Alliance for Information Technology Education) is based at the University of Massachusetts Amherst and works to address underrepresentation in information technology (IT) education and the workforce. The project is active throughout the state of Massachusetts as part of the Expanding Computer Education Pathways (ECEP) Alliance.

Through its work in K-12 and higher education, CAITE's mission is to broaden participation and success in computing and IT. Current efforts are focused on the following:  
• Curricula and standards in Mass. K12 public education
• Professional development for educators
• Youth programs to increase interest and career awareness
• Educational pathways from community colleges to bachelors-degree institutions

More information at: www.caite.info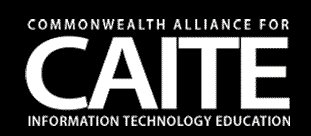 MECSP (Massachusetts Exploring Computer Science Partnership)'s goal is to broaden computer science (CS) education across MA through the expansion of the Exploring Computer Science (ECS) course in high schools. MECSP will build an effective multi-sector collaboration for the ECS course and professional development model, building a cadre of Teacher Leaders who prepare other teachers to engage greater numbers and a greater diversity of students in CS education and the workforce. MECSP's focus on reaching students from underrepresented populations ensures that it has great potential to address significant equity issues within CS and to expand access to college preparatory CS courses for a diverse population of MA students.

Sponsored by CAITE, an NSF CISE Broadening Participation in Computing Alliance, and the Massachusetts Exploring Computer Science Partnership (MECSP). This material is based on works supported by the National Science Foundation under Grants CNS 1339300. Any opinions, findings, and conclusions or recommendations expressed in this material are those of the author(s) and do not necessarily reflect the views of the National Science Foundation.