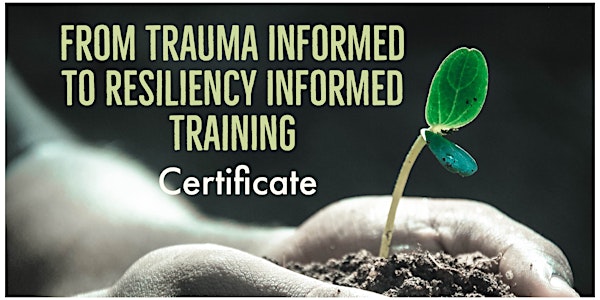 From Trauma-Informed to Resiliency-Informed Training
Trauma-Informed to Resiliency-Informed Practice Training: ONLINE (start time is: 10am, PST )
By Trish Walsh and Galen Hutcheson
When and where
Date and time
Sunday, April 18, 2021 · 10am - 4:15pm PDT
Refund Policy
Refunds up to 7 days before event
Eventbrite's fee is nonrefundable.
About this event
Trauma-Informed Practice Training Vancouver (Certificate)
Time: 10:00am - 4:15pm PST (Vancouver BC time). ONLINE
This workshop will be held online using the platform ZOOM. A link to the room will be sent to participants prior to the training.
This workshop is open to those working within the health and mental healthcare fields as well as the general public.
*Please note - if you would like to attend this workshop but are unable to due to experiencing financial hardship, please contact us.
The Covid 19 pandemic presents mental health professionals and front line workers with unique challenges.  This workshop has been adapted to include more relevant information needed during this time to help us assist clients who are struggling with increased feelings of loneliness; who have been negatively impacted by isolation and distancing; along with a deepening and more experiential opportunity of the concepts learned in past Trauma-Informed Training Level 1's.  (*Trauma-Informed Training Level 1 is not a pre-requisite for this workshop).
Background: In addition to feelings of overwhelming helplessness and uncertainty, a primary component of trauma is disconnection: whether it be from self, other and/or the world. Our nervous system has evolved to respond to threats, and importantly, it has evolved to interpret isolation and disconnection as a perceived threat - invoking prolonged threat response cycles and increasing the symptoms of unresolved trauma. (much research has been done regarding this following other pandemics, including research by the University of Toronto following the SARS crisis which saw significant increased rates of depression and PTSD symptoms associated with isolation).
 As with a trauma response, isolation and the societal fear caused by the current pandemic can lead to chronic shutdown, collapse, fear, helplessness, anxiety and depression; presenting as a myriad of symptoms within ourselves and our clients.
 During the current pandemic we are inundated in the media and on the faces of loved ones and those at a distance, messages which may be interpreted as fear, triggering unhealed layers of adverse childhood experiences (ACES) and other past experiences of relational or systemic trauma. Our body unconsciously responds to isolation and cues of perceived threat with a neurobiological hijacking resulting in a freeze, flight, fight or shut down which is often below the level of conscious thought. This results in turning us away from the very things that we need in order to heal.
 The disconnection we are waking up to is linked to early morbidity, a long list of chronic health concerns, isolation, alienation and a failure to thrive. Now a pandemic has demanded we literally shut ourselves away from one another to stay safe. So how do we cope? How to we manage the dissonance that we have evolved to crave connection, but a virus necessitates increased levels of separation?
  In the poignant words of AEDP founder, Dr. Diana Fosha, healing emotional suffering is found in the: "undoing of aloneness". Research by Daniel Siegel, Dr. Stephen Porges and Dr. Kristen Neff, among many others, show that co-regulation, attunement, and allowing ourselves to be truly seen, and feeling that we are felt and understood by others are critical components of healing. Feeling connected and being held in a compassionate, attuned presence is a powerful source of not only trauma healing, but also for healing loneliness, healing empathy fatigue in front line/first responders, and for building resilience. Research now shows that these relational tools. and mindful self-compassion practices, are powerful tools to lessen and prevent PTSD symptoms, depression, and anxiety.
This workshop provides a theoretical framework, along with tools, practices, strategies, and opportunities to connect with learning partners to deepen your understanding of a growing body of trauma informed knowledge.
The workshop is grounded in neuroscience and informed by the work of: Dr. John Briere, Dr. Stephen Porges, Dr. Daniel Siegle, Dr Vivek Murthy, Dr. Kristin Neff, Dr. Chris Germer, Dr. Shauna Shapiro, Dr. Bessel van der Kolk, Dr. Peter Levine, Dr. Allan Schore, Dr. Rick Hanson, Dr. Mark Brackett, and Dr. Linda Graham.
This workshop is relevant to those working with adults or children, as well as those working with those affected by childhood, intergenerational, complex, single-incident, and environmental or community trauma. 
Certificate of Completion will be provided.
TOPICS COVERED:
The Neurobiology, and the continuum, of Trauma, and Traumatic Memories
Understanding Intergenerational Trauma, Epigenetics, and new Research on the Healing of Intergenerational Trauma.
An Overview of the Signs and Symptoms of Trauma 
The Human 'Threat-Response Cycle' - why " fight, flight, freeze" can be a misnomer. How this threat response is activated during isolation and distancing and how to mitigate/heal the impacts.
The Relationship Between Unresolved Trauma, ACE's and the Impacts of Social and Physical Distancing.
The Neurobiology of Physical, Social and Emotional Impacts of Loneliness 
How Triggers and Limiting Beliefs Related to Trauma are Formed and Healed
Overview of Polyvagal Theory and Neuroception - How our nervous system is impacted by trauma, perceives isolation and distancing, and how to build a felt sense of safety
Understanding Collective Trauma
How to Use Zoom/other Online Platforms, and Telehealth to Maximize Your Therapeutic Effectiveness in Healing Trauma: research, tools and tips.
Updated Overview of Therapeutic Models that are Aligned with Trauma-Informed Practice and Facilitate the Healing Process.
An Overview of a Several New Somatic and Expressive Arts Methods Recently Developed to Heal Trauma.
Understanding the Concepts of Dual Awareness, Window of Tolerance, Therapeutic Window, Attunement, Resourcing and Titration, in Trauma Healing 
The Neuroscience of Mindfulness and Compassion: Research on Mindful Self-Compassion Practices used to Heal Trauma. Workshop participants will learn, and have an opportunity to practice, specific tools for healing trauma and the impacts of disconnection based on the work and research of Dr. Kristen Neff, Dr. Chris Germer, and Dr. Shauna Shapiro. 
Understand How Emotion and Trauma Memory is Discharged from the Body (including a brief overview of new trauma research from Dalhousie University's Centre for Emotion and Health).
Helping Clients Build Resilience: additional tools, practices and strategies that you can use personally & with clients.
FACILITATORS: 
Galen Hutcheson
Galen is a Registered Clinical Counsellor, Art Therapist, leadership development specialist, certified coach, teacher, community and organizational group facilitator, and yoga instructor living in Vancouver, British Columbia. Galen is an Associate Faculty member and a guest lecturer at City University, and Instructor in the Masters of Education Counselling program, providing instruction to Masters of Counselling student interns. Galen has created and facilitated trauma-informed practice training workshops, and works with Early Childhood Educators and teachers to bring relational trauma informed, compassion focused and inclusive teaching and learning practices/principles into the classroom and community. Galen has worked with children, youth and families in individual and group settings in schools, community health organizations, correction facilities and counselling centres for more than 20 years. With an M.A. in Leadership and Learning, Galen also works with organizations, advocates, artists and teachers to communicate the value and necessity of equitable access to art education as an essential foundation for social emotional regulation, connecting to emotional intelligence and as a predictor of wellness, supporter of empathy and positive mental health outcomes. Galen in a lifelong learner continually adding layers of specialized training in diverse therapeutic modalities all informed by a trauma informed lens. Areas of specialization in trauma healing include: Relational, Somatic and Polyvagal focused body centered practices, Social Emotional Regulation, Mindfulness and Compassion focused therapy, Person Centered Theoretical Application, Solution Focused Practice, and most recently, a Sensorimotor Art Therapy Approach to Bilateral Body Mapping which is used in the healing of trauma. For more info: www.flyandnestconsulting.com
Trish Walsh
Trish is a Counsellor, life coach, teacher, and trauma-informed practice training facilitator, located in Vancouver, British Columbia.  Trish's training and focus is in the area of Transpersonal Psychology, which integrates eastern philosophies within the framework of modern psychology. Since 2016 Trish has focused on developing and facilitating trauma-informed trainings for university students, physicians, psychologists, and other mental health therapists who are interested in updating their knowledge and skills in the area of trauma healing.  In addition to Trish's counselling practice, her work over the last twenty years has focused on knowledge translation: specifically, synthesizing research findings in medicine and mental health care to decision makers within Canada's Federal and Provincial Governments, and to physicians, mental health professionals and other allied health care providers, along with corporations, community groups and the general public. Trish has tremendous passion for conveying research information in an engaging and easy to understand way, aiding decision makers in their funding and public policy decisions, and helping individuals to learn practical strategies for better health, happiness, and personal success. Trish has also consulted for a number of non-profit organizations and industries to bring health information to their organizations and through community outreach. For more info: www.trishwalsh.ca
Feedback from recent workshops:
"The Family Support Institute of British Columbia had the good fortune to do a custom tailored workshop on Trauma Informed Practice with Galen and Trish for our provincial staff team. The session was profound and impactful.
The presenters were gentle, skilled, and imparted deep knowledge, research and practice into all aspects of our time together. They made space for all participants to feel safe, nurtured and left them with a newly acquired set of tools, strategies and knowledge. Our time together was set at a wonderful pace and had great structure to enable the participants to easily ask questions, pause and reflect, and take breaks or connect as they personally needed.
FSIBC would highly recommend Trish and Galen to anyone who is looking for a team session on Trauma Informed Practice". – Angela Clancy, Executive Director of the Family Support Institute of British Columbia: www.familysupportbc.com
"Thank you so much for the amazing workshop! I have nothing but wonderful things to say about this workshop and will highly recommend it to others. Just wish we had more time to learn more. THANK YOU!!!!!" - participant feedback from July 7, 2020 workshop
"Trish and Galen are a fantastic blend of trauma-informed practice, neuroscience, mindfulness and self-compassion. Whether you're a therapist, teacher, helping professional or anyone on their own personal healing journey, this was a resource-rich workshop that also instilled a sense of hope and healing in undoing aloneness." - participant feedback from our June 20, 2020 workshop.
" I appreciated the passion, knowledge and patience of you both. You are a wealth of knowledge and experience. That really shone through in the workshop. Also appreciated the time spent after the workshop and the option to drop by for questions after a week. Thank you also for all the amazing resources provided". - participant feedback from our June 2020 workshop
" I really enjoyed this workshop. I think you both make a great team and it was really nice that you both alternated speaking throughout the day that reflected your expertise in a particular topic. I loved how you started the beginning by setting up expectations and asking each of us what we would like to learn/how we came to the workshop. It was also interesting to hear about other people's reasons/experiences. I also appreciated how you both created a safe and comfortable environment for everyone to participate as much or as little as they wished. The material was wonderful and I most enjoyed learning about the brain, hearing personal stories about trauma, and trying out the meditation exercises. The vicarious joy exercise at the end was a beautiful way to end the day. I also liked that we were a small group to build safety and trust. It was also nice to have "official" question times as well as the ability to ask questions in the chatbox. You both answered questions thoughtfully and with care. Lastly, thank you for offering to complete the survey after the workshop (people tend to be tired at the end of the day) and I also appreciate you offering a follow-up question time a week later. Thank you for a great workshop." - participant feedback from our June 20, 2020 workshop.
"I really appreciated the safe environment the facilitators created that emphasized choice. The content was fascinating and enlightening and I enjoyed the experiential exercises we were guided through" - participant feedback from our June 20, 2020 workshop.
" I really appreciated the information that was shared in this workshop. Being born in a generation where trauma and stress were not really talked about this was very helpful to put some events into a better perspective with the intent of being able to help support other families. I also enjoyed the presenters, they were easy to listen to and worked well together. I like to hear practical applications on subject matter, and I also like to understand the science to the degree I am able. I felt like both of these needs were met. Thank you for a great presentation." - participant feedback July 7, workshop 2020
" The speakers were gentle and kind, warm and safe." - participant feedback July 7, 2020 workshop.