Description


Dr. Pascal Bokar Thiam
by "From Timbuktu to the Mississippi Delta: How West African Standards of Aesthetics Shaped the Music of the Delta Blues"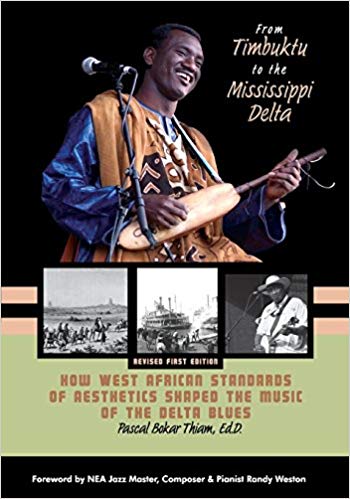 From Timbuktu to the Mississippi Delta explores how West African standards of aesthetics and sociocultural traits have moved into mainstream American culture and become social norms.

I was curious to know why African Americans (and the country as a whole, for that matter) began clapping on beats two and four, and why we'd get dirty looks if we were caught clapping on the wrong beat. I had a desire to know why the identity of the music of our nation, with its majority population of European descent, had the musical textures, bent pitches, and blue notes of Africa. I wondered why a sense of swing developed here that was closer in syncopation to African culture than to the classical music of Vienna or the Paris Opera. And finally, I wanted to know why our nation's youth moved suggestively on the dance floor with their hips-movements that are closer in aesthetics to African dance than to ballet. The journey began on the banks of the mighty Niger River.

Pascal Bokar Thiam, Ed.D., is on the faculty of the University of San Francisco, California, and the French American International School where he teaches jazz and world music courses in the Performing Arts Division. He is a jazz guitarist and vocalist of Senegalese and French background. His CD Savanna Jazz Club, which combines the music of Charlie Parker and Dizzy Gillespie with Senegalese rhythms, made the top 40 of U.S. jazz radio stations nationwide. He is the owner of the award-winning Savanna Jazz Club of San Francisco. His areas of interest include jazz education, social justice, and diversity.
Please contact us at info@richmondmuseum.org to request a discounted or free ticket.