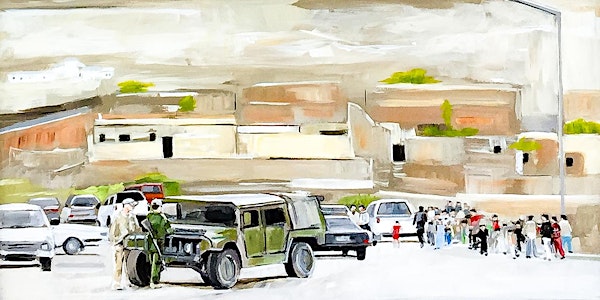 "From There to Here: Military Veterans' Experiences" (Exhibition)
When and where
Location
Salmagundi Club 47 5th Avenue New York, NY 10003
Description
Featured image ("Understanding" by Jodi Manca US Army Wife)
The exhibit is open to the public at no charge, February 10 through February 21, 2020. The gallery hours are Monday through Friday 1 – 6 PM, and Saturday and Sunday 1 – 5 PM.
As part of its on-going dialogue with the military community, the Salmagundi Club on New York (SCNY) is proud to present "From There to Here: Military Veterans' Experiences", a veteran-curated exhibit of military veterans' and family members art and words, opening on Monday, February 10th, its Patrons' Gallery at 47 Fifth Avenue in Greenwich Village.
Partnering with Omar Columbus, a U.S. Air Force veteran, and NYC-based photographer, the exhibition intends to foster a better understanding and dialogue within and between the military and civilian communities. As an advocate and participant in veterans' arts initiatives, he has brought together veteran art and experiences from the NYC-area and nationwide covering all branches of the U.S. Armed Forces across eras ranging from World War II through the present conflicts.
We aimed to showcase artworks that span from the WWII era to the present conflicts. Featured will be photography, painting, sculpture, ceramics, and Frontline Paper (a process where camouflage uniforms are turned into a pulp and paper art is created). Taking a material used in combat and reutilizing it to express art.
About The Salmagundi Club - Founded in 1871, the Salmagundi Club is one of the oldest art organizations in the United States. Housed in a historic brownstone mansion in Greenwich Village, New York City, the Club offers programs including art classes, exhibitions, painting demonstrations, and art auctions throughout the year for members and the general public.