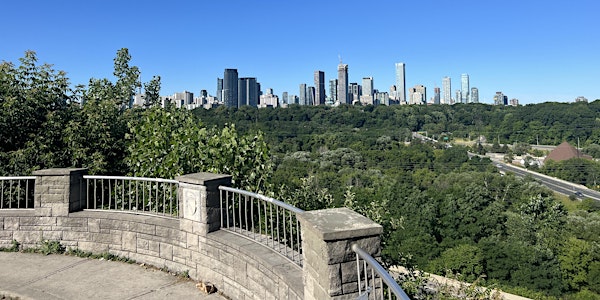 From the Eye to the Ear
Communal reading event at the Chester Hill Lookout
When and where
Location
Chester Hill Lookout Don Valley Parkway Toronto, ON M4K 1V4 Canada
About this event
We're excited to announce our fourth event—From the Eye to the Ear—continuing the Implicit Choreographies & Relational Topographies program.
Join us at the observation deck of Chester Hill Lookout for a communal reading to the ravine. We will read selections from texts on and around the Don to the expansive valley: texts in an ongoing bibliography that have been both guiding forces and sources of wonder in approaching the intricate network of the river. As the sun sets and lends way to night, we will follow this reading with a workshop on the moving nature of oration considering the power of words, writing and narrative as forces of enchantment, mythology and imaginaries. Those attending are invited to participate in the reading and workshop in whichever way suits them best and are encouraged to bring their own textual connections to speak out to the river and ravine.
Organized by Pumice Raft in collaboration with artist-educator Chris Mendoza, Implicit Choreographies & Relational Topographies is a processional public program sited within the Don River Valley that will run over several weekends in the Summer and Fall of 2022. Across a series of gatherings, walks, performances, and discussions—lead by invited artists, researchers, and writers—this program aims to attune to, and resonate with, the layered depths and richness of place that makes up the lower river valley. In aggregate, this program aims to facilitate moments of place-based and experiential learning.
Keep an eye out for news of our next program taking place on the weekend of August 27th. If you would like to stay up-to-date on future events within this program, please sign up for Pumice Raft's mailing list.