Event Information
Location
RocketSpace Events
The Yard, off Duncan Street
London
N1 8EQ
United Kingdom
Description
Across the UK, the public is mobilising to defend and improve our NHS services, and a key part of this battle is taking place in the courtroom. Hear from doctors Chris Day, Nadia Masood and Ben White on their groundbreaking legal challenges for better doctor and patient safety, and what they think the future holds for the NHS.
Dr Ben White, Dr Nadia Masood and three colleagues challenged Jeremy Hunt's infamous junior doctors contract in order to better protect patient wellbeing and safety. Dr White is currently the campaign manager for #JR4NHS, a group that includes high profile figures and academics and is raising money to take a legal case that seeks to challenge the privatisation of health services.
Dr Chris Day had his career derailed after he stood up for patient safety and Health Education England attempted to argue that junior doctors did not benefit from statutory whistleblowing protection. Dr Day is part of #TeamHadiza, a group of doctors helping to raise funds for the legal support of Dr. Hadiza Bawa-Garba, who was struck from the medical register, following systemic failures on her ward, which lead to the death of a young patient.
Panel led by Dr Aislinn Macklin-Doherty, an NHS junior doctor, cancer specialist trainee and cancer researcher. She is fully committed to providing the best possible care for all patients through a publicly provided, publicly funded and accountable universal healthcare service.
**Join us for drinks and networking after panel discussion**
Please see the below map for instructions on how to find RocketSpace Events from Angel Tube Station.
By Tube - Angel Tube Station, Bank Branch of the Northern Line
Turn right and keep walking following the little white rockets to Duncan Street. Turn right again at The York pub on the corner of Duncan Street. Head down Duncan Street past the row of shops until you see the RocketSpace entrance. Head towards the Registration Desk next to the black gate and you'll see a member of the CrowdJustice Team.
By Bus - several buses stop on both sides of Upper Street very close to Duncan Street.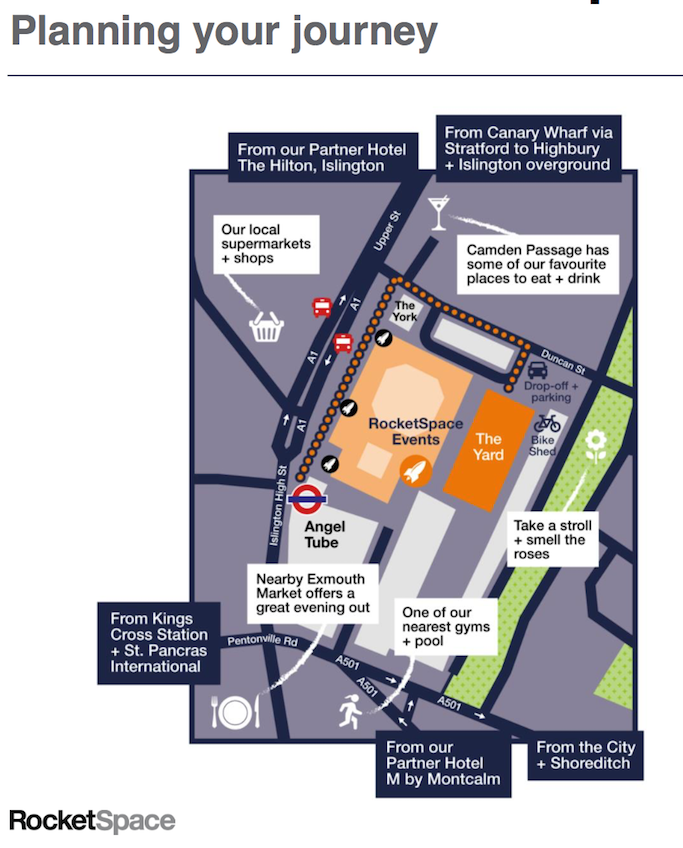 Date and Time
Location
RocketSpace Events
The Yard, off Duncan Street
London
N1 8EQ
United Kingdom