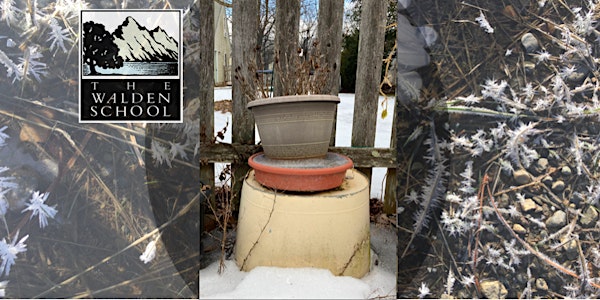 FROM THE EARTH: The Materials of Percussion Music
We are excited to announce the first Walden Online Workshop of 2022, presented by percussionist and Walden visiting artist Matthew Gold.
Date and time
Tuesday, February 22, 2022 · 4:30 - 6pm PST
About this event
Walden Online Workshop
FROM THE EARTH: The Materials of Percussion Music
Presented by Matthew Gold
Tuesday, February 22, 7:30pm Eastern / 4:30pm Pacific
Zoom video call
Every musical instrument is informed by its materials and construction; its performance practice, repertoire, and cultural role shaped and eventually codified by these physical attributes. For the percussionist, these issues are still unsettled, and the unique physical properties of sounding objects actively shape the percussionist's practice. In percussion music, the material qualities of a specific instrument—its substance, surface texture, construction, inconsistencies—can lead directly to the sound, process, and structure of the piece.
In this interactive workshop we will take a close look at the material qualities of the percussionist's instruments, tracing the path from physical to musical material. Participants will bring their own sounding objects for exploration and collaborative music making. The workshop will be in two parts.
Part I. To the Earth
Using Frederic Rzewski's 1985 work for four flower pots, To the Earth, as a jumping off point, we will explore how the material qualities of percussion instruments lead to percussion music.
Part II. From the Earth
Participants will share their own found object percussion instruments and explore how their unique physical characteristics can inform musical practice and creation. We will then use these objects to collaboratively make music through Zoom.
MATERIALS (to be prepared in advance)
1. Participants should find three found object sounds from everyday life that have interesting, surprising, or personally meaningful sound qualities. These objects should be capable of sustaining for a minimum of 4 seconds. At least one sound must be capable of a very long-sustain, and one must be a kind of white noise or air sound (such as radio static or sandpaper). You may also use your voice or body, but avoid conventional instruments.
Try listening to the things you encounter everyday, both inside and outside, and see what you can discover. Create a collection of objects that have different resonances, attacks, registers, pitches, and textures. Examples include water bottles, pot lids, stones, leaves, paper, or water. Explore a range of techniques and resulting sounds with each object. Use your imagination and discover something new!
2. Participants should bring a radio with an analog dial. It can be a portable radio, a clock radio, a boombox, or anything that can be tuned gradually between stations.
Music to be explored includes:
Frederic Rzewski: To the Earth (1985)
Nomi Epstein: Combine, Juxtapose, Delayed Overlap (2017)
John Cage: Radio Music (1956)
Carolyn Chen: Great Birnam Wood (2015)
Juri Seo: Shui (2017)
There are spaces in this workshop for 20 fully active participants plus any number of limited participation/observer slots. There will be opportunities for both full participants and observers to be creative and interact with the group. The 20 full activity slots are reserved on a first come first served basis. Please select "Participant" or "Observer" when registering for this workshop. No experience is necessary for either.
Walden Online Workshops are open to all, and are offered to our community and the public free of charge. Please contact us at wow@waldenschool.org with questions, comments, or ideas for this series.
Percussionist Matthew Gold is a performer, ensemble director, and educator committed to presenting innovative and adventurous programs featuring new voices.  As the Talea Ensemble's percussionist and Managing Director he has performed with the group across the U.S. and at international festivals.  He is also a member of the New York-based percussion group, Talujon.  Mr. Gold is an Artist in Residence in Percussion and Contemporary Music Performance at Williams College where he directs the Williams Percussion Ensemble and the I/O New Music Ensemble, and is the Artistic Director of the annual I/O Festival of New Music. He serves on the faculty of the Composers Conference and Contemporary Performance Institute at Brandeis University and is a frequent Artist in Residence at the Walden School's Creative Musicians Retreat.  Mr. Gold has been a featured artist on recent festivals including Time:Spans 2019, Le Festival les Musiques in Marseille, and Festival Musiques Démesurées in Clermont-Ferrand, and has appeared with the New York Philharmonic on its "Philharmonic 360" program at the Park Avenue Armory.  He performs regularly with, among others, the Mark Morris Dance Group and the Albany Symphony.
About Walden Online Workshops (WOW!):
The Walden Online Workshops (WOW!) are a series of lectures, demonstrations, classes, and presentations on a variety of musical topics, presented over video call by The Walden School's teaching faculty, artists, and special guests. WOW presentations are free and open to alumni of CMR, YMP, OYME, OCME, TTI, and JCC, parents, donors, faculty, staff, artists, and members of the public. Please feel free to invite your friends and colleagues to join us!
About the organizer
The Walden School, founded in 1972, is a summer music school, camp, and festival offering programs that emphasize creativity and community, specifically through the study of composition, musicianship, improvisation, and choral singing. In residence on the beautiful campus of the Dublin School in Dublin, New Hampshire, Walden provides an inspiring retreat-like environment ideal for creative music making. 
The Walden School's programs include the Young Musicians Program for students ages 9 to 18, and the Creative Musicians Retreat for adults. The School's Concert Series showcases free public performances by renowned artists and ensembles that work closely with program participants. 
The Walden School has twice been awarded a Chamber Music America/ASCAP Adventurous Programming Award, has won a New Music Educator Award from the American Music Center (now New Music USA), has been a finalist for the National Arts and Humanities Youth Program Award, and in 2017, was awarded a Ewing Arts Award. The Walden School is the successor organization to the Junior Conservatory Camp. The Walden School is a 501(c)3 organization, supported by major foundations, corporations, and hundreds of generous individual donors. For more information about The Walden School, visit our website at www.waldenschool.org.