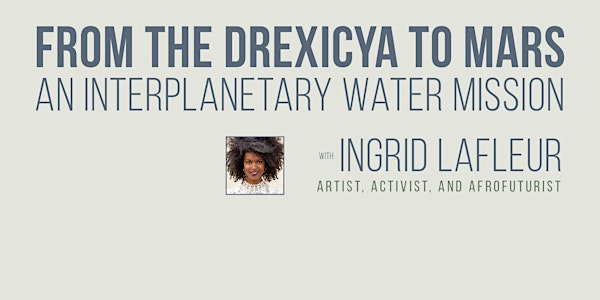 From the Drexicya to Mars: An Interplanetary Water Mission
Location
Ahmadieh Family Lecture Hall, C105, Bay 4, Smith Warehouse
Franklin Humanities Institute, Duke University
114 S. Buchanan Blvd.
Durham, NC 27701
Description
Please join the Franklin Humanities Institute for the next event in its Water series! A light lunch will be served at 11:30am; please RSVP for our catering numbers.

From the Drexicya to Mars: An Interplanetary Water Mission presents a multi-dimensional approach to one of the most important natural resources for humans, water. With Afrofuturism as our guide Drexicya, Detroit, and Mars become portals through which we explore the historical and spiritual manifestations of water. How can the cultural movement Afrofuturism disrupt the capitalist narrative and extraction of water and heal our relationship with this life-giving substance?
About the speaker: Ingrid LaFleur is an artist, activist, and Afrofuturist. Her mission is to ensure equal distribution of the future, exploring the frontiers of social justice through new technologies, economies and modes of government. As a recent Detroit Mayoral candidate and founder and director of AFROTOPIA, LaFleur implements Afrofuturist strategies to empower Black bodies and oppressed communities through frameworks such as blockchain, cryptocurrency, and universal basic income. Ingrid LaFleur is currently the co-founder and Chief Community Officer of EOS Detroit. This event is part of the Franklin Humanities Institute's Water series. With multiple events over the coming academic year, this new series will cover many aspects of humanistic and artistic responses to water, from oceanic voyages to lives built around rivers, from aquatic aesthetics to refugee migration, from water shortage to floods, and from water conceived through sacred forms to aquatic lifeworlds and ontologies.