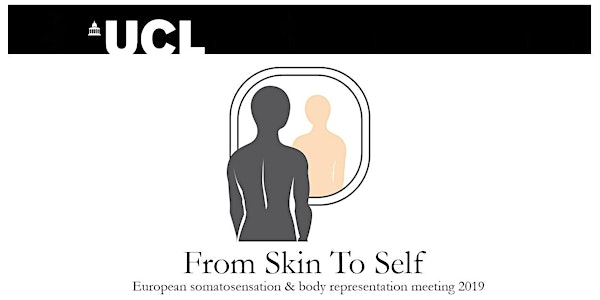 From Skin To Self Meeting 2019
When and where
Location
Institute of Cognitive Neuroscience Queen Square, London, UK Alexandra House London WC1N 3AZ United Kingdom
Description
** Please note: this event is currently sold out, but please apply via the registration link below to go onto a waitlist. We will be in touch closer to the date to let you know if you were successful in obtaining tickets **
Skin delineates the boundary between self and other. The sensations we perceive from our skin (e.g. touch, temperature, and pain) form a starting point for our awareness of ourselves in relation to our sensory environment. Although interest in these somatic senses has increased in recent years, many questions remain unanswered. For example, what are the neural codes that allow us to perceive tactile features such as shape, texture, and motion? And how are our somatosensory systems affected when we interface with external devices to replace a missing sense, or to augment our existing sensory/motor capacities?
From Skin to Self is a two-day meeting featuring experts at the forefront of research on somatosensation and bodily awareness from across Europe. Our speakers come from diverse academic backgrounds, including psychology, philosophy, neuroscience, engineering and computer science. By bringing together both early career researchers and leaders in the field, we aim to cultivate the next generation of a European scientific network dedicated to studying the skin senses and the bodily self.
From Skin to Self will take place at the University College London Institute of Cognitive Neuroscience on Monday 1st April and Tuesday 2nd April.We thank UCL Global Engagement Fund for their funding support for this meeting.
Start/ finish times
Mon April 1st (from 11.00am) - Tue April 2nd (to 5.30pm)
Venue
Rooms B01 & B10
ICN, Alexandra House,
17-19 Queen Square,
Bloomsbury, London WC1N 3AZ

Speakers
Professor Patrick Haggard - ICN, UCL
Professor Frederique de Vignemont - CNRS, Paris
Assoc. Prof Tamar R Makin - ICN, UCL
Professor Alessandro Farne - INSERM, Lyon
Dr. Brianna Beck - University of Kent, UK
Professor Vincent Hayward - ISIR, Paris
Dr. Hannes Saal - University of Sheffield, UK
Dr. Malika Auvray - ISIR, Paris
Dr. Aikaterini Fotopoulou - UCL
Professor Andrea Serino - Universite de Lausanne, SZ
Registration
Could all individuals wishing to attend please register their interest in the meeting at this link (this is in addition to registering for your eventbrite ticket). If you are not submitting a submission to present a poster, please ignore this section. Please note: preference for registration will be given to those submitting a poster to present, non-presenting attendees will be accepted for registration given sufficient space (once abstract submissions are closed).
Poster session
Attendees are invited to present a poster featuring some of their own research on somatosensation and bodily awareness. To apply, please visit the registration page above. Applications will be considered up until midnight on Sunday 3rd March.
Please upload as early as possible to avoid disappointment, as space is limited.
Getting there & Accomodation
ICN is easily accessed from all major London airports (Gatwick, Heathrow, Luton, London City). Gatwick has a direct train connection with Victoria Station, from here you can get the Victoria Line to Green Park, and switch to the Picadilly Line - getting off at Russell Square. Luton has a shuttle bus to the train station where you can get a National Express train to Kings Cross - 15-20 minutes walk to ICN.
There are numerous accommodation options in the area, including a range of hotels, BnBs, youth hostels, and student residences offering short-stay accommodation. We recommend Goodenough College, the University of London residence halls and Imperial Hotel, both of which are reasonably priced and have facilities near the workshop venue.
Please ask the organisers (using the email below) if you require any assistance with travel or accomodation.
Contact us
If you have any inquiries please email us at: skintoself@gmail.com

Follow us on Twitter
Here.